It's his best chance at a major yet.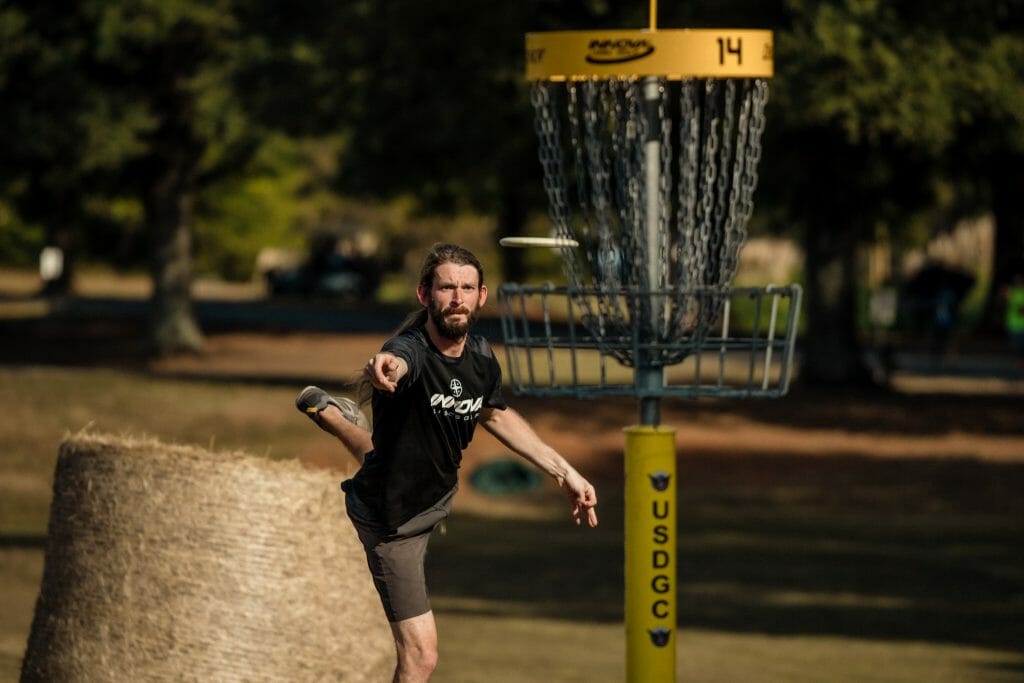 ROCK HILL, S.C. — Making it onto the lead card for the final round of a major championship is a dream that most professional disc golfers will never realize. Doing it at the US or World Championships, the most prestigious tournaments on the planet, is even tougher. Getting to those lead cards four straight times…that's rarefied air.
James Conrad has now reached those altitudes after shooting a 9-under par 58 on moving day at the 2019 USDGC.
Indeed, tomorrow will mark Conrad's fourth appearance on a final round lead card at a major in two years, after getting there in Peoria for 2019 Worlds, last year's USDGC, and Smugglers' Notch for 2018 Worlds. The only other player to make more than one appearance on those cards is Paul McBeth (Worlds '19, USDGC '18).
Conrad doesn't yet have a major championship, but, for the first time, he's got a lead. At 21-under through three rounds, Conrad has a two-stroke advantage over Eagle McMahon heading into Championship Saturday. And he's ready to battle for a title.
"I've definitely been a little bit floored the first couple of times [on the lead card at a major] just with the amount of spectators there and the amount of hype, how legit it feels, how real it feels, how stoked everyone out there is," he said in an interview on The Upshot podcast. "That kind of carries over to us, too, a bit, but to be able to not let all this extra activity and all these people distract you from your focus and from your mental game can be tough. But I've been thinking for a while, just keep putting myself in this position, give myself a chance at these, and I'm confident I'll take one down. Hopefully this is the week."
He has shown that he has the tools to do it. Again on Friday, he was perfect from inside 33 feet on the putting green, making him one of just two players at the tournament not to have missed a Circle 1 putt1. He has more birdies than anyone except Nathan Queen, and, perhaps more important, he has masterfully avoided bogeys. He is second in the tournament in scramble percentage (78%) behind Dave Feldberg.
"Sometimes you're not going to execute," said Conrad. "Being able to say, 'OK, I still made the right decision. That was my game plan. I stuck to it. This next hole, this is my game plan, and I'm still sticking to it.' Having that mental strength to be able to not let any mistakes that you may have compound and get you flustered [is key]."
Conrad showed off that ability to avoid cascasding mistakes on a day when other top competitors were grinding through tumultuous rounds. The two players at the top of the leaderboard heading into round three — Chris Clemons and Nathan Queen — struggled to find the same consistency they had through the first two days. Meanwhile, Conrad birdied six of the last eight holes, taking the lead on hole 13.
He made some tremendous shots in that stretch, including his tee shot on hole 12 when he crushed a Wraith and rode a favorable wind past the 600′ sign.2
But Conrad's power hasn't been the reason for his success; it's been his masterful control. Avoiding OB strokes and placing shots with precision has given him birdie looks and bailed him out of trouble. Can he keep it up in the pressure-packed final round?
"I've been putting myself in this position on the lead card enough to know that the pressure shouldn't be too big of a factor," he said. "I've been able to channel that pressure to play well for the most part. We'll see if having the lead is different, but I hope not."
So far, he's gotten better in each of his final round lead card major appearances. Rattled by nerves, he shot a 1010-rated round at Worlds last year, then improved to 1054 at the 2018 USDGC, then again to 1060 in Peoria.
If he can keep up that trend, he'll likely be hoisting a trophy tomorrow afternoon.
Eagle Into Second, But Still Not At Top Speed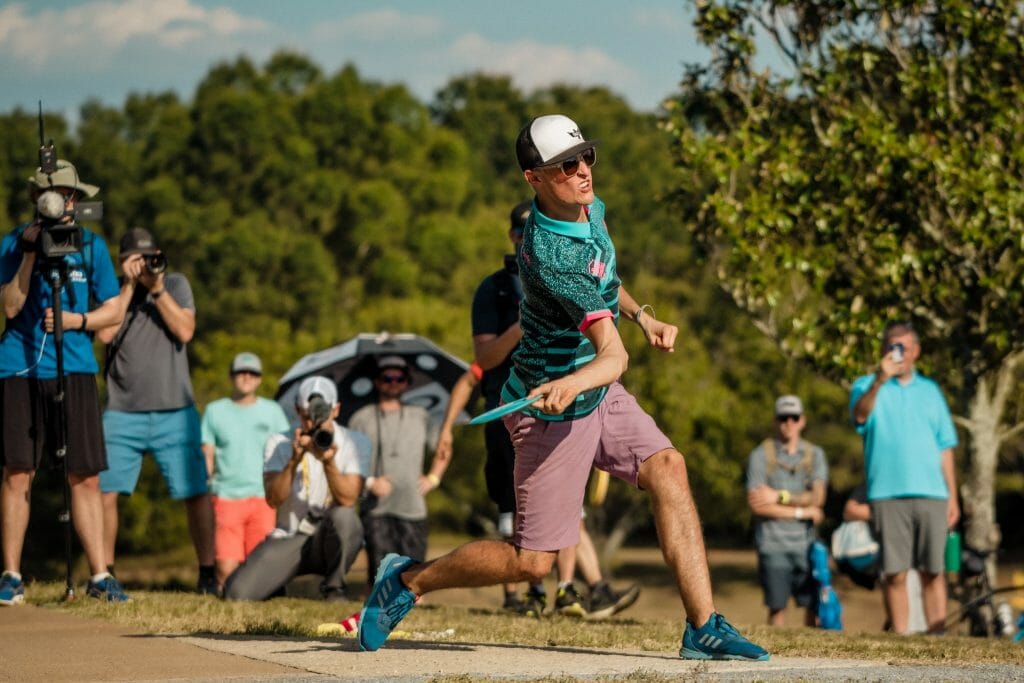 Eagle McMahon has moved up into second place after shooting a 6-under par 61, and his consistently strong play has him just two shots off the lead at -19. However, he has yet to put together a truly complete round.
After he birdied holes 9 through 12 today, it looked like he might. He was 6-under with six holes to play. But his putter abandoned him down the stretch: he missed three circle 1 putts for birdie and took six straight pars on a scoreable section of the course.
The upside is that he has shown the ability to get birdies all over the course. He has birded 13 of the 18 holes and has both started and finished strong. He is also the only player on the lead card that has won a major championship (the 2018 Konopiste Open).
There could be some cause for concern, though. McMahon left quickly after the round today, declining interviews with media, amidst reports that he slightly injured his throwing hand when he punched the ground after missing a putt on hole 16.
Clemons, Queen Drop Back
"It felt like a grind today. It felt like the course was attacking me rather than me attacking the course." — Chris Clemons
That quote sums up the experience for the entire lead card on Friday. Little was coming easy. There were plenty of birdies and some great putting, but a third straight day in 95+ degree heat seemed to start to weigh on the competitors.
Clemons, who led the tournament going into round three, didn't have the same touch. After going 9/10 on scramble opportunities in rounds one and two, he went 0/6 on Friday en route to an even par round, leaving him five strokes back and on the chase card on Saturday.
"During my warmup, I kinda got a little gassed," he said. "I think the heat was getting to me a little bit."
Nathan Queen was struggling with the heat and humidity as well, but he shook off a double bogey on hole 6 to nab six birdies on the next 10 holes and tie Conrad at -21 atop the leaderboard with two holes to play.
Then he became yet another victim of the island hole 17.
He overcooked his first shot into the water, then left his second shot short of the hay bales. He made the island safely on his third attempt and made the putt, but the damage was done: a triple bogey six. Add on a bogey on the 18th and suddenly he found himself four strokes back.
He's still on the lead card for the final round, but it was a finish to forget.
"Once I leave here, I'm not going to be thinking about today at all," he said. "I'm going to go back, reset my head a little bit, and just start over fresh."
Can Albert Tamm Bring Estonia Another US Title?
Two weeks ago, Kristin Tattar took down her first career major at the US Women's Championship in Virginia. Now, Albert Tamm will have a chance to bring another title back to Estonia.
Tamm is tied with Queen in third place at 17-under par, four strokes behind Conrad. He was near the top of the leaderboard after round one before fading during round two with a 2-under par performance, but he surged back and onto the lead card after going 9-under on Friday thanks to finding Circle 1 in Regulation a round-best 67% of the time.
READ: Q&A With Albert Tamm
He burst onto the scene this summer when he finished third at the European Open, the first major of the year.
Could we see a bazooka celebration during the final round?
Notes & Quotes
Nikko Locastro hit the shot of the tournament on the 888′ hole 13, when he skipped a backhand into the chains for an albatross from over 400′ away. "During tournament play, at a crucial moment like that, when I've already had six or seven OB shots, it was extremely satisfying," he said. "I guess, yea, it was one of my better shots I've ever thrown in a tournament: 400 and something foot shot over out of bounds the whole way, and skipped straight in the basket. Feels awesome. I needed it at the time. I was in a really bad spot on the course. I continued to go OB and feel like I had two or three not good breaks. It's whatever — this is the game of disc golf."
It's easy to tell that Nathan Queen is a Carolina native. He got huge cheers and tons of crowd support throughout round three. "It makes the hair stand up on my arms just about every time," he said. "It feels good, man. It's got me throwing those fist pumps and metal horns up in the air."
The high temperature is going to be nearly 30 degrees lower tomorrow (70°) than it's been the rest of this week. Every player I spoke to was thrilled.
Austin Hannum had the day's hot round, a scorching 13-under par 54. It came in at 1088-rated. It beat out an excellent 11-under from Joel Freeman.
Saturday's chase card features two former US champions — Nikko Locastro (-16) and Nate Sexton (-15) — alongside Chris Dickerson (-16) and Chris Clemons (-16).
---
the other is Reid Frescura ↩

Right after that, Drew Gibson outdrove him by 10 feet. ↩