Plus a review of the live broadcast.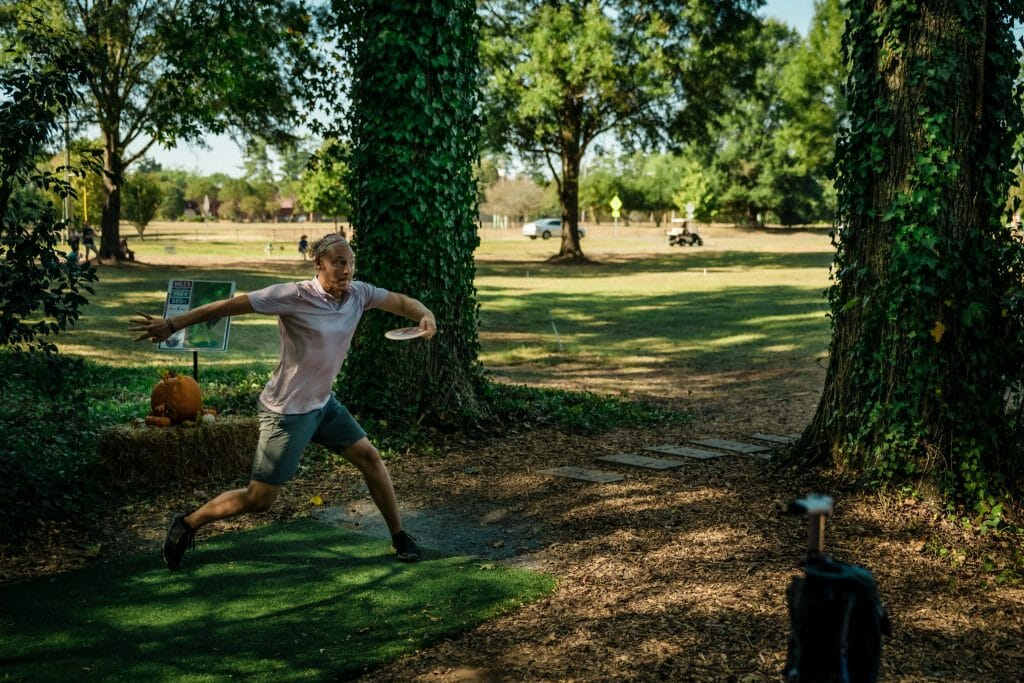 ROCK HILL, S.C. — A sizable crowd gathered at the first tee at 1:30 PM this afternoon as some of the world's best players got set to start their second round at the 2019 United States Disc Golf Championship. And off they went…following the chase card.1
While the lead card2 on Thursday might not have had the same kind of star power, it featured the two most consistent players at the tournament so far: Chris Clemons backed up his hot round on day one with another 8-under par 59 to maintain a one stroke lead at 16-under par while Nathan Queen matched his score to land in sole possession of second place one stroke back at 15-under par.
If there were any nerves at all for Clemons, you couldn't tell in either the way he was playing or his demeanor on the course. "I feel pretty comfortable," he said. "I felt really relaxed all day. I never was too anxious or giddy or anything like that. I think that's what a lot of practice on a course can do for you."
You could see that practice paying off in his bogey-free round today. It wasn't just about his ability to get birdies: he never let mistakes really punish him. He scrambled to save par seven times out of seven, none more impressive than his flex forehand shot from a tricky lie after going out of bounds on hole 18 that skipped down the green and settled just below the basket. He leads the tournament in scramble rate at 91% through two rounds. Leading the tournament in fairway hits and avoiding OB makes scrambling that much easier.
Clemons has also been strong around the green. Today, he did miss his first Circle 1 putt of the tournament, but he mitigated that by going 2/4 from Circle 2.
That hasn't been Nathan Queen's path to two straight lead card appearances. He's missed five Circle 1 putts through the first two rounds, and he went 0/4 from Circle 2 on Thursday. But no player has been better at getting to the green with a birdie look: he's found Circle 1 in regulation 64% of the time this week, nine percent better than Garrett Gurthie in second place.
Queen dropped back a bit from the top of the leaderboard during the day but roared back with a three birdie streak to close out the round.
I asked him if he imagined before the tournament that he would be in this spot, on the lead card, one shot back with 36 holes to play. "That's kinda what I imagine at every tournament, to be honest about it," he said. "It feels good to go out and get two consistent good rounds in and keep getting the birdies. It's nice to be right there."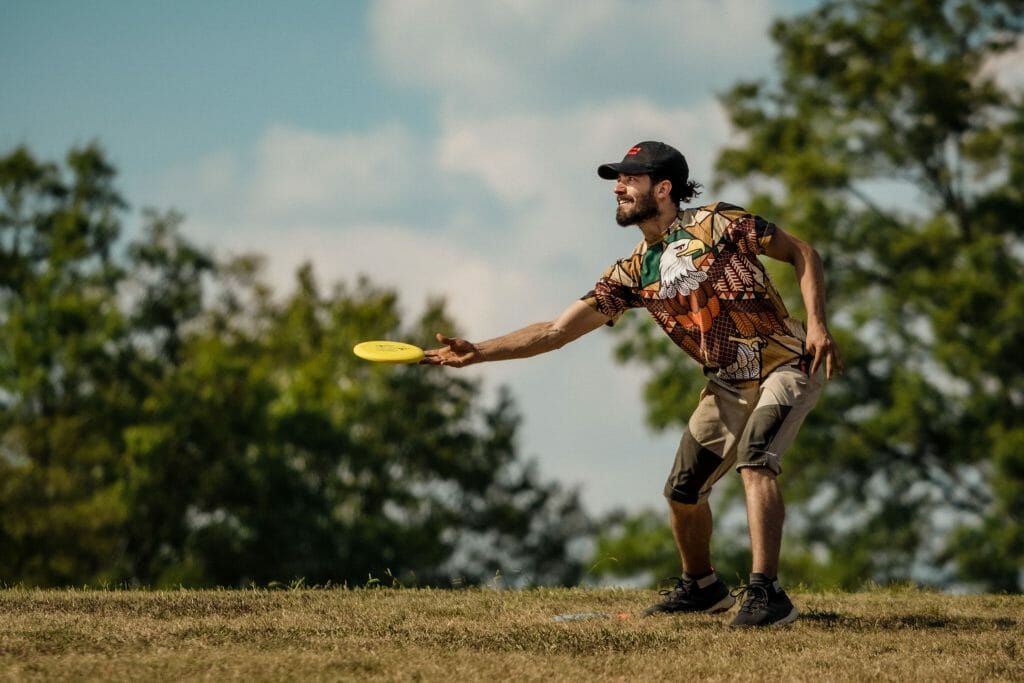 As good as Clemons and Queen were, the day's best round belonged to Nikko Locastro, who shot up the leaderboard with a 1074-rated 10-under par 57, the first double digit under par score of the tournament. It feels only appropriate given that it's been 10 years since he won the 2009 USDGC.
Things have changed a bit since then, of course.
"My sidearm is a lot better," he said. "I feel like I still have that drive that I had 10 years ago. I feel like my game is better, to be honest. I feel like my game is better now than it was 10 years ago."
He showed today why his best game is still championship caliber. He was draining putts all round long, including a 70 footer to save par on hole 6. He scrambled successfully when he went OB. And he stayed very positive while wearing a ball cap that says 'happy thoughts.'
"I'm just trying to enjoy myself out here," he said. "On every putt, I was actually thinking about, for some reason, I was thinking about my nephews. My sister's got two kids and I was really just thinking about how much it would mean to me — and mean to them — for me to come out on top after this weekend."
Locastro sits in third place at 14-under par. He, Clemons, and Queen will be joined on Friday's lead card by Eagle McMahon, who put together another solid score today after birdieing eight of the last 11 holes. McMahon's round started slow, though. He was +1 after six holes but unleashed a birdie barrage to claw back to within three shots of the lead.
"I really just told myself that if I could stay steady throughout the back, pick up some birdies — I'm going to be in a great position going into tomorrow," he said. "This tournament is basically, don't be over par. If you can get any bit under par, you beat the course."
What's scary about McMahon's performance so far is that he hasn't truly put together a complete round of his best disc golf. In round one, he was 8-under through 12 holes before getting back-to-back-to-back bogeys. Then he struggled through the first third of the course today after going -4 through those six holes on Wednesday.
Lefties Living Large
Is it a coincidence that the two players at the top of the leaderboard are both left-handed?
Winthrop Gold is known for its penchant for rewarding skillful left to right shots, which sets up beautifully for the lefty hyzer backhand. The other two players on the lead card, McMahon and Locastro, are right-handed but have strong forehands.
"I'm throwing anywhere from 11 to 14 forehands off the tee out there and even on holes that you wouldn't even expect," said McMahon. "As long as my forehand is working and I'm able to put it into the basket, I feel like I have a pretty good chance out here."
Maybe that's what makes James Conrad's success at this tournament that much more impressive. He's one of the players on tour that's least likely to opt for a forehand, and yet there he is at 12-under par, just four shots back after shooting a 9-under par 58 today.
"Just because I don't like to throw a forehand doesn't mean I don't like to throw shots that move from left to right," said Conrad. "I feel like I have more control over my disc when I can get it to land on a little bit of a turning to flat angle, so this type of course tends to play pretty well for me. There's a few spots where I miss it, like hole two's approach shot. I feel like I'm almost a zero percent chance of birdieing that hole. I think I've only gotten it once in a tournament round and that was with a 50 foot downhill putt. But, yea, there's a couple times where I feel it might cost me a stick here or there, but, for the most part, I'm able to throw shots that are moving from left to right and able to land softly and keep it in bounds rather than throwing hyzers that like to skip."
Sizzling Temperatures Set Records
Rock Hill saw record-high temperatures on Thursday, reaching up to 98 degrees in the afternoon. Unsurprisingly, it was also the hottest USDGC round in tournament history.
Surprisingly, though, the heat didn't seem to impact play significantly. Players were drinking lots of water, of course, and there were a few errant shots caused by sweaty hands, but shotmaking mostly stayed consistent and it wasn't oppressively humid.
The cumulative effect of being outside for hours over multiple days in mid to high 90 degree temperatures, though, could be a factor. Will players be able to find the energy to maintain focus after another taxing day in the sun?
A Short Review of the Live Broadcast
Today, we got our first look at Fulcrum's revamped approach to live streaming the USDGC. Following just the lead card (as opposed to anchoring on hole 17), the broadcast was able to showcase some of the best play on the day. Using a novel technical approach of employing wireless transmitters on their cameras and a roving production van, today's broadcast was one of the best live disc golf experiences yet.
There's plenty to like here: multiple camera angles, instant replay, clean graphics with lead card scores and hole information, quality commentary, and plenty of content to eat into that downtime between holes (beautiful drone shots, leaderboard graphics, course walkthroughs, and live stand-up interviews). The video player itself is nice — you can jump back in time with minimal buffering if you missed a hole or want to rewatch a section, while a simple click gets you back to watching live.
There's still room for improvement. Most noticeably, the video stream regularly suffered from poor latency, lagging behind the audio and then running faster than real time to catch back up. There is too much downtime between holes — one particularly brutal stretch featured 13 minutes of no play from the lead card as a backup cleared out at hole 8. (The good news is that the chase and lead cards will have an extra ten minutes of buffer starting during Friday's third round, which should reduce or eliminate the issue.) I also constantly wanted a graphic to show where each player was in relation to par for each shot on the hole.
All in all, though, this was a high quality livestream that exceeded expectations and seemed well worth the $10.
– Aidan Shapiro-Leighton, Ultiworld's Director of Video
Notes & Quotes
Nikko Locastro: "I feel like I'm a good underdog story. I'm doing this without a sponsorship right now, and I've always done it for the love and the passion and the competitive atmosphere. I love disc golf. Anybody that knows me knows that I've dedicated my life to the sport of disc golf. And I would love to come out on top again."
Currently, Paul McBeth is below the cash line at 4-over par. He hasn't failed to cash at a tournament since 2017, when he withdrew from the Green Mountain Championship with a back injury. You have to go all the way back to 2009 to find a time when he finished a tournament on tour and didn't cash.
Chris Clemons on if he's visualized winning the tournament: ""Of course I've thought about it. I think we all do. But, for me, I don't want to get ahead of myself. I want to take it one shot at a time."
It's amazing what a natural Ken Climo is as a color commentator. Not every great player can succeed as a broadcaster. He really gets it, though. You can tell he likes watching golf. His cadence and tone are superb. And he's funny!
Two players on Thursday's lead card — Simon Lizotte and Drew Gibson — fell off the pace. Gibson went out of bounds five times and finished at 5-under par, so he's still well within striking distance just four shots back of Clemons. Lizotte, though, really struggled. He took eight OB strokes and was never sharp. He shot 2-over par and now sits 11 strokes behind the leader.
---
Eagle McMahon, Nate Sexton, Calvin Heimberg, and Cameron Colglazier ↩

Chris Clemons, Drew Gibson, Simon Lizotte, Nathan Queen ↩