What do you think of the media changes?
Charlie Eisenhood and Jamie Thomas discuss Kristin Tattar's win at the US Women's Disc Golf Championships before turning to a conversation about the changes to this year's USDGC course and media structure.
The Upshot: USWDGC Recap, USDGC Media & Course Changes
Want to support the Upshot? Pick up a special edition Upshot pin from Disc Golf Pins!
Details:
Only 100 made!
Design by Upshot fan TJ Gansenberg
All royalties we receive go directly to funding our coverage of the Hall of Fame Classic and the DGPT Finale!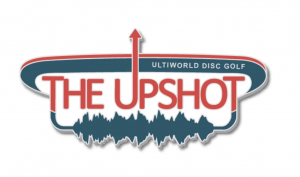 You can contact Charlie and Jamie at upshot@ultiworld.com.
Note: You can follow Ultiworld and The Upshot on Spreaker. The podcast is also available on iTunes, Spotify, Stitcher, iHeartRadio, RSS, Google Play, and your other favorite podcasting apps!