Paige Pierce, Rebecca Cox round out the podium.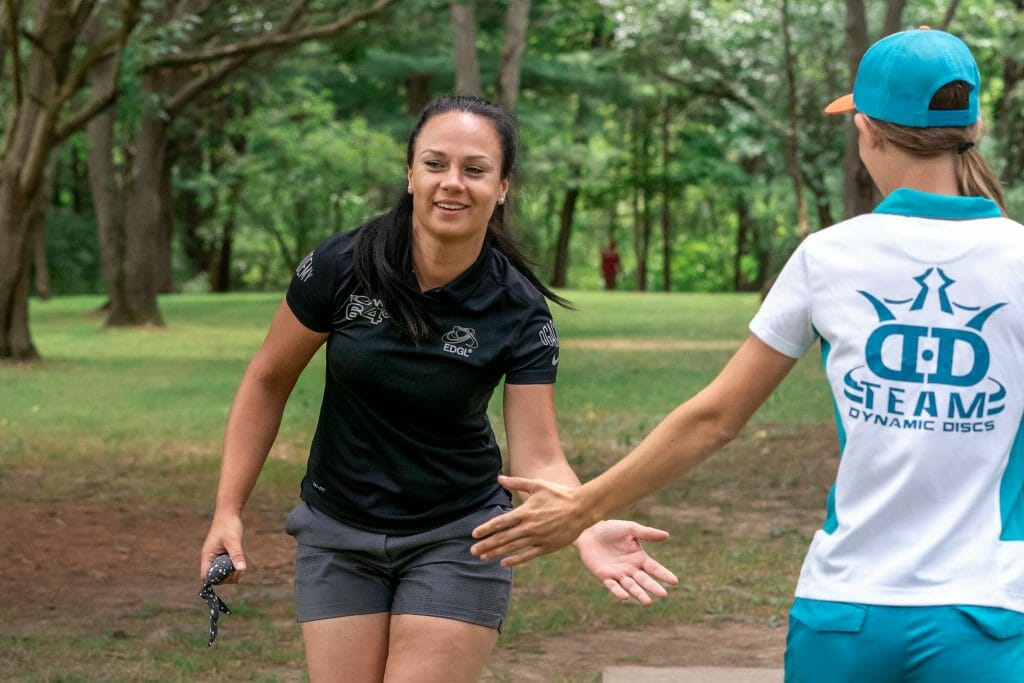 Estonia's Kristin Tattar out-dueled world #1 Paige Pierce to win the 2019 United States Women's Disc Golf Championship with a 6-under par 57 in the final round, bringing her total to 17-under par 174, four strokes better than Pierce.
The win was both Tattar's first on US soil and her first-ever major victory, capping off a tremendous 2019 season. The championship also earns her a bid to next week's US Disc Golf Championships in Rock Hill, South Carolina.
"It feels awesome to stand here," said Tattar in her post-tournament speech. "I've been waiting for a big win for a long time."
This marks the first time that a European player has won the US Women's title, a sign of the continuing rise of top-level talent from across the Atlantic.
Despite an excellent day on the putting green, Paige Pierce couldn't stay connected with Tattar in the back nine. The two players traded blows back and forth through the front nine — Tattar took a two stroke lead after Pierce double bogeyed hole 3 but gave back both strokes on hole 7 after bogeying while Pierce birdied.
From there, though, Tattar took control. She found Circle 1 in regulation on four or the next five holes and birdied three of them. Pierce had longer looks for birdie and didn't convert. Tattar went up by four strokes after Pierce bogeyed hole 15.
"I wanted to give Kristin a better run but she played super good and I cannot wait to play with [her] at the USDGC!" said Pierce, who had a chance to sweep the 2019 majors in FPO with a win this weekend, in her post-round comments.
Tattar's consistency across all three rounds — she had more birdie chances than anyone except Catrina Allen — was the key to her success this weekend.
"I know I had the skills but I never could put together a decent tournament," she said. "There was always one round where I messed up. And now I just finally put together a decent tournament and I couldn't be happier."
Pierce's 13-under par 178 was good for sole possession of second place. Rebecca Cox finished third with a 10-under par 181, and Sarah Hokom and Paige Bjerkaas were tied for fourth with a 9-under par 182.
Allen's sixth place 8-under par 183 finish echoed her 2019 World Championship performance. She led USWDGC in Circle 1 in regulation (65%) by more than 20 percent over the field1, but was third-worst in the 52 player field in Circle 1 putting (38%). She missed 23 putts inside the circle during the three round event. Tattar missed just six.
In Masters Women's 40+, Elaine King completed the first-ever major sweep of the division with a two shot victory over Natalie Holloköi.
---
Tattar was second with 44% ↩