Tattar gets third second place elite series finish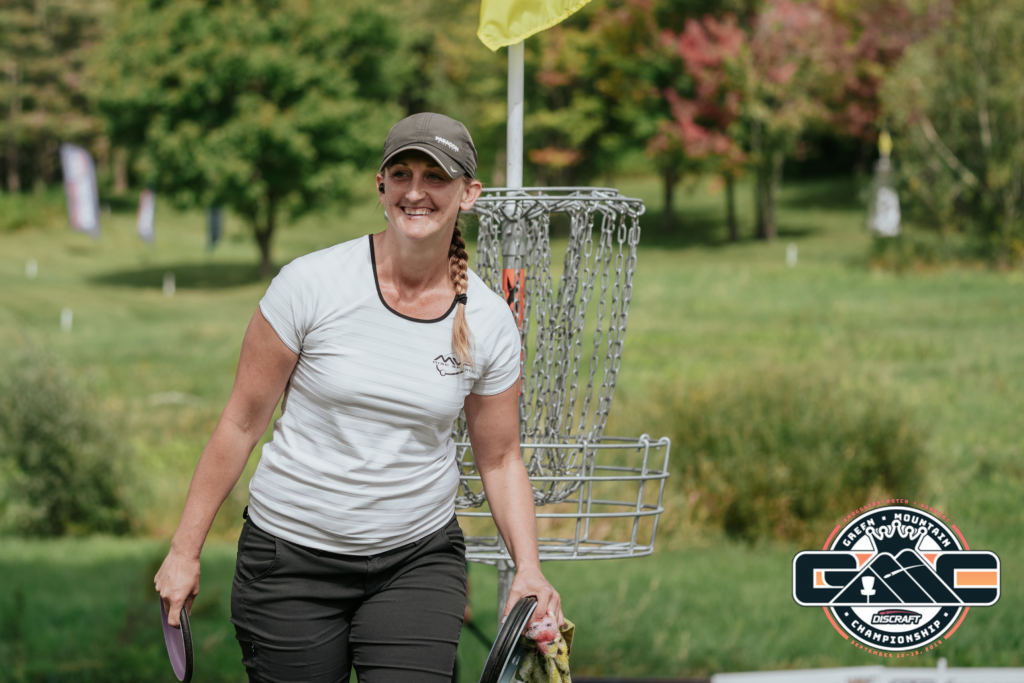 It happened quickly as soon as the lead Open Women's card at the Green Mountain Championship made the turn on Fox Run Meadows during the final round.
Kristin Tattar had steadily chipped away at Sarah Hokom's lead and was four back heading to hole 10, with both players were coming off two-putts for bogey on hole 9. Teeing first was Tattar, putting a backhand turnover almost under the basket for an easy birdie. Hokom was also within Circle 1 on a forehand but wasn't able to convert, giving the strokes to Tattar.
Sensing the opening, Tattar was aggressive on her second shot of hole 11, getting into the trees for a look at birdie. For the second time in as many rounds at Fox Run, she made a big putt on hole 11 to get another stick on Hokom and cut the lead to two strokes with plenty of golf to go.
"It was definitely feeling like it wasn't in my favor in the middle of the round," Hokom said after the round.
Back-to-back scramble pars for both Tattar and Hokom kept things even, and Hokom got her first big break on hole 14 after drawing a four-leaf clover on her hand.
The 305-foot par 3 is by no means a round breaker — it was the easiest hole on the course the final round — but it's shape and guarded green doesn't always give Hokom's drive a clean look at the basket. On Sunday her flick had just the right amount of turn to stay in flight, and gave Hokom a look inside C1X for the birdie. She would convert on 14, and play the right-turning hole 15 to a similar result to work the lead back to four. Hokom played conservatively the close out the tournament, her first elite series win of the season.
Having won last weekend as well at the Nantucket Open, Hokom said she thinks she's finally comfortable with her disc set-up.
"Feel good, so relieved," Hokom said, referencing season-long trends, not just the Vermont win. "Just really been trying to grind it out."
Hokom finished above fourth in only one UDisc Live stat, finishing first in scramble rate at 71%. Her 1-over par total was five strokes better than second place Tattar at 6-over par total. Hokom averaged 991-rated golf over four rounds and was only over par during the final round.
Tattar led the division in both C1X putting, 82%, and C2 putting, 24%, and was second in scramble rate at 61%. It's her third second place finish in the United States since coming over before 2019 Pro Worlds.
Rebecca Cox finished on the podium in third place at 8-over par total, tying her season-best finish at a Disc Golf Pro Tour event; she was also third at the Portland Open in May. Bad first rounds doomed Paige Pierce and Catrina Allen, but Pierce salvaged a fourth place finish and Allen rallied with the final day hot round to finish sixth.