King moves onto lead card for round three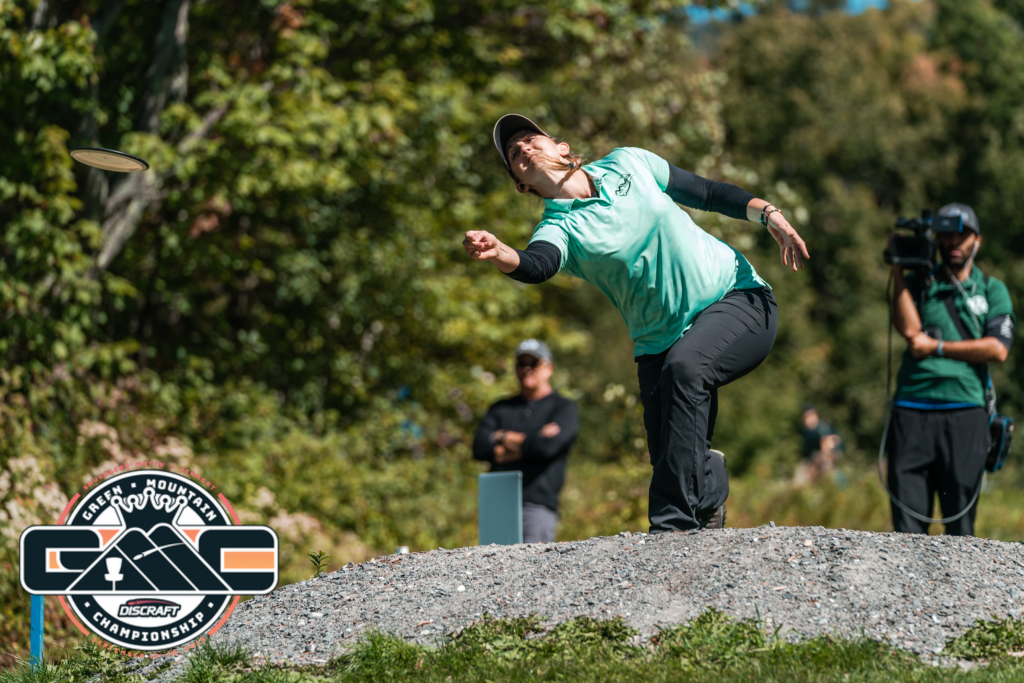 Using crafty forehand lines to get out to a share of the lead Thursday at Brewster Ridge aligns with how many of us view Sarah Hokom's game and chances at the Green Mountain Championship. Keeping up on Fox Run Meadows is another task though.
Overcoming a pre-round medical scare from her caddy and partner Robin that delayed the lead card's start, Hokom went out Friday morning and shot the hot round for the second consecutive day and holds the outright lead at 2-under par 122 total.
"It was about deep-breathing, trying to relax, and compartmentalizing into something I could manage," Hokom said about focusing in on the round. "My card mates were really supportive and I felt relatively comfortable despite the circumstances."
Considering the gusts the Open Women's field was dealing with, keeping it in the lines was even more imperative than usual. Hokom's 1001-rated even par 63 started with zero bogeys through the first 11 holes and saw only two OB strokes on the heavily-hazardous course. She doesn't lead the division in any of the UDisc Live categories you might expect from a leader, but Hokom is proving that recovering in Vermont is just as important as many of those other stats. Her 80% scramble rate is almost 20 percentage points higher than the next closest player, second place Kristin Tattar.
"I was trying to play the easiest possible shot," Hokom said of her gameplan. "Really just trying to play for the par."
Playing on the lead card with Hokom, Tattar kept pace carding a 1-over par round to trail Hokom by five strokes at 3-over par total. She tied Paige Pierce (6th place) and Ellen Widboom (10th) for the most birdies of the round, but her only two-putt of the day lead to a double-bogey on the long par 5 hole 7 and kept her from matching the hot round. Tattar did have maybe the putt of the day on hole 11, a Circle 2 death shout through the trees for a bogey-save.
Hailey King shot a 2-over par which included a 100+ foot throw-in and is now in third place at 4-over par total. Rebecca Cox retains her spot on lead card and is in fourth place at 7-over par total.