Can you predict the next player to hoist a DGPT trophy?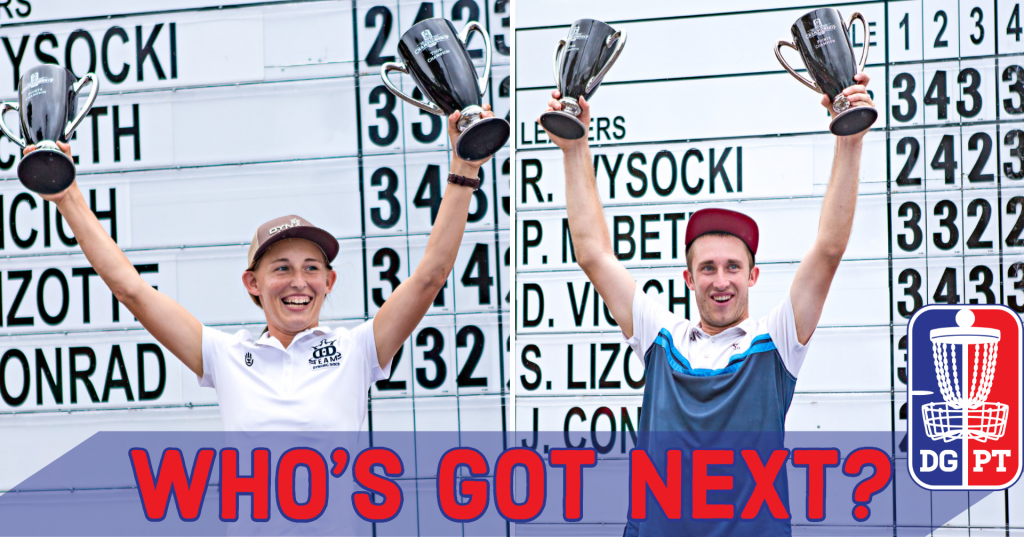 As the Disc Golf Pro Tour has continued to grow in field sizes and payouts since its inception, Pro Tour wins are becoming signature achievements for touring pros. A DGPT title is counting for almost as much credibility as a PDGA National Tour event. 
The 2019 DGPT season has seen three first-time tour winners in the Open division along with the two guys who have won the most DGPT events of anyone. It should come as no surprise that Paul McBeth and Ricky Wysocki both have at least 10 victories in the 34 event history of the tour dating back to 2016. James Conrad and Jeremy Koling both have two victories, while none of the other nine winners have more than one.
This year Eagle McMahon (1046-rated) captured his first W on the DGPT at the Memorial Championship. Drew Gibson (1022) was also able to take down his first win on the DGPT at the Portland Open. Most recently, Kevin Jones (1036) got his first DGPT win at last month's Idlewild Open.
In the inaugural DGPT season in 2016, there were three first-time winners. Bradley Williams (1023) won the first-ever DGPT event at the Vibram Open at Maple Hill. McBeth or Wysocki won the remaining five events. 
The next season saw four first-time winners with Jeremy Koling (1023), James Conrad (1024), Josh Anthon (1029), and Nate Doss (1033) all taking down Pro Tour wins. McBeth or Wysocki won the remaining six tournaments of the tour that year. 
In 2018 there were seven winners overall out of the 10 events on the tour, but only three first-time winners. Simon Lizotte (1037) and Nate Sexton (1032) both won their first events on the Pro Tour, while Chris Dickerson (1037) was able to win his first at the 2018 DGPT Championship.
The Open Women's field has had even less parity than Open. 
Year one saw three women collect wins — Paige Pierce, Catrina Allen, Sarah Hokom — and those three women have accounted for 30 of 34 victories. Jessica Weese has won twice, once in both 2017 and 2018, and Valarie Jenkins, 2017 Ledgestone, and Eveliina Salonen, 2019 Memorial, have a win apiece. 
There are two regular-season events left to play in the 2019 DGPT season with the MVP Open and Green Mountain Championship still to comes, as well as the DGPT Championship. This gives us three chances to get at least one more first-time winner.
The history of the tour shows that almost anyone can win in Open. Very rarely do players rated under 1030 ever win elite events, yet the DGPT has had five winners rated between 1022 to 1024. Using this to expand the pool of potential challengers, who could be the next player to get their first win on tour?
Just using players currently registered for the MVP Open and Green Mountain Championship that are rated 1022 or above, we have some options. Fourteen players meet the criteria, with NT-winner Calvin Heimburg being the odds-on favorite to be "next." He is the highest-rated player that has yet to win on tour at 1039. Garrett Gurthie (1027) has been a hot name all season and is also a solid choice to win one of the last three events. My personal sleeper would be Austin Hannum, rated 1023, who is signed up to play both of the final two events and is qualified for the championship. Hannum is right in the 1022-1024 rated sweet spot, which as stated above, has produced several winners in the past. 
Picking a potential Open Women's winner is a bit trickier. Since 2016, Paige Bjerkaas is the only player to have won an NT or Major that has not already won a DGPT event. She will not be playing the MVP Open, however, which only gives her two chances to win this season. The GMC does use the same courses as her win at 2018 Pro Worlds.
Weese was rated 946 at the time of her first win, Jenkins was 958, and Salonen 952. 
Besides Bjerkaas, only three players are rated above 946 that have not won a DGPT event: Henna Blomroos, Kristin Tattar, and Jennifer Allen. Blomroos doesn't have plans to travel back to the States in 2019 and Allen withdrew from Pro Worlds with an injury and is not registered for any remaining events. Tattar will be at MVP and GMC.  
Let us know your choice for the next first-time DGPT winner: