Tattar only other FPO player under par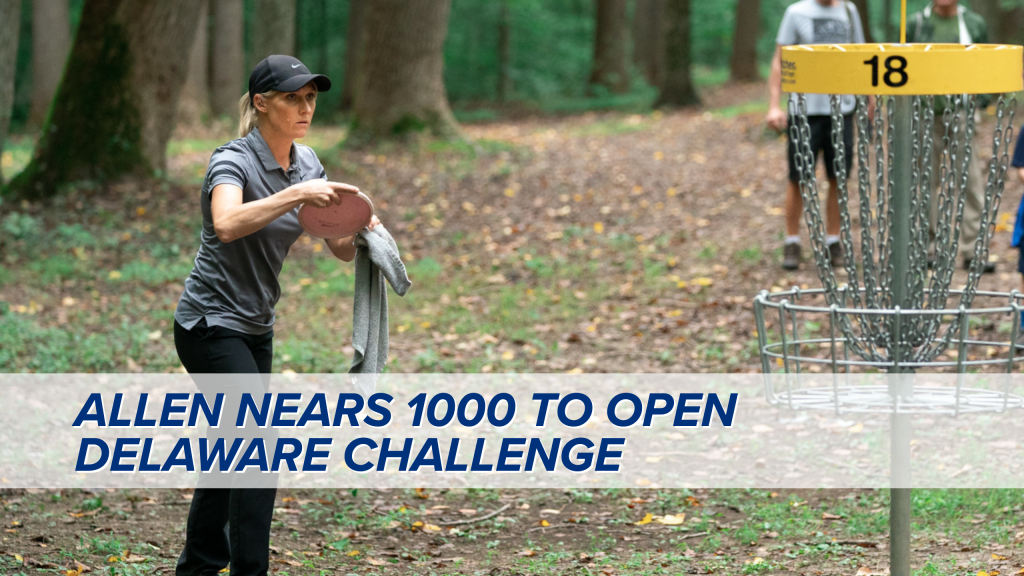 Coming off the week-long festivities at Pro Worlds, the Delaware Disc Golf Challenge lives up to its billing. It is challenging. 
After five tough rounds in Peoria, pros had to hoof it 800 miles to Newark only to be greeted by Iron Hill, a wooded-behemoth with a well-earned reputation for its punishing nature. A Worlds hangover can be easily excused.
Catrina Allen decided she was not going to let that be her narrative during round one of the DDGC. Coming off a podium finish in Illinois, Allen came out throwing a near-1000-rated 5-under par 64 and sits in first place one third of the way through the season's fifth PDGA National Tour event.
The 5-under is one stick better than 2018's hottest round from Sarah Hokom, and two strokes better than Allen mustered a year ago. Some changes to the course have happened over that time, and Allen was right there to take advantage. She was the only player to birdie the shortened hole 1, and was also the only play to go under par on the lengthened par 5 hole 5. 
Allen will have a little extra to celebrate as she is 100% from inside Circle 1 through 18 holes, hitting five attempts alone on the front nine. She also was close to pulling off an impressive feat by keeping a clean card; her first bogey did not come until the par 4 hole 16. A double-bogey followed on the toughest hole of the day, before Allen rallied with a closing birdie on hole 18.
Keepings things close on a soggy Friday was Estonia's Kristin Tattar, who turned in a 3-under par 66 playing on the feature card with defending champion Hokom. Tattar has a nice bogey-free streak between holes 8 and 16, and leads the field in finding C2 in regulation at 61%. She was the only other player under par.
Will Michigan's Alisha Schafer be able to keep up her third place pace? Sitting at even par 69, the 908-rated Shafer is looking for her best elite finish of the year. She was 13th at last month's Great Lakes Open and 21st at Ledgestone in June. Michelle Frazer rounds out lead card at 2-over par 71.