The top shots from the sport's top media producers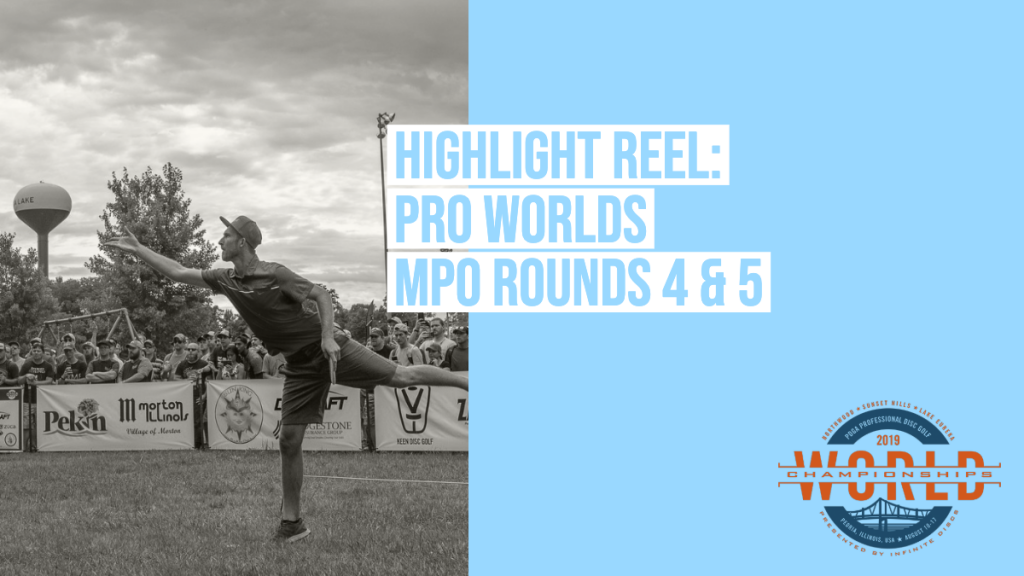 The Open field flipped between Northwood Gold and Lake Eureka for the final two rounds of the 2019 PDGA Pro World Championships which gave us a nice mix of natural, wooded OB and tight, manmade fairways.
JomezPro, Central Coast Disc Golf, and Dynamic Discs followed three cards of action each day to capture the excitement, drama, and crowning of world champion Paul McBeth.
We've broken down the shots by round.
---
Round 4
2019 Pro Worlds Round 4 Northwood Gold Philo Brathwaite hole 1 drive
2019 Pro Worlds Round 4 Northwood Gold Simon Lizotte hole 1 putt
2019 Pro Worlds Round 4 Northwood Gold Emerson Keith hole 2 putt
2019 Pro Worlds Round 4 Northwood Gold Paul McBeth hole 3 approach
2019 Pro Worlds Round 4 Northwood Gold Chris Clemons hole 3 approach
2019 Pro Worlds Round 4 Northwood Gold Chris Dickerson hole 4 putt
2019 Pro Worlds Round 4 Northwood Gold James Conrad hole 5 drive
2019 Pro Worlds Round 4 Northwood Gold Nate Sexton hole 7 roller drive
2019 Pro Worlds Round 4 Northwood Gold Paul McBeth hole 7 drive
2019 Pro Worlds Round 4 Northwood Gold Kevin Jones hole 7 putt
2019 Pro Worlds Round 4 Northwood Gold Emerson Keith hole 8 approach
2019 Pro Worlds Round 4 Northwood Gold James Conrad hole 9 putt
2019 Pro Worlds Round 4 Northwood Gold Chris Dickerson hole 9 putt
2019 Pro Worlds Round 4 Northwood Gold Kevin Jones hole 10 drive
2019 Pro Worlds Round 4 Northwood Gold Ricky Wysocki hole 10 drive
2019 Pro Worlds Round 4 Northwood Gold James Conrad hole 10 putt
2019 Pro Worlds Round 4 Northwood Gold Chris Dickerson hole 11 drive
2019 Pro Worlds Round 4 Northwood Gold Kevin Jones hole 11 putt
2019 Pro Worlds Round 4 Northwood Gold Emerson Keith hole 12 approach
2019 Pro Worlds Round 4 Northwood Gold Emerson Keith hole 12 putt
2019 Pro Worlds Round 4 Northwood Gold Chris Dickerson hole 13 approach
2019 Pro Worlds Round 4 Northwood Gold James Conrad hole 14 drive
2019 Pro Worlds Round 4 Northwood Gold Chris Dickerson hole 14 drive
2019 Pro Worlds Round 4 Northwood Gold Ricky Wysocki hole 15 drive
2019 Pro Worlds Round 4 Northwood Gold Chris Dickerson hole 15 drive
2019 Pro Worlds Round 4 Northwood Gold Ricky Wysocki hole 16 approach
2019 Pro Worlds Round 4 Northwood Gold Emerson Keith hole 16 approach
2019 Pro Worlds Round 4 Northwood Gold Simon Lizotte hole 17 putt
Final Round
2019 Pro Worlds Round 5 Lake Eureka James Conrad hole 1 putt
2019 Pro Worlds Round 5 Lake Eureka Nate Sexton hole 2 drive
2019 Pro Worlds Round 5 Lake Eureka Paul McBeth hole 2 roller drive
2019 Pro Worlds Round 5 Lake Eureka Calvin Heimburg hole 4 drive
2019 Pro Worlds Round 5 Lake Eureka Kevin Jones hole 4 drive
2019 Pro Worlds Round 5 Lake Eureka Chris Dickerson hole 4 putt
2019 Pro Worlds Round 5 Lake Eureka Paul McBeth hole 4 putt
2019 Pro Worlds Round 5 Lake Eureka Calvin Heimburg hole 6 approach
2019 Pro Worlds Round 5 Lake Eureka Garrett Gurthie hole 6 putt
2019 Pro Worlds Round 5 Lake Eureka Nate Sexton hole 7 drive
2019 Pro Worlds Round 5 Lake Eureka Kevin Eric Oakley hole 7 drive
2019 Pro Worlds Round 5 Lake Eureka Eagle McMahon hole 7 putt
2019 Pro Worlds Round 5 Lake Eureka Kevin Jones hole 9 drive
2019 Pro Worlds Round 5 Lake Eureka Ricky Wysocki hole 9 drive
2019 Pro Worlds Round 5 Lake Eureka Garrett Gurthie hole 9 drive
2019 Pro Worlds Round 5 Lake Eureka James Conrad hole 12 drive
2019 Pro Worlds Round 5 Lake Eureka Ricky Wysocki hole 12 drive
2019 Pro Worlds Round 5 Lake Eureka Ricky Wysocki hole 13 putt
2019 Pro Worlds Round 5 Lake Eureka Simon Lizotte hole 14 putt
2019 Pro Worlds Round 5 Lake Eureka Paul McBeth hole 15 drive
2019 Pro Worlds Round 5 Lake Eureka James Conrad hole 15 drive
2019 Pro Worlds Round 5 Lake Eureka Emerson Keith hole 15 drive
2019 Pro Worlds Round 5 Lake Eureka Ricky Wysocki hole 15 drive
2019 Pro Worlds Round 5 Lake Eureka Garrett Gurthie hole 16 roller drive
2019 Pro Worlds Round 5 Lake Eureka Chris Dickerson hole 16 approach
2019 Pro Worlds Round 5 Lake Eureka Nate Sexton hole 16 putt
2019 Pro Worlds Round 5 Lake Eureka Emerson Keith hole 18 approach
2019 Pro Worlds Round 5 Lake Eureka Ricky Wysocki hole 18 approach
2019 Pro Worlds Round 5 Lake Eureka Paul McBeth hole 18 putt