The Texan already had a whirlwind week in Peoria, and things only continued to get crazier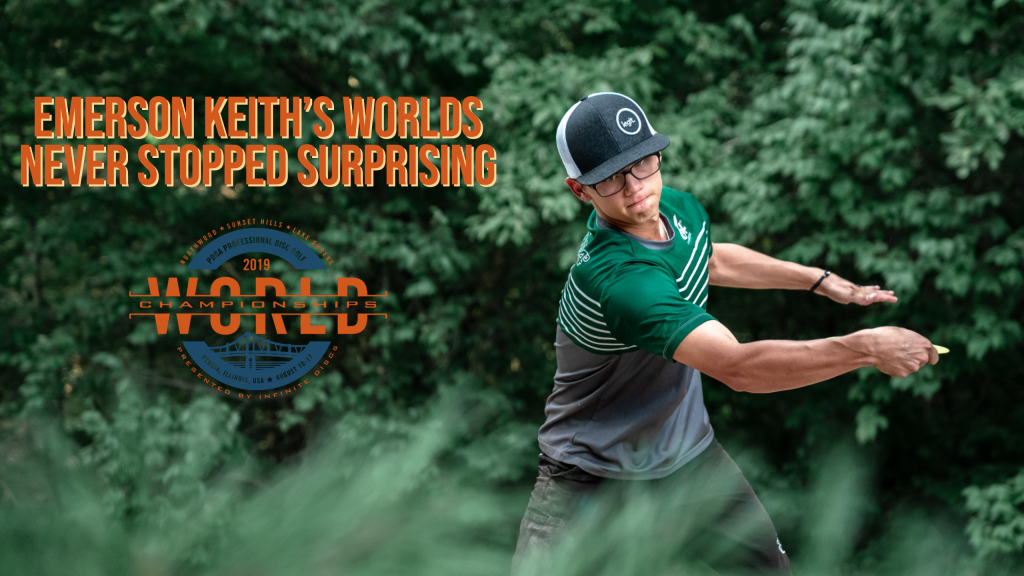 Emerson Keith has plenty on his mind last week.
The Texan had shot his way onto lead card at the 2019 PDGA Pro World Championship and was battling one of the sport's best going into the final round. His wife was hundreds of miles away back home and days from giving birth to the couple's first child.
When a weary Keith was awakened Saturday morning at his hotel, he can be excused for not registering the sight before him.
"He's like, 'What are you doing here?'" said Keith's mystery morning guest.
Greeting the 20-year-old pro like a fresh cup of coffee was his father, Scott. A last-minute crowdfunding effort by Scott's brother got Scott a chance to see his son play on the lead card during the final round at Pro Worlds.
"My brother called me [Friday] night around 7 o'clock and he said, 'Hey, if you can get out of work, would you go to watch Emerson?' And I'm like, man, I can't do that. It's too late to get tickets," Scott told Ultiworld Disc Golf in Peoria. "'Well, what if I said I could get them?' Next thing you know I'm at the airport at 4 o'clock in the morning and flying here. It was cool."
With Scott walking with Emerson at Lake Eureka Saturday, the father-son duo didn't get the Disney movie start. After falling off the pace early, Emerson was able to rally late with a string of birdies to claw his way back into a tie for third place.
The resilience was no surprise to Scott. He watched his son come up in team sports and knew his personality was probably better suited for something that required more individual effort.
"He played travel hockey for about 10 years," Scott said. "He was so competitive on that hockey team that he would pinpoint things that went wrong with the game. And I was like, 'You know, you really should just focus on something you have solo control over.'
"He dove into disc golf. I guess he was 16 or 17 and he started playing amateur tournaments, and against my will, he went pro without even going to Am Worlds. I mean, I thought he would hit this spot, just not this young. But he definitely is a strong competitor. He's always been like that."
While Scott watched his son come into his own as a player before his eyes, Emerson still needed an extra push at Worlds to remind him he deserved to be in the position he was during the final round.
"I had some friends come up to me and told me that I belonged and told me that I could do it," Emerson said. "That helped out a lot and I've told myself that I needed to prove to myself that I belong here."
Headed back south with a big piece of hardware to add to his growing family, Emerson seems to be enjoying the moment.
"The end result was amazing and I got third and I gained a bunch of fans and I got to meet a bunch of new people. It was just an all-around great experience," Emerson said, admiring his trophy, a decorative bowl.
He's even got ideas on how to introduce his daughter to the sport he and his father have bonded over.
"I'm sure my baby will be able to fit inside of this bowl when she's born."