The FPO field was doing special things at Northwood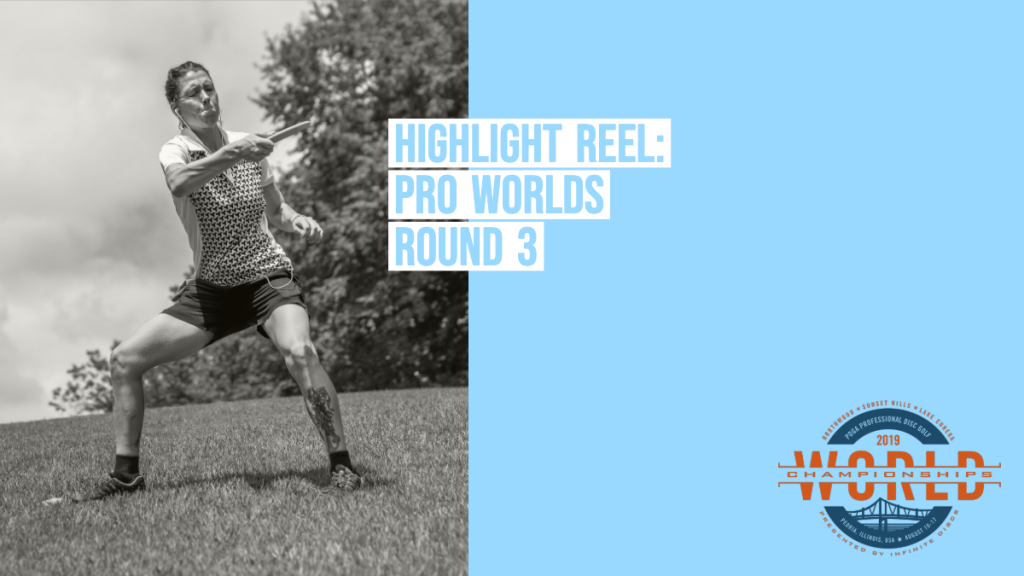 Day three at the 2019 PDGA Pro Worlds in Peoria, Illinois and Smashboxx TV, Central Coast Disc Golf, JomezPro, and Dynamic Discs are still producing at as high a level as the players.
The pros get their redemption on the courses from day one and have an opportunity to right some past wrongs.
We've broken down highlights by division.
---
Open Women – Northwood Blue
2019 Pro Worlds Round 3 Northwood Blues Kristin Tattar hole 3 throw in putt
2019 Pro Worlds Round 3 Northwood Blue Paige Pierce hole 7 putt
2019 Pro Worlds Round 3 Sunset Hills Catrina Northwood Blue Allen hole 9 drive
2019 Pro Worlds Round 3 Northwood Blue Paige Pierce hole 10 approach
2019 Pro Worlds Round 3 Northwood Blue Paige Pierce hole 11 putt
2019 Pro Worlds Round 3 Northwood Blues Catrina Allen hole 13 drive
2019 Pro Worlds Round 3 Northwood Blue Eveliina Salonen hole 13 approach
2019 Pro Worlds Round 3 Northwood Blue Catrina Allen hole 16 roller drive
2019 Pro Worlds Round 3 Northwood Blue Catrina Allen hole 17 putt
2019 Pro Worlds Round 3 Northwood Blue Eveliina Salonen hole 18 approach
Open – Lake Eureka
2019 Pro Worlds Round 3 Lake Eureka Kevin Jones hole 2 drive
2019 Pro Worlds Round 3 Lake Eureka James Conrad hole 2 putt
2019 Pro Worlds Round 3 Lake Eureka Andrew Presnell hole 3 drive
2019 Pro Worlds Round 3 Lake Eureka Paul McBeth hole 3 drive
2019 Pro Worlds Round 3 Lake Eureka Josh Anthon hole 4 drive
2019 Pro Worlds Round 3 Lake Eureka Paul McBeth hole 4 putt
2019 Pro Worlds Round 3 Lake Eureka Emerson Keith hole 4 putt
2019 Pro Worlds Round 3 Lake Eureka Emerson Keith hole 5 putt
2019 Pro Worlds Round 3 Lake Eureka Andrew Presnell hole 8 approach
2019 Pro Worlds Round 3 Lake Eureka Nate Sexton hole 10 drive
2019 Pro Worlds Round 3 Lake Eureka Anthony Barela hole 10 drive
2019 Pro Worlds Round 3 Lake Eureka Chris Clemons hole 10 putt
2019 Pro Worlds Round 3 Lake Eureka Anthony Barela hole 12 putt
2019 Pro Worlds Round 3 Lake Eureka Emerson Keith hole 15 drive
2019 Pro Worlds Round 3 Lake Eureka James Conrad hole 15 drive
2019 Pro Worlds Round 3 Lake Eureka Andrew Presnell hole 15 roller drive
2019 Pro Worlds Round 3 Lake Eureka Josh Anthon hole 15 putt
2019 Pro Worlds Round 3 Lake Eureka Josh Anthon hole 18 roller approach