Jones, Conrad climb back to lead card.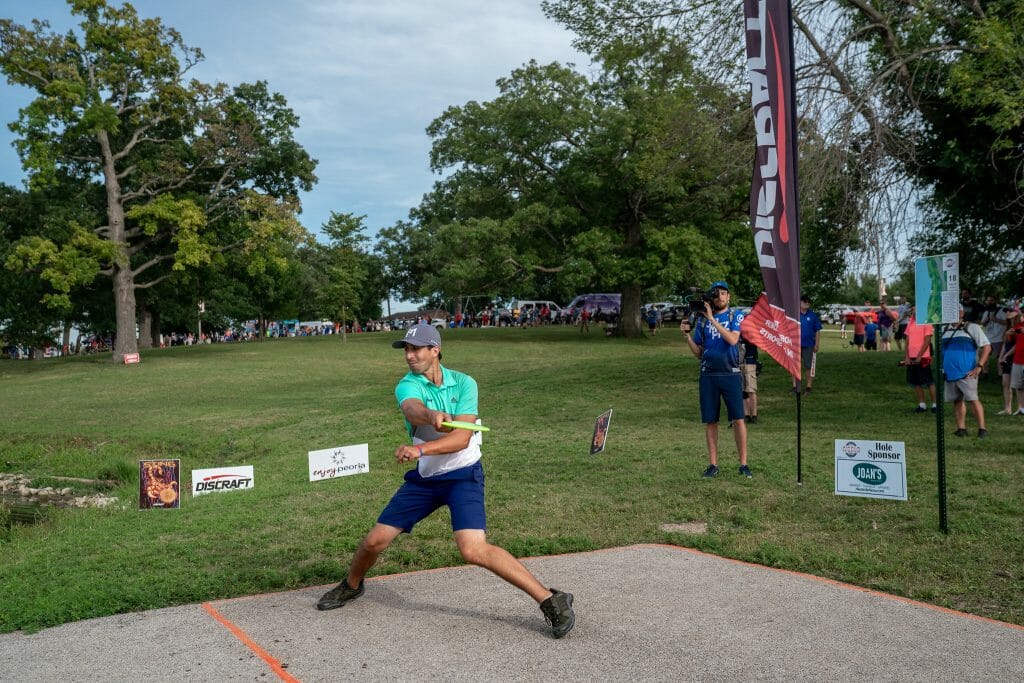 PEORIA, Ill. — Mr. Consistency.
For the third straight day, Paul McBeth shot a double digit under par round at the 2019 PDGA Pro World Championships. Despite three-putting from inside the circle on hole 15, McBeth again had one of the best rounds of the day and finished with an 11-under par 52 to take a four-shot lead over Emerson Keith atop the leaderboard.
"It was a day when I finally feel like I got it going early," said McBeth, who shot six-under in the front nine, his best start of the week. He carded comfortable birdies but also saved par twice with big circle two putts, including a 49 foot shot around a tree right in front of his line to the basket after going out of bounds on hole 4.
LISTEN: Paul McBeth talks round three on The Upshot podcast 
McBeth's all-around excellence continued to shine through on Thursday. He leads the tournament in birdie rate (67%), Circle 1 in regulation (67%), and Circle 2 in regulation (78%). He's also shooting elite percentages on the green — 91% C1X, 40% C2.
It's been his steady high-level play — he's had just four total bogies — that has really set him apart from his competitors.
Keith, who entered the day with a one-stroke lead, got off to a great start but hit a rough patch for the first time all week. After going out of bounds on hole six, he missed his look from outside the circle and took a bogey to let McBeth draw level. After a birdie on hole seven, he pulled his upshot right and out of bounds on hole eight. He airballed the putt, which sent his disc tumbling into the water on the opposite side of the green for a second penalty stroke before making the putt for double bogey. He went OB again on the next hole as McBeth birdied.
In the span of about 10 minutes, Keith went from being tied with McBeth to trailing by five strokes. Otherwise, Keith mostly continued his strong play.
"Paul played great," said Keith. "So I had no choice but to forget what I did and just keep going and keep getting birdies and do what I can."
Elsewhere on the lead card, Anthony Barela got off to a disastrous start, going out of bounds seven times in the first six holes and going a combined +10 in that stretch, including back-to-back triple bogies. Some bad breaks were compounded by poor shots, and, though he later started to find some birdies, he posted one of the day's worst scores, a 7-over par 70.
McBeth said it was challenging to stay locked in through the mistakes from his cardmates. "It gets pretty tough to focus," he said. "You see those shots and you see them struggling, and then once they get to the point where they're like, 'Oh, I don't care,' it kind of changes the mood on the card. So I kind of have to tell myself to put the blinders on and just focus on myself."
"I just want to stick to my goal and try to shoot double digits [under par] each round, because I think if I do that, I'll win the tournament."
Eagle McMahon Sets The Course Record With 14-Under
After a listless 997-rated round yesterday at Northwood, Eagle McMahon soared to the best round of the week, a sparkling 1101-rated 14-under par 49, catapulting him up 24 spots on the leaderboard into a tie for 15th.
McMahon did just about everything better — he found the green, scrambled when he didn't, and shot exactly 18 putts for his 14 birdies and four pars. It was a complete 180 from Wednesday's performance.
"I have no idea what was different," he said. "I played the same exact way and I shot 14-under. I really am confused on how disc golf works at the moment…You know, you've got to take the good with the bad. This is what that really teaches you."
McMahon was realistic about where he stands, knowing that he would need a superhuman effort over the next two days to have a chance to contend for a title, but said that he felt like he was now set up to have a "respectable finish."
He'll also get another shot at Northwood Gold on Friday. He's got some adjustments in mind.
"There's a few different things I'll do out on Northwood," he said. "I was seeing some players laying up in places and throwing some different lines I didn't notice during practice, and I think I'm going to give those a try, because it can't really get much worse out there."
Jones, Conrad Jump Back To Lead Card
Friday's lead card will be a mirror image of Wednesday's, with Paul McBeth, Emerson Keith, Kevin Jones, and James Conrad taking center stage at Northwood Gold.
Both Jones and Conrad bounced back from solid though unspectacular showings on Wednesday with 1072 and 1065 rated rounds, respectively, on Thursday at Eureka. Jones fired off five straight birdies to start his round and closed out with a six-under back nine to again crack double digits under par at the temporary course.
In contrast, Conrad had a slow start (+1 through five holes) but then shot 10 birdies in the final 13 holes.
Both players said they were pleased with their overall performance this week despite trailing McBeth by eight strokes.
How could they catch him?
"It just comes down to straight shredding every round," said Jones. "I mean, [McBeth] shot an 11-under at Northwood, which is out of this world to me. Great shooting by Paul — that was incredible. I'm just going to keep playing my game. Maybe I'll pop off an 11 one day. Maybe it happens. But I'm not too worried. I think I'm playing good golf, and I think he's playing outstanding golf."
Notes & Quotes
What a day for the 4th card! Simon Lizotte (-11), Eric Oakley (-10), Ricky Wysocki (-10), and Zackeriath Johnson (-9) shot a combined 40-under par with six star frames. The players were gushing after the round about what a great experience it was.
After his breakthrough performance this week, Emerson Keith has been getting mobbed by fans looking for his signature. "I've been asked here and there, but not like this — this is a lot of people at the same time," he said. "It's awesome. I don't dislike it at all. It's fun."
This is what Worlds is all about: Väinö Mäkelä (Finland), Alex Russell (USA), Martin Hendel (Canada), and Albert Tamm (Estonia) were on a card together today.
James Conrad on what he learned from last year's struggles during the final round at Worlds: "That's definitely something I put a lot of thought into after Worlds, like what maybe went wrong that final round and what I can do different. I've tried not to wear myself out too much this week. I think that might have been part of it. I was spending a lot of practice time on the greens, like an hour before every round. And just by the end, I was just unused to using that many reps that many days in a row. So I've been trying to keep it a little lighter on just the number of reps in terms of putting in the evenings or before rounds. Some of it was probably nerves on a subconscious level. Just being on the final round lead card Worlds is a pretty big deal, and I'm stoked if I can make that again."