Allen now leads by two strokes.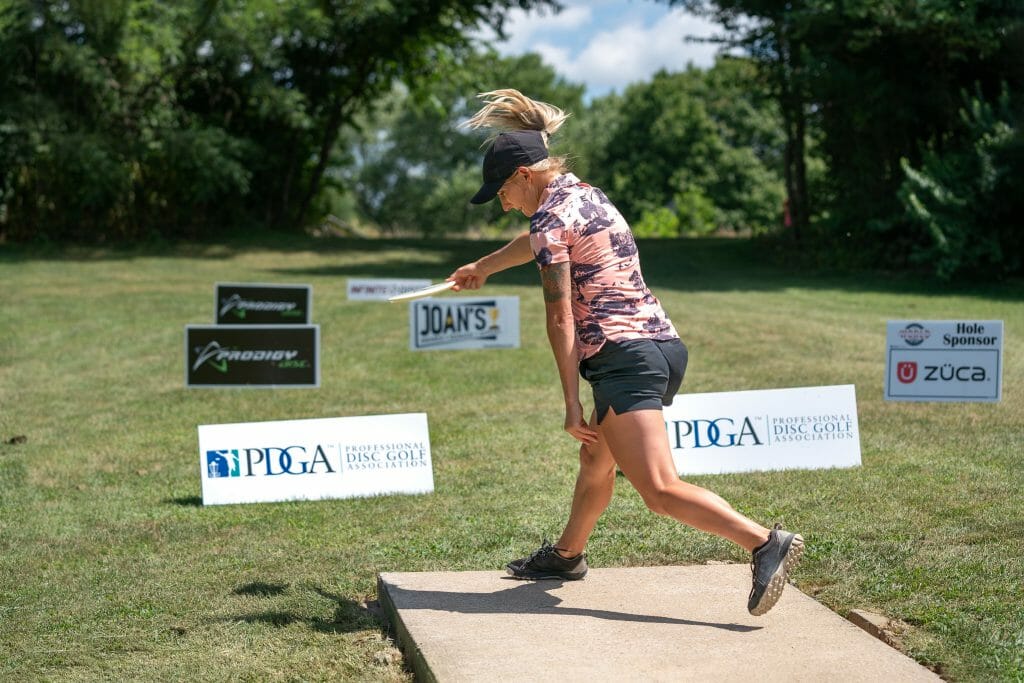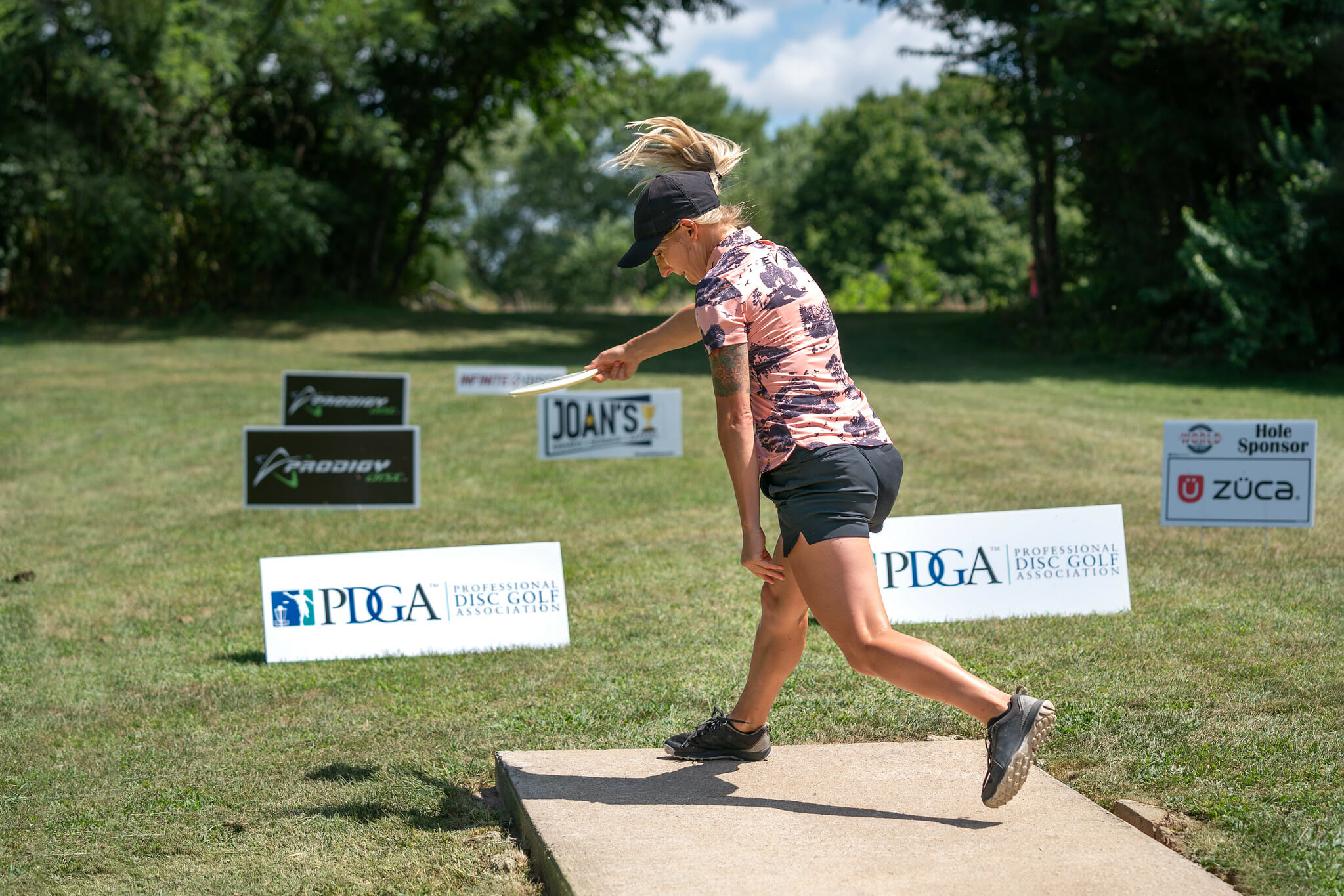 PEORIA, Ill. — Overall, scores were much lower for the FPO division on day two of the World Championships. Players all up and down the scorecard found birdies on the very attackable front nine, though only a couple were able to keep the good scores going on the back nine. It was a day of vastly greater intensity, despite a lot of backups for the later cards, and some big movement at the top of the leaderboard. But one player in particular asserted herself as the favorite to win the tournament with a huge second round.
Allen Obliterates Sunset Hills
Catrina Allen rebounded from her frustrating end to the first day by putting together a sparkling round two. Allen put up a 9-under par 52, three stokes better than anyone else on the day and good enough to give her a two stroke lead going into round three. She birdied 67% of her holes, a number that doubled everyone else in the field, save Erika Stinchcomb (44%).
The massive numbers came despite Allen's continued struggles with the putter. She upped her circle 1x putting by just three points from her round one performance, bringing her round two rate up to 43%, and she was worse from circle two on day two, going 0-2. The key for Allen was simply avoiding those lengthy putts altogether.
Allen was fantastic off the tee, hitting the fairway 89% of the time and parking six holes. She put it to within tap-in distance from the fairway on three other holes, meaning she was able to avoid having to putt from outside of 3.3 meters 50% of the time on Wednesday.
The course, particularly the front nine, set up to Allen's strengths. She feasted on the course's open spaces on the front half and then kept the momentum rolling in back nine when she needed to be a little more precise with her lines.
"This course is open and my strongest part of my game is off the tee," said Allen. "I feel like I have a great game plan and I feel confident there. I put a lot of shots inside 18 feet and that was helpful."
Allen was phenomenal in every facet during round two, except putting, where no one else was efficient enough to make up the difference. With two of the final three rounds back at Sunset Hills, Allen has to feel good about her chances of winning. And if she starts hitting her putts, then they can start engraving her name on the trophy right now.
Salonen Stumbles
After an electric opening round, Eveliina Salonen struggled to maintain her strong start into round two. She was only -3 on the front nine on Wednesday while many others were pouring in birdies. Salonen's pars turned into bogeys during a rough stretch in the back half, but it wasn't until hole 15 that she'd fully given up her six stroke lead.
After watching Allen lace a perfect tee shot, Salonen misthrew her own drive off of the 15th tee. She found the fairway but was well short of the ideal landing zone to attack the dogleg left. Her attempt to make up the ground on her second shot wasn't executed well, either, and it put her in tight spot against a tree for her third shot.
She was able to give herself a look to save par, but she missed the tester and had to settle for bogey while Allen expertly earned a birdie to take a two stroke lead. It was Salonen's third bogey in five holes after she found OB on holes 11 and 13. In that five hole span, she gave up six strokes to Allen.
Apart from the struggles off the tee in those five holes, the big difference for Salonen on day two was that she stopped making her putts. After shooting 100% from circle 1x on day one, she shot just 50% on day two. A lot of those were near makes, hitting the cage just a couple of inches low. But, still, she left strokes on the putting green after riding her success in that area to a big first round. Her ability to rediscover the putting stroke will determine if she's able to push Allen over the next three rounds.
Tattar, Pierce Join Lead Card
Kristin Tattar and Paige Pierce are the two players that will join Allen and Salonen on the lead card for round three, but the two could not have had more contrasting second rounds. Tattar was the other player with Allen to consistently find birdies on the back nine1 as she was able to beat par on holes 10, 12, 13, and 14.
Tattar curiously struggled to find birdies on the front nine, and she had a couple of late bogeys that prevented her from posting a really special round. But she was still the only player to post a better score on the back half than on the front half.
"I had a shaky start because I just couldn't get the putt in," said Tattar of her inability to put up scores on the attackable first nine. "But then I refocused myself and thought about making the putts, instead of not missing them, so I got the putts in and it felt great."
Pierce's round two was more in line with the trend of the field, carding most of her birdies through the first nine holes. Pierce didn't find a second half birdie until hole 18, but unlike much of the field, she was mostly able to avoid big numbers down the stretch, taking just one bogey on 14 after an out of bounds tee shot.
Otherwise, the 4-under par 57 Pierce put together through nine was enough to put her on the lead card. Pierce took advantage of her scoring chances when they were there, hitting 79% of her circle 1x putts. That rate was tied for sixth best in FPO on round two.
Pierce still wasn't at her best on round two, but it did feel like she was starting to rev the engine a bit and set herself up to really challenge the leaders through the final three rounds.
Notes
Erika Stinchcomb was absolutely lights out through eight holes, stacking up six birdies including five in a row from hole four to hole eight. She faded after the hot start to finish -2 on the day, but it was quite the start.
Finnish phenom Henna Blomroos posted the second best round of the day at -6. She needed just a 16 foot putt for her eagle on six, a hole only two other players were able to eagle all day. Her strong round has the burgeoning star on the chase card for round three.
Sarah Hokom was another one of those players to eagle hole six — Paige Pierce was the third — but she hit it with a 233 foot throw in. Hokom was one of many players to post a quiet back nine after a strong front, but it was her double bogey on 18 that really hurt. A mistake on her approach left her short, the subsequent par putt then hit the cage and rolled away, and her bid to save bogey came up short. Had she been able to hold for par, she would have been on the lead card for round three at -4.
---
The pair, along with Lydia Lyons, were the only players to have more than two birdies after the halfway point. ↩