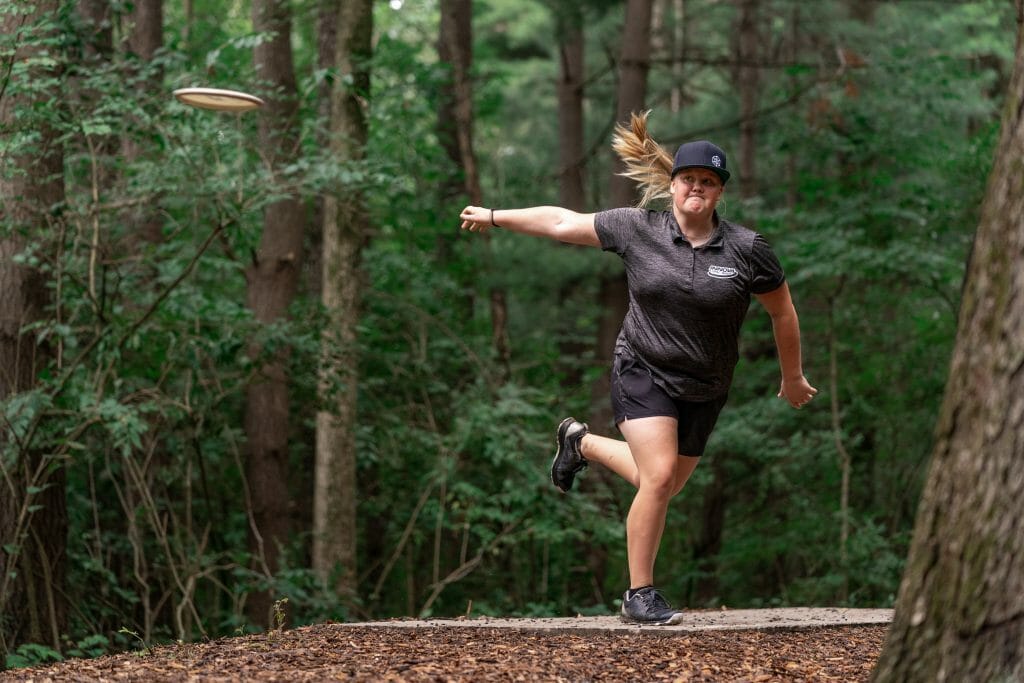 Through the opening round of the 2019 World Championships, most players seem to still be working their way into tournament mode. Not so for Eveliina Salonen, whose fantastic first round stole the headlines on day one, while Catrina Allen was a few tough breaks from having a round to remember.
These were the stories that defined the opening round of FPO at the 2019 World Championships.
Eveliina Salonen Slays Northwood
The FPO division played the opening round at the Northwood Blue course, and Eveliina Salonen absolutely torched it, posting a 1025-rated 7-under 56. That score was good enough to open up a six stroke advantage over the field through the opening round of play, and it's difficult to see anyone matching her eight birdie, one bogey1 performance today.
Salonen didn't excel in any one spectacular facet of the game, although she did knock down 100% of her circle one putts. There was simply no part of her game that let her down. She hit the fairway at a 79% clip, good for fourth in the field; she parked 11% of the holes, which tied for second; she hit circle one in regulation 33% of the time (T-4th), circle two in regulation 67% of the time (3rd), and successfully scrambled 83% of the time (T-2nd). The only statistical category in which Salonen led the field was circle one putting, where she matched by four other players.2
Salonen said she didn't even notice that she was putting particularly well. "There were a couple bad holes, but I need to be happy with that round," she said. "My putting was good today, but I didn't think that during the round. Let's see how it goes next round."
Salonen may not have felt like she was playing as well as she was in real time, but she also wasn't stunned by her final score, despite how much higher it was than anyone else's. "I didn't have any pressure and I thought -7 was realistic because there are many birdie-able holes," she said. "I just needed to hit lines and make putts."
Salonen certainly did that on Tuesday, barely putting a foot wrong on her opening round. But as she pointed out herself, there's still four rounds of play left. With still so much time left in the tournament, Salonen didn't win herself the tournament on Tuesday. But in finding a level of consistency that no one else came even close to matching, she certainly gave herself a sizable head start.
Catrina Allen's Missed Opportunities
While no one's final score came near Salonen's, Catrina Allen was just a couple of breaks away from being right there with her at the top of the leaderboard. At one under through 12, Allen wasn't having a spectacular round, but was still hanging around the top of the leader board. But Allen nearly had a fantastic final stretch that would have put her a stroke or two off the lead.
On hole 13, Allen had a superb drive that set her up with a good opportunity to get to the basket in two for an easy birdie. Instead, her upshot hit a tree and left her a little short, with the subsequent circle one putt spitting out. After a birdie with a great putt on an elevated basket on 14, Allen had another circle one chance for birdie on 15, but she hit the top of the basket and again had to settle for par.
The three hole stretch was inches away from being three straight birdies that would have put her at at four under. As she had done a couple holes prior, she bounced back from the frustrating moment with another birdie, to bring her score to -3. But her momentum came to a screeching halt on 17, when a wayward tee shot forced her to try to get up and down from a ditch.
Her throw out caught a log on the lip of the ditch, which meant she only gained a few yards on the throw. She left her subsequent attempt to get up and down out wide, hitting a tree that knocked her down well short of the pin. Her putt to save bogey came up empty resulting in a frustrating five on the par three and put her back to -1.
The frustrations continued for Allen on the final hole of the day. After a massive tee shot left her the closest to the pin of any of her cardmates, her second shot left her on the outer cusp of circle one, which she again was unable to make.
Allen ended up with a 40% C1X rate, fifth worst among those from whom such stats were tallied. Had she been able to hit even just a couple of those putts, and avoided the two mistakes on 17, Allen could have put up a special number, and been right there with Salonen. Instead, she'll have to take solace in the fact that she threw well enough to have a great day, even if the putter was lagging behind.
Lack of Intensity, Consistency From the Field
Through the rest of the division, it felt like everyone else hadn't quite gotten into Worlds mode yet. Some usual top performers like Paige Pierce and Sarah Hokom had inconsistent rounds and finished +1 and +2, respectively. Others, like defending champion Paige Bjerkaas, who finished the day at even par, were able to avoid the mistakes but never quite found a strong rhythm either.
Bjerkaas said that it hadn't quite sunk in that it was the first day of Worlds.
"I do feel excited about this, but stepping up to hole one it kinda felt like, 'Is this the World Championships?' I don't know if it's sunk in that it's time to play, it's time to have that game mode…I think I'm slowly trying to get that game mode started, kind of a slow start," she said. 
For the most part, the day had a subdued feel to it. Maybe the moment hadn't sunk in for others, as it hadn't for Bjerkaas, or maybe the players were playing to keep something in the tank, knowing they have four more rounds still to play this week. Hokom alluded to that a bit, too. "I feel good about it," she said. "I'm in the big tie for 5th and one stroke out of second. We have four more rounds and a lot can happen in four rounds, so I'm optimistic and looking forward to tomorrow at Sunset."
With so many players hovering around par in that -1 to +2 range,  it felt like players were just trying to get through the day as close to par as possible, with only Salonen able to play her way to a truly impressive score. Expect the intensity and level of play to pick up as the week wears on and a championship comes closer into sight. But through day one, the world championship feel was definitely lacking.
Quotables
– Valerie Mandujano, playing in her first Word Championships, on having her sister as her caddy: "It's huge for me. The minute I second guess myself about a shot I'll ask her, and she's like, "This is the shot you're going to throw, there's no doubt you can hit it.' I think at times she has more confidence in my game, but it's really cool, I love it."
– Sarah Hokom on maintaining expectations this week as a former world champion: "You know with how my season has gone, it's kinda easy to keep them down (laughs), but [it's] certainly something that I really want – to be in the hunt coming down the stretch. So I am having to make sure that I just go through my process, and not get anything in my head that I should be pushing for something."
– Paige Bjerkaas on 60 foot putt for par on hole 17: "I definitely missed some opportunities, but you know I made like a 60, 70-footer. That was so exciting. I knew it was to get 2 on Catrina [Allen] and I knew scores were tight so I was like, 'This is an important putt' especially because I fluked the upshot."
---
Both numbers were best in the field. ↩

Sandi Hendel, Hayley Flintoft, Ellen Widboom, and Katarina Staalesen all also shot 100% from inside the circle. ↩