Walker, tied with Allen in second, goes 10-for-10 from C1X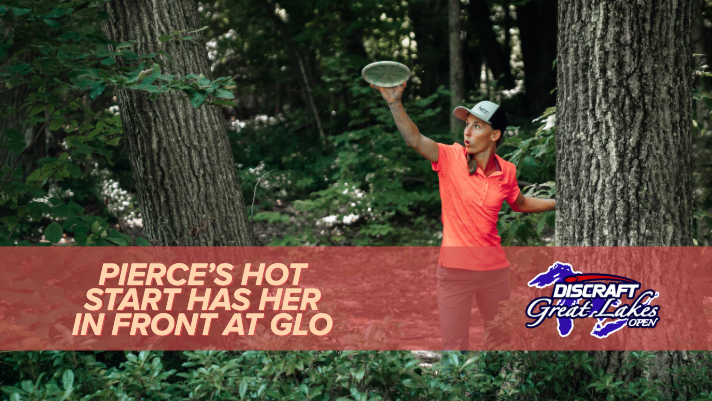 Just because she hasn't played the event in several years doesn't mean Paige Pierce wasn't ready for the Great Lakes Open.
Straight out of the gate at the Disc Golf Pro Tour event, Pierce was picking up birdies, getting out to an early lead she did not relinquish on day one of three.
Pierce went birdie-birdie-birdie-birdie to open her round on Toboggan and would finish round one at 4-under par 56 total, currently a 1005-rated round. Her first three birdies all included putts from Circle 1X, but those would be the last hits from 3.3-10 meters until hole 18. Pierce is currently 22nd in the 35 player field in C1X putting at 57%, having two-putted three times on the back nine. Three of Pierce's six under par scores came via parked shots, a stat she leads the field in by 11 percentage points at 17%. She is also first in C1 in regulation, 44%, C2 in regulation, 61%, and fairway hits, 61%, and had the only birdies on hole 1 and 11.
The 56 from Pierce is one shot off last year's hot round at the event, a 6-under par 55 from Sarah Hokom in round two. Par changed in 2019 from 61 to 60 after dropping hole 2 from a par 5 to a par 4.
Catrina Allen and Madison Walker are tied in second place at 1-under par 59, turning in the only other under par scores of the opening round. Both limited the bogeys to one but couldn't score well. Walker did have the hot putter of the day. She was 100% from C1X, connecting on all 10 attempts, and added a C2 putt from 50 feet on hole 17 to save par.
Jessica Weese had a similar start to Pierce, opening 4-under par through five holes, including four consecutive birdies, but recorded only pars and bogeys from there out to finish 1-over par 61. She is currently in seventh place.