Mitch McClellan only first-time individual world champion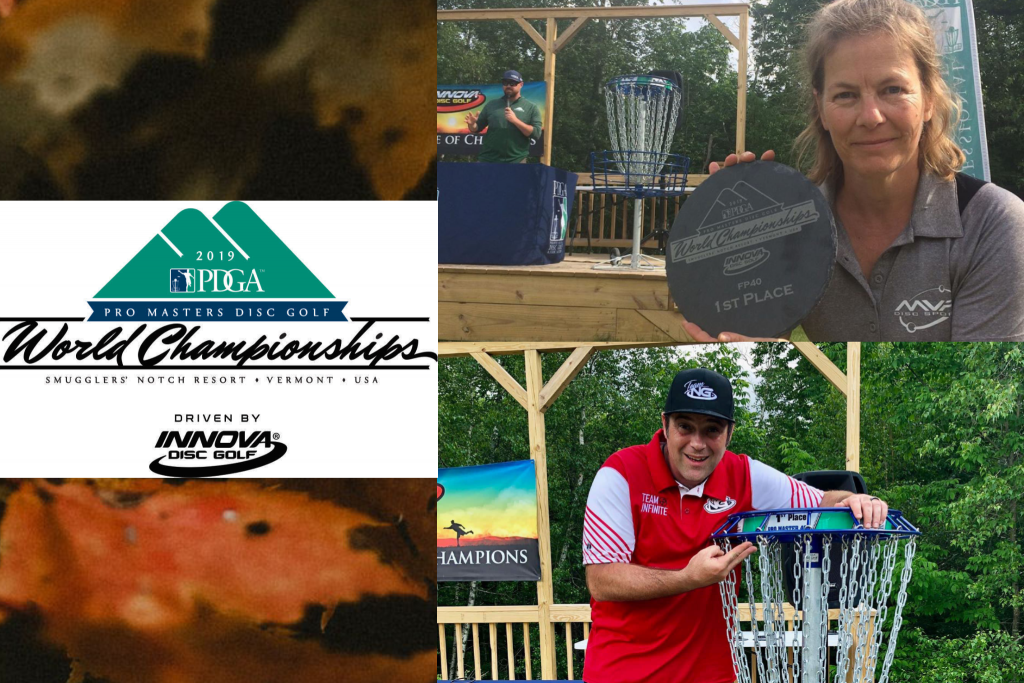 It was a long seven days at Smugglers' Notch Resort for the 2019 PDGA Pro Masters World Championship. Doubles competition started June 22, and the final putts of the individual event hit the chains on Fox Run Meadows a week later.
After a lot of impressive golf was played on the two courses at Smuggs, the podiums looked fairly familiar.
Dave Feldberg won his second consecutive Masters 40+ world title, and third individual crown; Elaine King won Masters Women 40+ for a third time, her eighth singles title; Ron Convers won his third Masters 50+ title; Dave Greenwell won his fourth Masters 60+ title, his 10th individual honor; and Johnny Sias won his first Masters 65+ title, and fourth singles world championship. Pro Masters 55+'s Mitch McClellan was the only first-time singles winner on Saturday, but he has a couple of World Doubles championships to his name.
Feldberg had an especially good week, adding a couple of honors before the tournament kicked-off in earnest.
"The week started off great by Patrick Brown and myself defending our divisional doubles title by one stroke over Steve Rico and Jonathan Ray," Feldberg said. "Then the next day at field events I had a really good day claiming the putting world title, mini disc golf world title, and an EDGE skillshot world title. So I was feeling pretty good going into singles competition."
Going into the fifth round semifinals, Feldberg had a five stroke advantage over Barry Schultz and Steve Rico. Schultz was able to cut the lead to three on Brewster Ridge, but Feldberg was firing on all cylinders during the final 9 on Fox Run. He would go 5-under on the nine holes and stretch his eventual margin of victory to nine, finishing at 22-under par total. Schultz was second at 13-under par and JohnE McCray third at 8-under par.
"It was a tough fight as those courses and the conditions were really hard," Feldberg said. "I think I'm the first person in modern times to win an open or masters world title with a mixed bag."
Once Elaine King took the outright lead in Masters Women 40+ she never looked back. An even par final 9 pushed her winning total to 27-over par, 15 strokes ahead of second place Susan Stephens. Natalie Holloköi almost caught Stephens for second in the final 9 but finished one stroke behind her in third.
"I loved the challenge of playing the tightly wooded, undulating Brewster Ridge paired with the mostly open holes on Fox Run where disc control in the wind was paramount," King said. "Thrilled to earn a third FPO40 World title against tough competitors."
Convers had to keep up the pace in the semifinals, as he was one of four players in Masters 50+ to shoot an 11-under par round on Brewster Ridge. Tying the hot round maintained his lead atop the division, and he would hold on to win by four strokes, finishing at 38-under par total. Kevin Babbit and Jonathan Baldwin tied for second place at 34-under par.
In Masters 55+, McClellan added four strokes to his lead on Saturday to beat Eric Rainey for his first world title. McClellan finished at 17-under par total, and Rainey finished at 9-under par.
For Greenwell, the final score appears closer than it really got. He won Masters 60+ by only two strokes, but that was after giving up three strokes to second place finisher Gregg Hosfeld on the final hole of the tournament when things were wrapped up.
Sias came from behind during the final 9 in Masters 65+ to win. He played clean, 1-under par golf on Saturday, and Alan Beaver, who would finish in second, was 5-over par over the final three holes of the event. Sias won by four strokes over Beaver, finishing at 13-over par total.