The recent college grad is making a go of it on the pro tour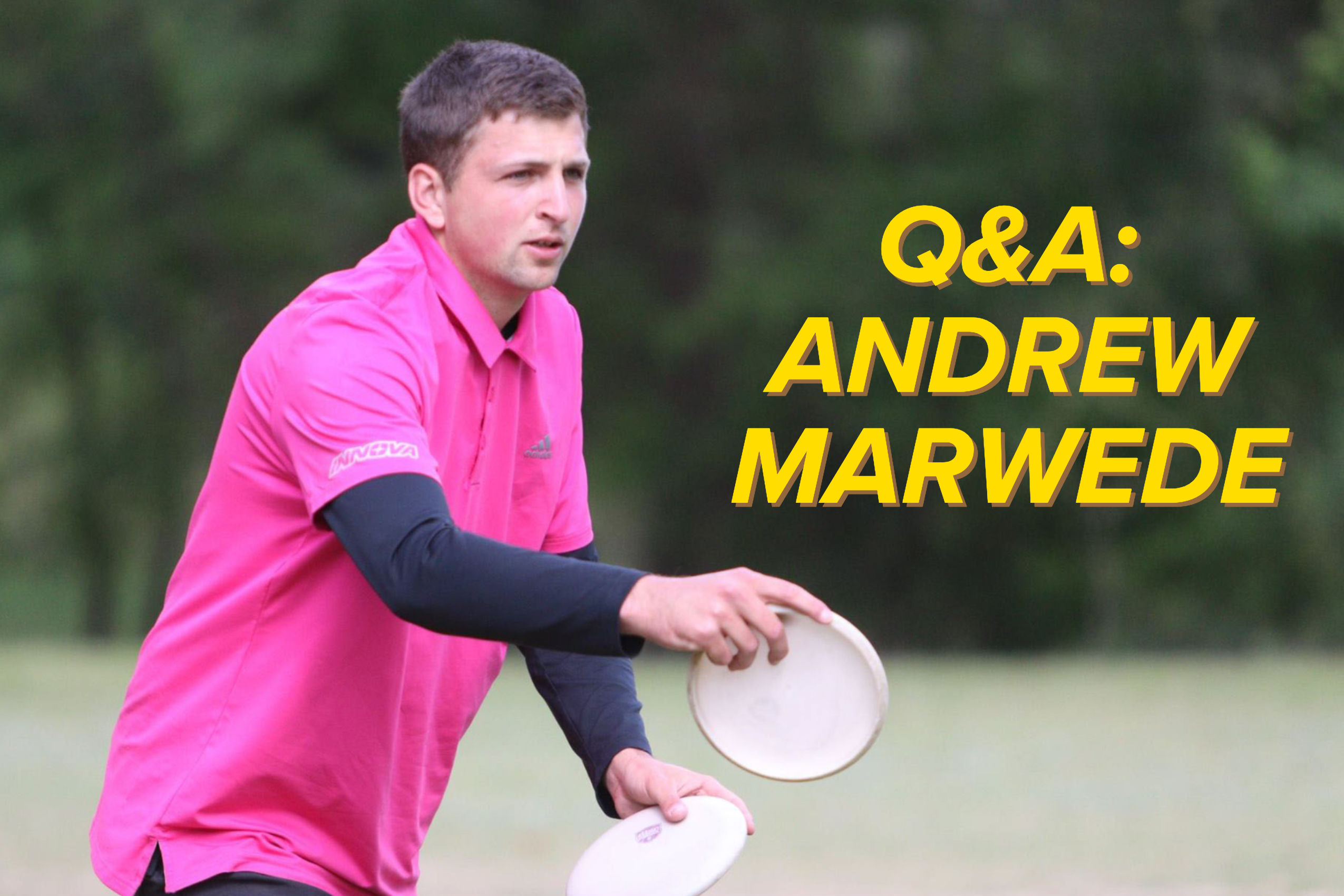 Fresh out of college this past winter, Andrew Marwede has become a mainstay on the professional tour this season.
Graduating with a Sport Management major and Event Management minor from Western Michigan University, Marwede has put the office job life on hold, and it's already paid dividends. He's cashed in every event entered, finished in the top 25 at elite tournaments such as the Glass Blown Open, Nick Hyde Memorial, and Jonesboro Open, and added some top fives at A-tiers like The Rumble and Ponca City Open.
Ultiworld Disc Golf caught up with Marwede as he returned back to Michigan to talk about his passion for disc golf, his goals for this season, and his plans for the rest of the season.
---
Ultiworld Disc Golf: How did you get your start into Disc Golf?
Andrew Marwede: I started the summer after I graduated high school in 2014. I played with all of my baseball friends at the time. Like many baseball players do, I started by hucking forehands and then got better over time. I wasn't sure what I was doing. but I learned how to throw more shots the more I played that summer.
UWDG: Who or what inspires you to continue to play?
AM: I would say that I have a self-achievement thing. There are always players that I look up to and want to play like. But I know that I can play better and improve on my own set of skills on my own terms.
UWDG: What made you take the leap into the tour life and become a professional?
AM: I bumped into the open division pretty early on in my career. I only really played one year of amateur before moving up. I was around 950-rated and every once in a while I was close to the professionals in scores. I had managed to get a few last cashes in some events, and then went on from there.
UWDG: What is it like being sponsored and throwing for Innova?
AM: It is definitely a dream come true. I was mostly an Innova thrower when I started, and it had always been a dream to be on that team. I knew it would be hard to win events and be 1000 rated. But I stuck with it and now I am going into my second year of being on the team. I'm honestly just living the life right now.
UWDG: What is your favorite course and disc?
AM: That is a tough one. I would have to say for my favorite disc it would have to be the Pro Pig or Sexton Firebird. If I had to just pick one it would be the Firebird. But playing in Michigan I use both of those discs a lot. For my favorite course, it would have to be Victory Park in Michigan. I have always shot well there, and it's about 40 minutes from where I live. You just have to be on your game to shoot well there.
UWDG: How is the first full year of touring going for you?
AM: It is fantastic. Knowing that when you wake up all you have to do today is play disc golf and practice is something out of a dream. Definitely meeting and getting to know all of the pros on tour and becoming friends with them is so cool. You just can't beat it. Right now, Reid Frescura and I are using my Equinox and it is treating us very well. One day we will get a van.
UWDG: What do you do to help grow the sport?
AM: I love helping out beginner players when they are on the course. Whenever I am out on a course, I love to help people who have questions. There are always locals who ask questions and it is always heartwarming to help them.
UWDG: What has been your most memorable moment in disc golf so far?
AM: I think that would be my win at the Hickory Hills open. The tournament is an A-tier and it was a close win. It was between me and Tim Barham, a local pro, and I beat him by a stroke. It came down to the last two holes, so it was a close race the last round. It was also my first tournament ace event.
UWDG: Now that 2019 is almost halfway over, what can we expect from you to finish out the year?
AM: I just finished up the Midwest/West Coast loop. I am definitely trying to place well in my home state in Michigan. I am looking forward to playing in the East Coast for those events coming up soon. I always have a goal to make more top 10 finishes as the year continues.
UWDG: What advice would you give to someone who wants to take their game to the next level?
AM: I would recommend to just work on putting. That was the biggest difference for me when I broke the threshold of 1000 rating. You don't have to run every single putt; sometimes smart golf is the way to play. Another big thing is to know your misses, know what will happen if you miss on one side or the other and in every situation. Smart golf is key to growing faster.
UWDG: Is there anything else you would like people to know about you that they may not?
AM: My life before disc golf was all about basketball. I had a scholarship to play out of junior college. I went to Western Michigan and that is where I fell in love with disc golf. I want to also thank Tilley's, Innova, and Great Lakes Disc for continuing to sponsor me and help me throughout the years.