A glimpse of the future.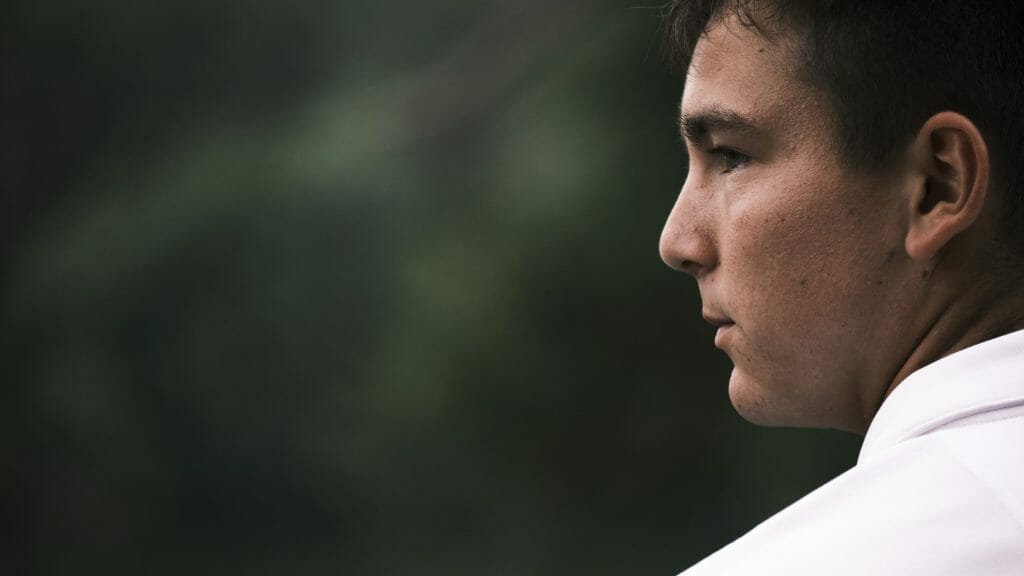 It was Saturday evening in Peoria, Illinois, and Cole Redalen had just spent four and half hours in the rain and mud on what most say is the toughest woods course on the tour.
Redalen had stretched his one-stroke lead in round two to four strokes over the chasing pack at Northwood Black in the third round of the Discraft Ledgestone Open. DGN commentator Nate Perkins asked the kind of filler question that comes at the end of many interviews: "Cole, you have four strokes going into Eureka. What are you going to do this evening?"
"I'm going to eat some chicken and rice with salsa and cheese back at the RV," the 18-year-old Oregonian said. "Then I'll probably go to the flymart and sell some frisbees and then do anything else I would do preparing for a tournament round."  It was a measured and specific answer that seemed like a reflection of the way Redalen played the four rounds of this DGPT Elite+ event. Plan, visualize, and execute: that seemed to be the theme of the weekend for the player who, in this era of young MPO phenoms, just staked a claim for the title of "next big thing."
Eureka Lake was a mirror for round one, with the warm and still conditions leaving the course that was rated eighth most difficult on the 2022 tour open to some low scoring. In the 2022 event, there was just one player 11-under-par after round one (Gannon Buhr) and 10th place was 5-under-par. This year, Calvin Heimburg and Ezra Robinson both shot 12-under par, and the six players clustered around 10th place all shot 9-under-par.
The MPO tournament then moved over to the feared Northwood Black course, and it was here that Redalen made his move. Starting on the chase card, Redalen had a slow start: birdie-less on the first three holes before carding a bogey on the par-4 hole four. Then, on hole five, where his cardmate Simon Lizotte pulled one of his many tricks for the weekend by threading a forehand through the trees on a line that only he could see to park the hole for a birdie, Redalen combined a perfectly placed fairway throw with a bullseye hit for a birdie of his own.
That set off a blistering run, where Redalen birdied 9 out of the next 12 holes, not missing a fairway off the tee on the par 4s and 5s and only missing the green twice on the par 3s.
"Sometimes, it feels like something takes over and you are not missing a shot," said Redalen after the round. "It's hard to play conservative out here. You have to hit the lines. You have to hit the fairways. I made sure I was committing to the shots that would keep me in the fairway. It's important to throw a lot of hyzer flips out here because as soon as you try to bring the disc flat, it's easy to yank some or let some early out. The hyzer is a nice consistent release — for my game at least."
Redalen and his chase cardmate from round 2, Simon Lizotte, joined Heimburg and Ezra Robinson on the lead card for another round in the woods at Northwood. The heat and humidity that had been blanketing Peoria for a few days finally broke on Friday night as nearly seven inches of rain fell between 4am and 10am, downing some trees, turning the fairways at Northwood Park muddy, and making the teepads slick. Moving spectators around the course presented an added challenge to the treacherous conditions underfoot. There were long waits for holes to clear and the round turned into a four and a half hour marathon for most groups. The same pro players, playing the same course one day later, averaged 4.7 more strokes per round and the bogey percentage increased from 24% to 36%. It seemed that everyone who fell down the leaderboard, like Lizotte, did so due to one or two disaster holes, while those that climbed, like Andrew Marwede, stayed mostly clean.
Redalen was surprised to have cleared out to a four-stroke lead by the end of the round. "I thought it would take a 5, or maybe 6-under to maintain a stroke lead," he said. "To have four, with only a three-under today, is mind blowing to me. It's one thing to come out here and shoot a nine-under like I did yesterday. But it's another thing to consistently hit those same shots that you did the day before."
Take Redalen out of the equation, and it was a continuation of the 2023 MPO DGPT script, with multiple contenders swapping between lead and chase cards, all an eagle or double bogey away from triumph or disaster. Between rounds three and four, Redalen had completely swapped cardmates on the top grouping. Joining him for the final round were Ricky Wysocki and Casey White, who had each shot five-under-par, along with Andrew Marwede, who put together a four-under-par for the round.
In deftly navigating Northwood Black's tight fairways and mostly avoiding its punishing rough, Redalen executed his shots with a smoothness that was reminiscent of the player that wunderkinds like him, Gannon Buhr, Kyle Klein, Niklas Anttila, and Anthony Barela are looking to usurp. That Paul McBeth-like grace isn't just aesthetic — it provides balance, consistency, and control that becomes more telling in tough conditions or when the stakes are high. Redalen stayed smooth in the tough conditions of round three and, heading into championship Sunday, it was time to see if he could produce when the stakes were high.
Any doubts that the occasion might prove too big were dispelled in the first couple of holes. Redalen took an aggressive line over the lake on hole one to set up a birdie. He then threw a roller on hole two in a way that made the high risk shot look risk-free, the disc flirting with the lake's edge on the left side before finishing in prime position for another birdie. This was the second of his eventual eight birdies in the front nine that had him eight strokes clear of his card and, under normal circumstances, would have seen him pulling away for a comfortable win.
But these were not normal circumstances.
Not more than an hour into the round, three extremely unlikely events occurred in a space of two minutes and forty seconds. On hole seven, Andrew Marwede flicked his disc 275 feet straight into the back of the bucket for an ace, barely touching a chain. Then, a distant roar wafted over from hole 10 where Calvin Heimburg threw his Eagle on a perfect flex line for a 425-foot ace. Perhaps even less likely was Calvin's pumped up show of emotion after the disc had hit low center chains and stuck, complete with a loud whoop and high fives all around. Heimburg has shown less excitement when he's won big tournaments. Crazy times.
The ace brought Vinny to within two strokes of Redalen, although he was three holes ahead on the course. Amazingly, the gap wouldn't get any closer. Any outside chance that Heimburg might have had to chase Redalen down faded on the must-birdie hole 15 when he left his drive short. By the time Redalen reached the same tee, he was ahead by four with four holes to play and looking safe. He took that lead to five strokes at the end to record one of the more dominant MPO wins seen on the DGPT this year. Redalen had equalled the course record on both courses used in the tournament.
Redalen had been statesman-like all weekend — measured and calm, taking deep breaths on each tee pad, visualizing each shot before throwing it, and giving exact and detailed responses to each interviewer at the beginning and end of each round. But after the winning putt dropped and he was mobbed by some friends who tried to chair him off and then dropped him, he was briefly an 18-year-old kid again.
By the time he spoke with DGN's Terry Miller after the round, though, he was back to speaking like he'd been rehearsing for this moment for all of his short life. His message after the round was an ode to every sports parent everywhere.
"I love you Mom and Dad," he said. "I know you are at home watching this on the couch right now, and I couldn't have done this without you guys. All the drives to tournaments and places to stay and support when basketball didn't work out and everything that happened to get myself on tour and the belief in me. Thank you. You guys are the real heroes and winners today."
It wasn't just Redalen's first major win, it was his first significant win ever. He'd never even won an A-tier event prior to the Ledgestone victory. It is clearly not going to be his last.
Missy Doesn't Hide from the Course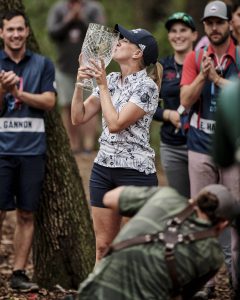 Missy Gannon has been in the picture for much of the Disc Golf Pro Tour this year, making 6 podiums out of 16 DGPT events prior to the Ledgestone. She came to Peoria seeking her first DGPT win of the year and to defend her title from 2022. With her first shot of the tournament, she set the tone for the next four days.
Gannon's tee shot on Northwood Black's hole 1 was a perfect S-shaped illustration of why woods golf should never leave the tour. The shot turned to follow the track marking the center of the fairway, kept turning around the guardian trees to the right of the basket, before fading and skipping onto the wood chips in the bullseye – the first time anyone can remember an FPO player driving that far on the hole, let alone parking it.
"I had parked it in practice," she said after the round. "You do have to get a little lucky. There is obviously the main gap straight down the middle, but I couldn't throw something straight enough to hit that main gap. I know I had to hit that high right side to get close to the basket. I know I could do it, and it's just about playing aggressive and trying not to shy away from the course."
The birdie was the first of two with which Gannon kicked off her tournament, and she kept up the pressure on the rest of the field for round one, shooting two under par to lead Ella Hansen and Sarah Hokom by a stroke.
"The front nine felt really smooth initially," Gannon said after the round. "The back nine felt a little bit more of a roller coaster. I had to scramble pretty hard for par and to minimise the bogeys."
The FPO field shifted to Sunset Hills for rounds two and three of the tournament, and it was Ohn Scoggins who led the charge in round two, shooting to a share of the lead with Gannon and Hansen with an eight-under-par 53 that included four putts from the edge of circle two and beyond.
"I haven't practiced jump putts at all this weekend," Scoggins said after the round. "Somehow it worked very well. Sometimes when you don't practice as much with jump puts and you don't expect as much from yourself you make more than you think. But every day I practice. Even when I'm real tired, I just think like it's a real job. You have to do what you have to do. If you want to play good disc golf, you can't just get up from your bed and play good, you have to put your heart and soul into it."
Scoggins had commented that moving to the more open spaces of Sunset Hills felt like "getting out of jail." There have been a few critics suggesting that the FPO dedicated course had underestimated the strength of the field which averaged more than a stroke under par for round two.
"I love having a dedicated course," said Missy Gannon. "I think we can all agree on that. But it is interesting when we are seeing the field just become so good. But at the same time, managing a course that's somewhat birdie or die is a whole skill in and of itself. So, I think that there's still a lot of challenges even though all the birdies are out there."
Just like with the MPO field on Northwood Black, the soaking rain made all the difference in round three, the field shooting nearly five strokes worse on average in the damp and slippery conditions. It was still raining heavily in the early holes, but it was here that Gannon took control, staying clean and shooting a five-under-par 56 to go into Sunday with a four stroke lead over Scoggins and Hansen.
Gannon didn't shy away from the course (in her words) on hole one of round three when her approach left her above the basket on circle's edge, facing a putt that would have left her a long comebacker should she miss. "I figured if I got as low and as level with the basket as I could," Gannon said. "I figured a little flick of the wrist and let it ride. I was ok with whatever the result was going to be, but my focus was on the spot that I wanted to hit. It was a good one to drop on the first hole."
The FPO field moved back to Northwood Black for the final round. Gannon wasn't able to replicate her hole 1 park job from the first round; instead, an early release caught a tree and kicked out of bounds to the left. Gannon's bogey was an early hiccup before Hansen strung three birdies together to close the lead to one by hole 4. But then a birdie by Gannon on hole-five and consecutive bogeys by Hansen on holes 6 and 7 restored the gap. Gannon steadied and gradually pulled away from Scoggins to be leading by six strokes with two to play. Her nerveless tee shot to land inside the bullseye on the dangerous hole 16 was another example of Gannon's controlled aggression throughout the weekend.
"I never thought I'd be a back-to-back champion," Gannon said in her post-win interview. "I mean it's just so hard to do now. But I felt like this was the chance to do it. These are the courses that I play so well on. I feel so comfortable here. Sometimes courses just suit your game and your shot shapes. I knew I played the back nine here better than the front nine, so I told myself to stay patient and trust my process."
The DGPT is now hitting the busiest part of the year with the LWS Open at Idlewild, the Great Lakes Open, the World Championships, and the MVP Open all coming up in the next six weeks. Buckle up disc golf fans: this is the time of year that some big questions get answered.
Can anyone take Tattar's crown at the big tournaments down the stretch, or could she complete the Grand Slam? Will Paul McBeth be able to defend his World title, or will 2023 continue to throw up surprise winners? Which MPO player will walk away from 2023 as the #1 player in the world? Stay tuned.