Hokom, Bjerkaas, Pierce tie for second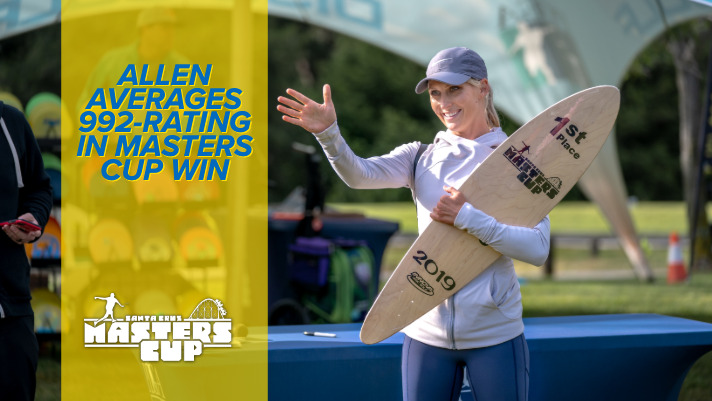 As the Masters Cup headed down the hill to the DeLaveaga Golf Course for its final round Sunday, Catrina Allen maintained a one stroke lead over Sarah Hokom. Paige Pierce lurked five strokes back as well, and shot six strokes better than Allen last year over the 18 holes at the golf course.
If anything has been a trend over the first couple of months of the 2019 season, it's that no lead is safe in the Open Women's division. Just look at Las Vegas, Jonesboro, and the Glass Blown Open, to name a few. One player has been common in each of those scenarios, and she again was in first.
"There's moments I'm nervous and I've got to battle the bad thoughts. It's almost more nerve-wracking to be leading," Allen said. "Wake up in the morning and you're kind of like, I want to do well, but I want to keep my lead, you know, you have all that extra pressure.
"I think that I'm doing a good job of battling the bad breaks and battling the bad thoughts. The swings —  the two or three stroke swings — I'm really forgetting them on the next tee and just throwing my shots."
Allen needed to keep her wits about her on a soggy Sunday to win a second PDGA National Tour event in 2019. And an added boost came from an unexpected source. Both Allen and Hokom were 1-over par on the day through the front nine, and as the lead card made the turn, Allen finally began to separate from the field, and did so when the weather made a turn too.
"It's weird, but when it started raining again, it's like, maybe I'll birdie again," Allen joked after the round. "I'd started well in the rain, made that big putt in the rain, threw some good upshots in the rain. I guess I just embraced it today. I was like, okay, keep raining then."
On the back nine, Allen was bogey-free with four birdies to finish the round at 3-under par 57 and pull away from Hokom for good. Despite two-putting four times in the front half of her day, Allen cleaned it up and was perfect from Circle 1X over the final nine holes. Allen finished in first by seven strokes at 2-under par 204 total, averaging 992-rated golf over three rounds. 
For the event, Allen was first in fairway hits, 59%, C2 in regulation, 58%, and parked shots, 9%, and second in C1 in regulation. It is Allen's fourth Masters Cup win, and first since 2016.
Hokom would finish her day 3-over par for a 5-over par 211 total. She remained in second place, her highest placement at an elite series event since winning the Disc Golf Pro Tour Championship last October. Hokom putted at 33% from inside C1X on Sunday.
Paige Bjerkaas shot a hot round 4-under par 56 to move two spots up into the three-way tie for second with Hokom and Paige Pierce. Bjerkaas was the only player in the division to go bogey-free on the golf course, and finished the event first in scramble rate at 78%.
"I'm going to sound a little bit like Paul Mcbeth here. I hate losing more than I like winning," Bjerkaas said after the round. "I've learned that about myself, you know, figuring out what the highs and lows are, but also just sticking it out. There's always the next tournament. Like, it's cool I won Vegas, but nobody really cares about that. Right? I have to think of it that way too. It's the next one.
"I want to win, but I like how my game is going and the growth that I've made," Bjerkaas continued. "I'm working on midranges and putters right now and eventually I'll work up to being confident with drivers and being aggressive off the tee. It's just one step at a time."