Paige Pierce made things interesting with only three holes to play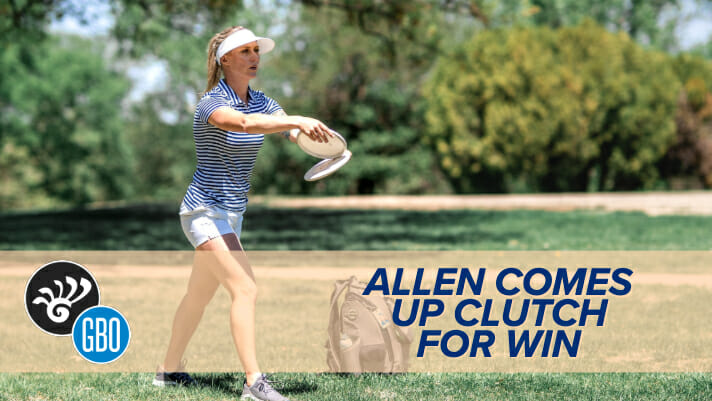 Six strokes can disappear in an instant at Emporia Country Club.
For Catrina Allen, it was island hole 16 that almost ended her chance at a Glass Blown Open title and her first PDGA National Tour victory of the year. Allen had been holding onto a big advantage over three rounds but had slowly dropped a couple of strokes to a surging Paige Pierce as the lead card stepped up to the tee with three holes to play.
Pierce teed first. She was 1-under par on the day and well on the way to a 1000+ rated round. Her putter shot was dead straight and landed flat and softly to nestle near the feet of the SmashboxxTV camera operator. Allen lined up a similar shot, but took some unfortunate air bounces during flight and was knocked down just short of the island, careening off of the front rocks into the drink. She would put her approach from the drop zone inside the circle.
The pressure was solely on Allen as Pierce drilled her 27-footer for birdie, guaranteeing at least a two stroke swing in her favor. Allen's putt came in chain high but faded out left early and toward the water. A disgusted Allen made the walk over to see the damage and took a seat on the grass to wait on a group decision as her disc was flirting dangerously with the water line.
After several minutes of debate, Allen was called inbounds, with Pierce giving Allen the benefit. Allen made her putt for double bogey to stop the bleeding, but the lead had been erased and Pierce was tied with two holes to play.
With the overall scores still knotted up at even par on hole 18, Pierce's drive found safety but not close enough for a putt. Allen took a line drive directly at the basket, skipping inside the circle and almost hitting the pavers near the elevated pin. She was about 20 feet for the birdie and win. Pierce layed up to force the putt from Allen.
The winning putt from Allen was never in doubt and she gave it a fist pump to emphasize the victory.
Allen was 3-over par 67 in the final round to finish at 1-under par 255 total. She was first in the division in fairway hits (66%), Circle 1 in regulation (42%), Circle 2 in regulation (53%), and birdies (31%).
Pierce shot a 1017-rated 2-under par 62, finishing in second at even par 256 for the weekend. She was fifth in C1X putting at 72%, 11 points higher than her previous best putting effort of the season (Las Vegas Challenge).
Jennifer Allen moved a couple of spots up into third with a solid final day round of 3-over par 67. She finished at 14-over par 270 total. Jessica Weese was fourth at 17-over par 273 total.