Only eight players shot under par rounds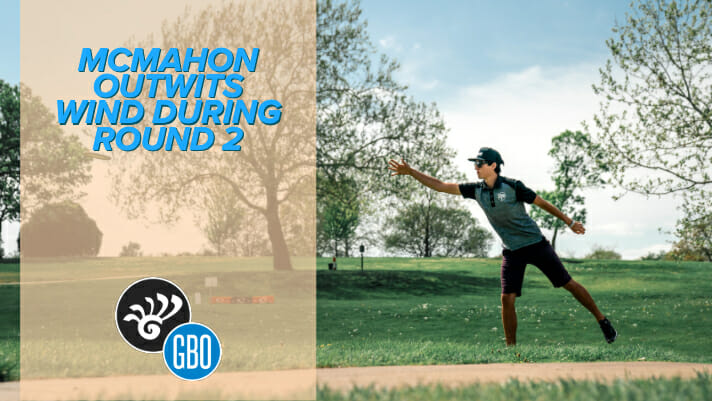 The weather conditions were more of what we are used to in Kansas for the second round at the Glass Blown Open. By the time the top Open cards were on the course, the winds were swirling around the Emporia Country Club.
For reference, the gusts had become such a factor that we saw single hole scores as high as 16, and an even par round was rated 1035.
Joel Freeman had built up a two stroke lead during round one but eleven players were still within four strokes of first place. With world champions on his heels, the target was squarely on Freeman's back.
"There was a certain degree of pressure," Freeman said. "Especially not being one of the top five players in the world…I think anybody who says otherwise would be lying. There were probably a couple of moments I thought I was about to get a stroke on the whole card and then just didn't quite throw the shot I was intending, and that probably had something to do with a little bit of nerves.
"They were there, but nothing too bad. I think I did a really good job of staying composed in that position."
Between the breeze and extra mental weight, Freeman's round played much differently from how he started, but he's not in a bad spot yet.
"Obviously [it was] just crazy windy, which made things tough," said Freeman, who shot a 4-over par 69 which only dropped him to a tie for fifth place at 7-under par 123 total.
"There were just a few shots that reacted on the grass differently from how I expected. I don't even know if I can think of one shot where I really felt like it was a poor shot," he continued. "I assumed the whole time that the rest of the field was also struggling just as much as we were. But, uh, that obviously wasn't really the case."
Airbender Eagle McMahon shot the hot round 8-under par 57 on a day where only eight players came in under par. Playing from the third card, McMahon jumped seven spots up the leaderboard into a three stroke lead in first at 15-under par 115 total.
Putting at times with an overstable midrange — an MD5 — McMahon was able to convert at 86% from Circle 1X and chipped in a 50-footer for birdie on hole 11 as well. He was also able to keep control of his drivers, finishing first, second, and third for the round in fairway hits, C1 in regulation, and C2 in regulation, respectively.
Paul McBeth was on the chase card and would have tied for the best score of the day at 4-under par 61 if not for McMahon's complete evisceration of ECC.
"Just had a few miscues out there, and then on the putting green it was not pretty," said McBeth.
After looking like he wasn't affected by the conditions through the front nine, he finished his round with nine straight pars, two-putting on three occasions, including holes 17 and 18.
"The putt on 17, I just had the headwind coming right at me," replayed McBeth. "I thought it would lift and I was worried about juicing it over the top. So I put it right at the top of the cage and normally those lift-up right into the center. And this one just stayed low, right into the cage."
McBeth is in second at 12-under par 118 total.
Anthony Barela, shooting a 4-under, and James Conrad, 3-under, made big moves on the day. Despite finishing bogey-double bogey-bogey, Barela is now tied for fifth with Freeman and Chris Dickerson. Conrad is tied in third with Ricky Wysocki at 9-under par 121 total.