Jessica Weese can still move up from third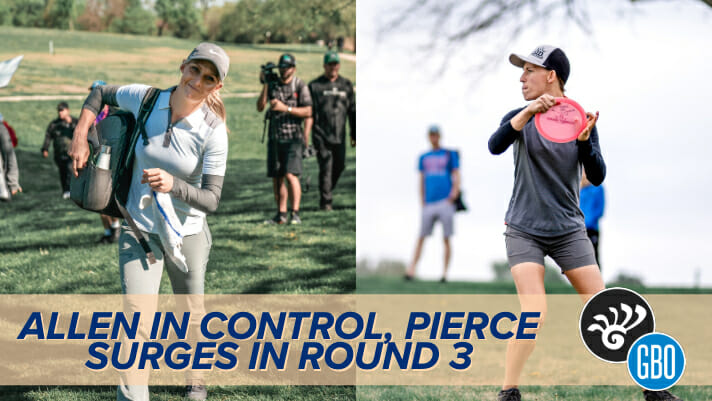 The scorecard doesn't look much different at the end of round three than it did at the beginning, but the Glass Blown Open has taken a different tenor.
For the first time in the event, Catrina Allen did not finish her round under par, carding a 1-over par 65 to bring her to 4-under par 188 total. She remains in first place by a decent margin, even though she lost a stroke from her round two lead.
While it's been Jessica Weese keeping Allen honest through 36 holes, a new challenger has appeared with Paige Pierce climbing up the leaderboard into second place after shooting a 2-under par 62. She's sitting at 2-over par 194 total.
"It's exciting for me because I'm going to be going into it down six," said Pierce, who was happy to have the luxury of being on the attack when the wind picks back up for the final round Saturday. "In my mind, if I don't get first I don't really care what position I land in, so I can be aggressive when I want to. Also on those ones that I am being aggressive on and capitalizing, I'm going to shake Catrina a little bit and she's going to feel me coming."
Pierce was already putting the pressure on during the back nine of the round as she strung together three birdies in a row on holes 13 to 15 to cut Allen's lead down to five, a deficit Weese had been hanging on for much of the day.
A steely Allen did not let the charging field faze her. She ran the island hole 16, landing safely on the green but staring at trouble on her putt. Allen drilled the chains with authority from close to circle's edge for the only birdie on the card and to add to her lead.
Even after the hole 16 connection, Allen said she was going to be practice putting this afternoon to regain some confidence to take into the final.
"I feel like if I'm putting well tomorrow, then it'll be fine," Allen said. "You know, that's kind of an easier adjustment then if I'm going OB every other hole."
Besides a little added pressure from her mom, whose favorite trophy of Allen's are the glass GBO pieces, Allen isn't treating tomorrow any differently. On the other hand, Pierce acknowledges the fun of the rivalry between the current first and second place players.
"We've come down the stretch so many times together and I think tomorrow is going to be an exciting battle," Pierce said. "And I do think there's going to be a lot of mental things that are coming into play. Some shots that you might see her mess up, you might see me mess up, [from] just overthinking and overcompensating."
Weese is only one stroke behind Pierce in third at 3-over par 195 total. She's top five in all major driving categories but ranks 15th in C1X putting at 67%. She's easily still within striking distance of Allen as well if she can limit the two-putts.
Notable names not making the top 40% cut to play on Saturday include Kona Panis, who double bogeyed hole 17 and missed the line by one stroke, Missy Gannon, and Callie McMorran.