McBeth, Dickerson move onto lead card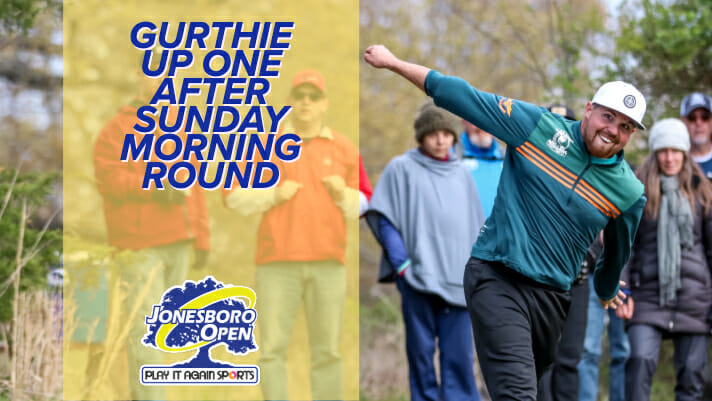 In the early morning return to the course Sunday to complete the postponed second round at the Jonesboro Open, no player in the Open division separated themselves from the field. With only a few hours before the division tees off for the final round, the leaders will need to dry out and shake off some pedestrian scores if they want to leave Arkansas with the win.
Garrett Gurthie tied for the lowest score of the day with a 5-under par 59 to move into a one stroke lead in first place at 16-under par 112 total. Even in the wet and windy conditions, Gurthie was able to convert on 100% of his Circle 1X putts, a usual bugaboo for the long distance aficionado. He was the only player to birdie hole 18, the most difficult hole to par at Disc Side of Heaven, during round two. Gurthie parked the hole, while only 3% of the field was able to reach Circle 2 in regulation.
Paul McBeth and Chris Dickerson matched the 5-under par 59 hot round, and moved into second and a tie for third respectively. McBeth shook off his rough 1-over par start on Saturday to go bogey-free to complete the round Sunday. He is still leading the tournament in fairway hits, 84%, and Circle 2 in regulation, 75%, and is sitting at 15-under par 113 total. Dickerson double bogeyed his final hole Saturday before play was suspended and rallied for six birdies Sunday. He was only off the fairway three times, successfully scrambling to save par twice.
Staying on lead card for the final round is Kevin Jones, who remains in third at 14-under par 114 total. Jones finished strong going 3-under par over the final four holes after double bogeying hole 14. Co-leaders after round one, Paul Ulibarri and Emerson Keith, both dropped into a tie for fifth at 13-under par 115 total. They will be on the chase card with Eagle McMahon and Simon Lizotte who are tied in seventh at 12-under par 116 total. At one point in the round, Lizotte had worked his way into second place before four-putting hole 10 to card a triple bogey.