Wysocki, Pierce looking for first elite wins of season


The Disc Golf Pro Tour returns to action this weekend at the 2019 Jonesboro Open in Jonesboro, Arkansas. This could be considered the final event of the first leg of the touring season, and what a first leg it has been. The course at Disc Side of Heaven is meant to challenge the biggest throwers in the game, and after having a couple of months to limber up in the Southwest and Texas, fans should expect a show in Arkansas.
Catrina Allen and Paul McBeth have been dominating their divisions this season. Allen has only missed the podium once so far, a fourth-place finish at the Memorial, and McBeth has two wins and an 18-under round under his belt in 2018. Neither Allen nor McBeth played particularly well at Jonesboro in 2018, though. McBeth placed 13th, and Allen finished fifth but was 16 strokes off the pace set by Paige Pierce.
Ricky Wysocki was able to snag his first win of the season at the Texas State Championship, and will be looking to defend his 2018 win at Jonesboro this weekend. Pierce, his co-defending-champ, got her first win of the season in dramatic fashion this past weekend at the Nick Hyde Memorial. Neither player has looked particularly locked-in this season, but Wysocki does seem to be getting more comfortable with his new discs. Pierce's struggles have mostly come on the putting green. She is only hitting 58% of her putts inside Circle 1X this season, but maybe a walk-off win at Nick Hyde will kick start her going into Jonesboro.
Arkansas native Kevin Jones will be looking to break out of an early season Pro Tour slump. Jones started the season strong with a fifth-place finish at Las Vegas, but failed to crack the top 20 at the Memorial and in Waco. Perhaps the hometown crowd will give him a boost. The course certainly plays to Jones' strengths, with long hilly fairways that he tends to favor. He finished 13th last year.
Chris Dickerson, Michael Johansen, Dave Feldberg, Henna Blomroos, Holly Finley, and Sara Lamberson will all be present at an elite event for the first this season. Lamberson is better known these days for her co-hosting duties on the PDGA Radio podcast, but she has two wins on the season, and is within two ratings points of her career high. Dickerson and Johansen have been tearing things up in their local scenes and should always be considered threats to the podium. Finnish phenom Blomroos will be playing in her first ever stateside tournament.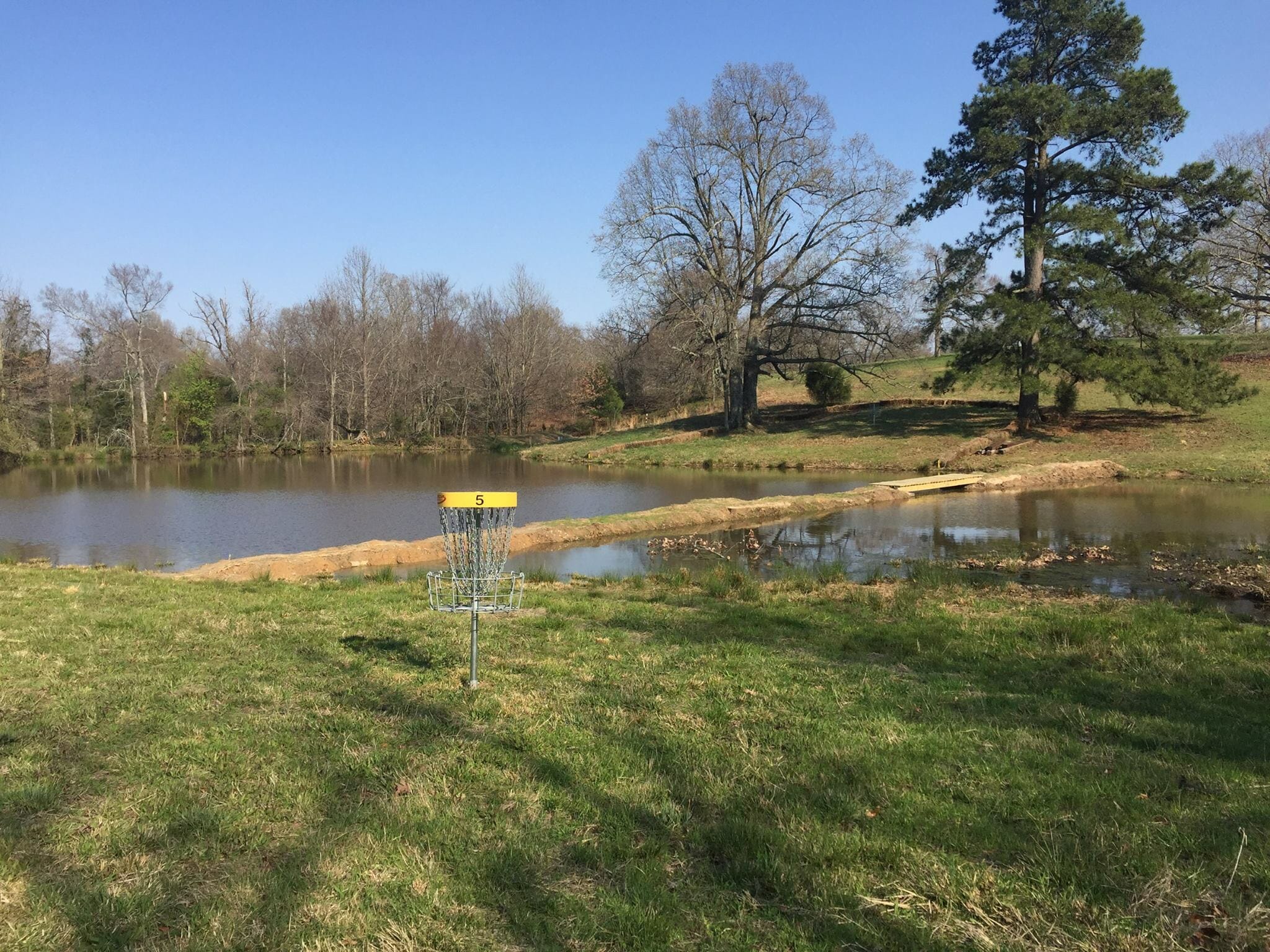 The Course
Disc Side of Heaven: MPO  – 9,885 feet, par 64; FPO – 8,607 feet, par 66.
Disc Side of Heaven isn't open, per se, nor is it wooded. The fairways are generally open, but the rough just off the fairway can be extremely punishing. Elevation changes and distance are the major challenge points at this course. If players don't have the distance, or don't account for the elevation appropriately, they can find themselves in the rough, or so out of position that scoring well is a tall order indeed.
All barbed wire fence lines will play OB. The DGPT wall will be used in some places to mark OB, specifically on holes 4, 5, 12, 14, 16, and 18.
Extended Forecast
Last year we saw quite the mix of weather for the Jonesboro Open, even some snow! We'll see a mix of weather again this year. A cold front will move through northeast Arkansas Thursday night, leading to nice conditions on Friday. Although severe thunderstorms should remain south of Jonesboro on Saturday, rainy and windy conditions will enter the forecast. Windy and cooler conditions are expected Sunday.
Friday: Temperatures to start play will be around 50°, but should warm into the upper 60s by the afternoon. West Southwest winds between 5 and 10 mph will be possible throughout the day.
Saturday: Widespread rain showers will move into the region on Saturday. While strong storms should remain to the south, gusty northeast winds in excess of 30 mph will be possible. Even though temperatures may top out in the mid 60s, it will still make for miserable playing conditions. Lightning can't be completely ruled out, especially in the afternoon hours.
Sunday: Conditions will be much cooler on Sunday, only topping out in the low 60s. Gusty northwest winds will be possible, as well as scattered showers.
How to Follow
Live coverage will be produced by SmashboxxTV and accessible through DGPT.tv, but not on YouTube. If you want to watch the live stream you can do so by clicking over to DGPT.tv. The FPO live stream starts at 10 a.m. eastern, Friday through Sunday. The MPO Livestream starts at 4:30 p.m., eastern Friday through Sunday. The DGPT will also be releasing post produced coverage of rounds on YouTube. However, if Waco is any indication, it may not be next day. (update: Smashboxx TV will be producing Smash Cuts of action for next-day consumption.)
UDisc Live will be providing live scoring throughout the weekend. Alyssa Van Lanen will be onsite providing photography.
Ultiworld Disc Golf will be providing daily updates. Alyssa Van Lanen will be onsite