More than 300 student-athletes descend on Georgia


Basketball isn't the only collegiate sport participating in March Madness this year. The college disc golf ranks are crowning a champion this week at the National Collegiate Disc Golf Championship at the International Disc Golf Center in Appling, Georgia. Will there be any upsets or will the favorites prevail?
Storylines
The key to success in college disc golf has historically been a team's ability to resist turnover. Arguably the most successful team in the history of college disc golf is Ferris State University. Ferris State has won two men's championships in the past four years and consistently finds themselves towards the top of the NCDGC leaderboard. The Bulldogs from Ferris State will have four NCDGC returners participating on their team in 2019 and are led by 993-rated Sam Mrdeza. Ferris State is ranked fifth in the most recent college disc golf rankings, but look for the experienced team to make some noise this week.
The Mississippi State Bulldogs come into the NCDGC looking to defend their 2018 men's team title. The no. 1 ranked Bulldogs lost their best individual finisher from last year in Jacob Henson, but are returning last year's 10th place finisher, Steven Hillerman. Hillerman has already had a successful season, including individual wins at the East Texas Collegiate Open and the Mid South Collegiate Open. Hillerman's strong play resulted in Bulldog victories at both events, plus a Dean's Cup win at Winthrop Gold in October. If Hillerman continues to play well, there's no reason why the Bulldogs couldn't compete for another national title.
A team outside of the top 25 rankings that has a chance to win the title is Arkansas State University. The Red Wolves exploded onto the collegiate scene when they finished second at the 2017 NCDGC. The team has seen continued success in the Southern Collegiate Disc Golf Association, winning the past three seasons. Arkansas State is lead by 969-rated Kellan McCann, and having played team doubles all season long in the SCDGA, look for their team chemistry to be sky high going into this week's event.
A welcomed change to this year's NCDGC is the number of women's teams competing. The NCDGC reduced the number of players required to make a team from four to two, which has lead to eight teams competing in this year's iteration versus four from last year.
Clemson's Alex Lambert is a rare commodity in college disc golf — a former champion with a chance to defend her title., Just a sophomore, Lambert will be looking to add more hardware to her trophy case. After traveling and playing with Clemson's men's team last year, Lambert added Emily Huffer to form a women's squad. The duo appears to be a favorite in the team competition, and Lambert in the individual contest, as her 852 rating is far and away the highest in the field.
The school that looks to have the best chance to beat Clemson is last year's champion, Liberty University. Liberty has three teams in the event, headlined by Hannah Trotz, who was on last year's championship team. Trotz will be joined by Grace Atkins on Liberty's A team.
NCDGC Past Winners
| | Men's Team | Men's Individual | Women's Team | Women's Individual |
| --- | --- | --- | --- | --- |
| 2018 | Mississippi State | Andrew Lowrie | Liberty | Alex Lambert |
| 2017 | Ferris State | Ben Clark | CSU-Monterey Bay | Bayli Miller |
| 2016 | Augusta University | Dustin Perry | CSU-Monterey Bay | Allison Carlton |
| 2015 | Ferris State University | James Proctor | CSU-Monterey Bay | Camille Skweir |
| 2014 | Georgia Regents University (now Augusta University) | Bryan Murphy | Humboldt State University | Allison Carlton |
| 2013 | Tennessee Tech | Brett Wishon | Mississippi State University | Colleen Thompson |
| 2012 | Colorado State University | Jared Roan | Mississippi State University | Sara Lamberson |
Format
The NCDGC format is unique and provides disc golf fans with a different look than a typical professional tournament. The NCDGC format uses a combination of singles and doubles play in order to declare a team champion. The teams will compete in five rounds total, consisting of four team doubles rounds and one singles round. This is a change from previous iterations of the event in which there was a greater emphasis on singles play with two singles rounds instead of one.
The top 28 men and top eight women with the lowest individual round scores will advance to a final 9 on Saturday that will crown the individual national champion.
The school with the overall lowest total cumulative score, consisting of all four team member's singles scores (two for women) and team doubles scores, will be crowned the 2019 national champion. The tournament also crowns a first flight and second flight champion consisting of schools' second teams and teams that did not qualify for the championship flight.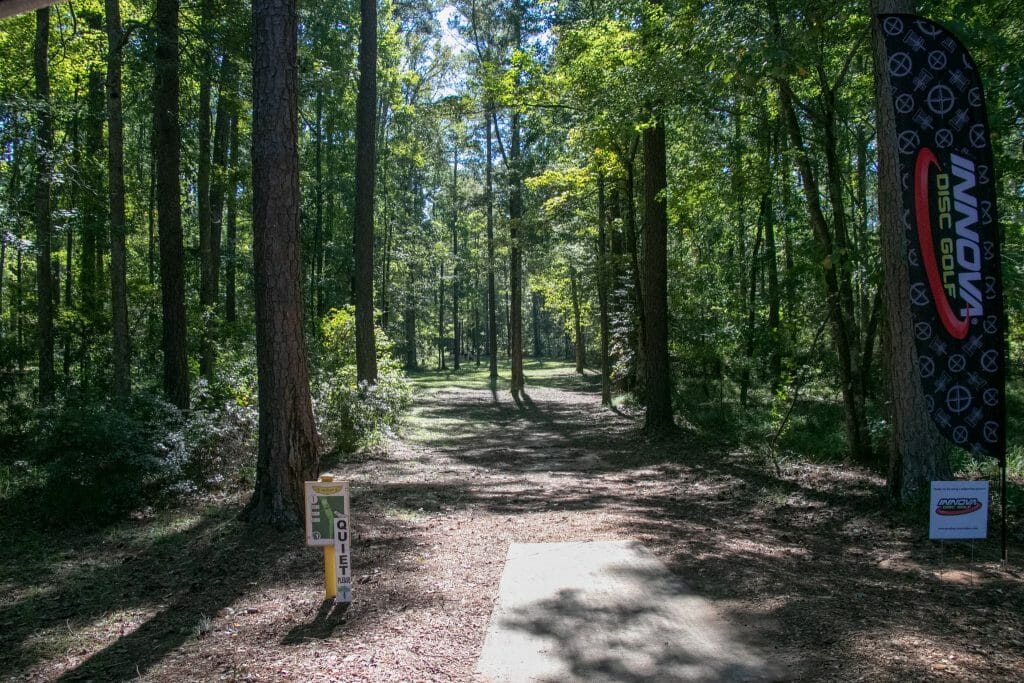 Courses
The NCDGC has a new venue, but it is one that should be familiar to disc golf fans as these student-athletes will be tackling the same courses that the professionals do during the Hall of Fame Classic. The International Disc Golf Center and its three courses will play host to the 300 student-athletes from 34 schools.
W.R. Jackson, Long Tees — (MPO Rounds: 1, 2, 3, 5, Individual Final 9): 10,485 feet, par 68.
W.R. Jackson is a heavily wooded beast of a course, in which players will have to navigate lengthy, wooded holes that have the typical John Houck-designed course feel with multiple fairways and elements of risk-reward.
'Steady' Ed Headrick Memorial Course, Long Tees — (FPO Rounds: 1, 2, 3, 5; MPO Rounds: 4): 18 Holes, Par 64, 6,945 feet
The Steady' Ed Course is shorter than W.R. Jackson but brings in its own unique challenges. The separating characteristic of the Steady Ed course is water. Water hazards will come into play on seven holes on the course.
Jim Warner Memorial Course, Short Tees — (FPO Rounds: 4, Individual Final 9): 18 Holes, Par 63, 6,346 feet
The Jim Warner Memorial Course will be the least familiar to fans as it is not used during the Hall of Fame Classic. The Warner Course, however, is no slouch, and should provide players with plenty of challenges, including water, woods, and a variety of pars.
How to Follow
The NCDGC is a PDGA major and the PDGA will provide media coverage through their online and social media channels. Check back here at Ultiworld Disc Golf for a full recap of all the action.