SAU's Chitwood, Missouri S&T's Anderson individual winners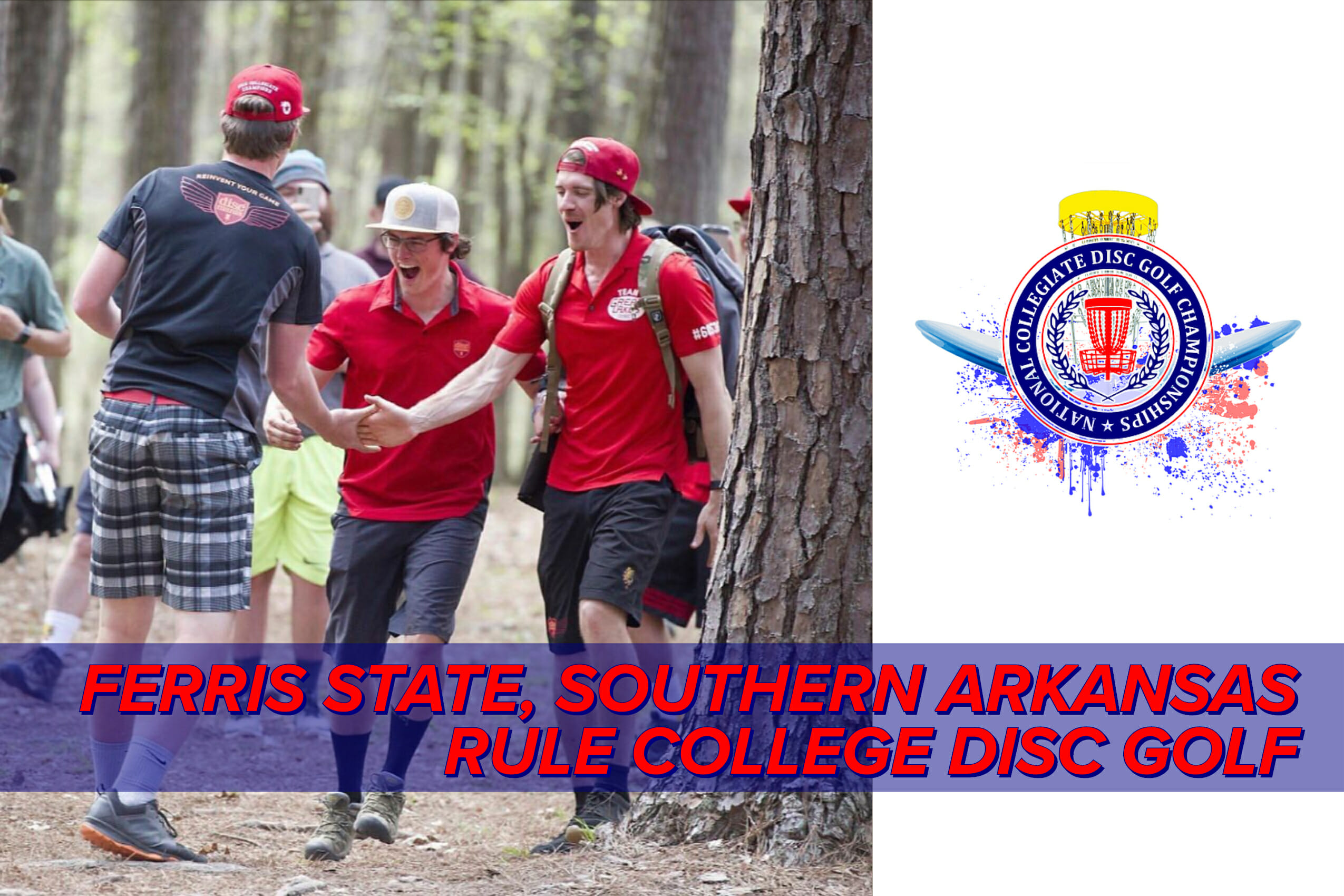 College football has Alabama. College disc golf has Ferris State.
Ferris State University continued its dominance of collegiate disc golf by winning a third team National Collegiate Disc Golf Championship in the past five years, and the first at the new venue, the International Disc Golf Center. The key to their success?
"Leonard Johnson," said team member Ryan Brophy.
Johnson is the coach and number one supporter of the Ferris State squad, and his players have taken notice.
"There is no way I can explain how much he does for this group. I have never met someone so selfless and invested in others than he is. Our success is a direct result of his support," Brophy said.
With their coach's support behind them, Ferris State came out on top of a two horse race with North Carolina State University. After day one of competition, consisting of a team doubles round and a singles round, only one stroke separated the two teams, with Ferris State holding the slight edge.
Friday morning's doubles round saw NC State jump back into the driver's seat after a 6-under par 62 on the WR Jackson course bested Ferris State's 64. Friday's second round took place at the shorter, more scorable Steady Ed Headrick course and the Bulldogs were able to take advantage of the opportunities in front of them. Ferris State shot a 15-under par 52, three strokes better than NC State, to put them up by two going into the final day.
In Sunday's finale, the Ferris State squad — Sam Mrdeza, Ryan Brophy, Carl Bouman, and Patrick Nemmer — leaned on veteran leadership to hold off NC State, shooting a 59 on WR Jackson to beat NCSU by one stroke on the round and three for the tournament, crowning them national champions. Liberty University finished third in the men's team competition.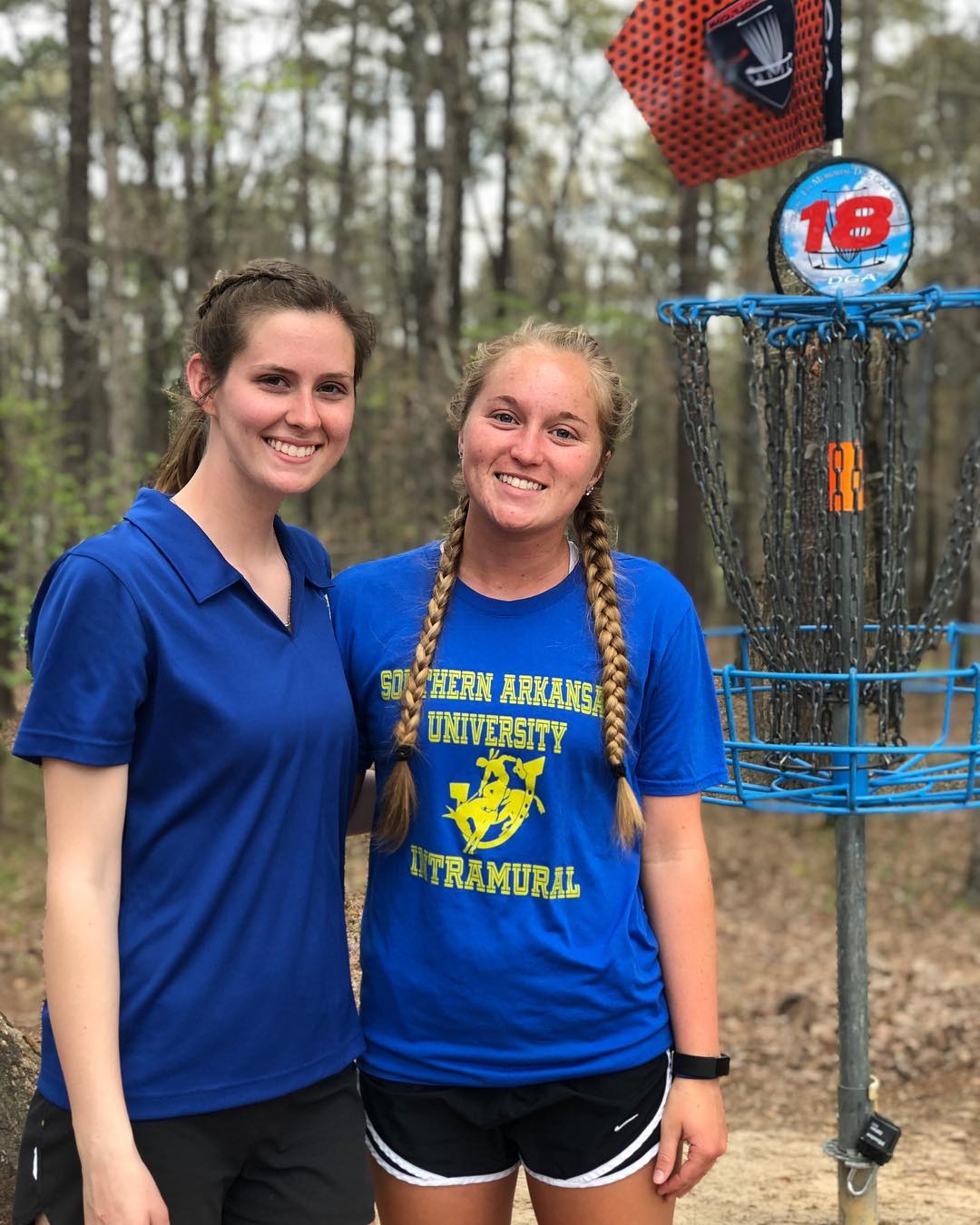 While it may have been business as usual on the men's side, a new team looked to start their own dynasty on the women's side.
Southern Arkansas University — Madi Chitwood, Whitney Brown, and Courtney Hunter — dominated the competition, winning by 15 strokes against their nearest competitor, 2018 champion Liberty University. The Muleriders were led by Chitwood, who also took home the individual title.
"It feels surreal still I think, but definitely amazing!" Chitwood said.
Chitwood went into the individual finals with only a two-stroke advantage over Oregon's Reily Warren after shooting a 72 on WR Jackson. Chitwood, however, was able to hold steady throughout the final 9, shooting a 31, and ultimately giving her an eight-stroke victory over Warren and Liberty's Hannah Trotz.
Chitwood credited last year's second place team finish and her fourth place individual finish as the motivation she and the team needed.
"It definitely all started last year when we decided to make a women's team here at SAU," Chitwood said. "Then after such a short time of even having a team, getting second as a team in nationals gave us a lot of confidence for the future. Getting fourth as an individual made me get a little more serious about it."
This truly could be the start of a dynasty for Southern Arkansas, as all of the team members plan to return for next season. But for now, how does the team plan on celebrating the victory?
"Honestly, we will probably celebrate by playing some fun rounds," Chitwood said. "We already are planning on having a round tomorrow afternoon. I guess we just truly can't get enough of it."
The men's individual title was won by Missouri S&T's Mark Anderson. Going into the final 9, 10 players were within one stroke of the lead. Anderson, who was one stroke off the leaders going into the final, set himself apart from the field by shooting a 27 and beating the nearest competitor, Ferris State's Mrdeza, by three strokes.
---
While the 2019 college disc golf season may be over, NCDGC Tournament Director John Baker already has an eye toward the future, with big plans on the horizon for the organization.
"There are some major changes coming to our season, the qualifying format, and how we support our teams," Baker said.
"I see so much potential in the future of college disc golf and I'm not the only one," Baker continued. "The future has never been brighter. Now, college disc golf has the tools to expand to our true potential. We're working hard to establish and support sustainable organizations and programs for our student-athletes. We're focused on supporting our players but the experiences have to match the effort our student leaders.
"We're taking our events to the highest level, on the best courses, and in the best communities. We can't wait to see what the future holds."