Leaders sit nine strokes ahead of the field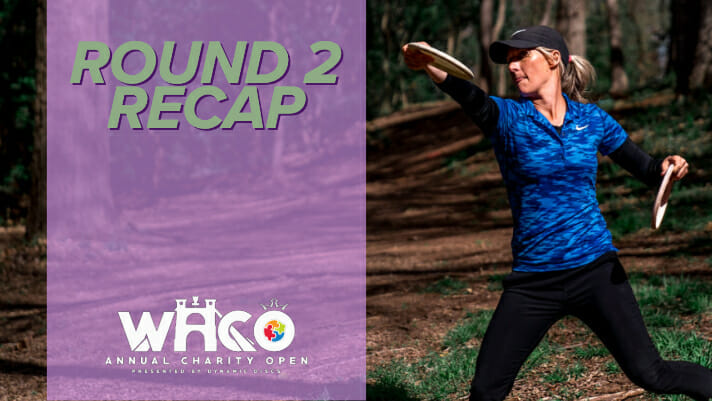 Friday at the Waco Annual Charity Open looked a lot like Thursday. Round two saw Catrina Allen and Paige Bjerkaas again setting the pace and leaving the rest of the FPO field behind. With 18 holes left, it looks like the second Disc Golf Pro Tour event of the season will come down to two women.
The two women were trading hits back and forth for the most of the front nine with Bjerkaas never getting out to more than a one-stroke lead. Allen was able to match everything Bjerkaas could muster until hole 12 when an Allen bogey and Bjerkaas birdie gave the reigning world champion a three throw lead.
Bjerkaas was 6-under par on the day and bogey-free through hole 12.
"It was incredibly windy so I feel like I did okay besides hole 15," Bjerkaas said after the round.
On hole 15, Allen was able to hit a Circle 2 putt for birdie while Bjerkaas found her only trouble of the round on the way to carding a double-bogey 6 on the par 4. The three-stroke swing found Allen back to within one of the lead, a margin she closed with two birdies over the final three holes.
Allen and Bjerkaas are tied in first at 7-under par 127 total after recording 4-under par 63s in round two. The two were either first or second in fairway hits, Circle 1 in regulation, and Circle 2 in regulation. Neither was particularly good in C1X putting, but some of those two-putts can be chalked up to lay-ups on dangerous greens and the swirling conditions.
"If it's windy tomorrow like the last two days, I think a few under [par] should do it," said Bjerkaas when asked what it would take in round three to win. "But, who knows! Cat is a great player and can easily pull out an amazing round."
Allen is second at the tournament in OB rate, with only one shot finding a hazard over 36 holes. Bjerkaas has found OB on three occasions.
Paige Pierce and Lauren Butler were the only other players to come in under par during the round, and each moved up two spots on the leaderboard into third and sixth, respectively. Even in third place, Pierce is nine strokes behind the co-leaders at 2-over par 136 total.
Vanessa Van Dyken stays in fourth place at 3-over par 137 total. Sarah Hokom dropped off the lead card into fifth place at 5-over par 139 total.
Takeaways
It's happened on both the women's and men's sides, but WACO hasn't had enough UDisc Live volunteers to cover every card at the event, meaning we are missing stats from some cards for each round. Rebecca Cox, currently tied in 10th, shows as having 0 OB strokes, which would lead the division. We are missing 18 holes of stats from Cox though, so we don't know for sure if that's true.

Allen and Bjerkaas are far and away the birdie percentage leaders, with Allen topping Bjerkaas 44-percent to 39-percent. The next closest player is Pierce at 25-percent birdie percentage.

The course played about 1.2 strokes lower in round two than it did during round one.