Sias Elmore a surprise name in the top three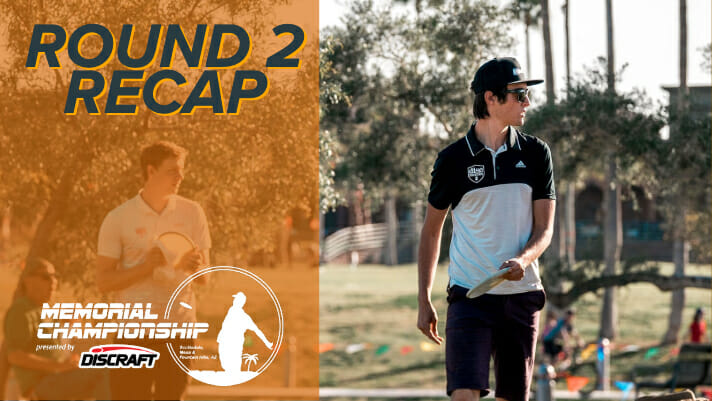 The Crush Boyz — Simon Lizotte, Eagle McMahon — are getting all the attention through two rounds at the Memorial Championship, and rightly so. But a surprise contender is hanging tight after 36 holes and makes the move to Vista del Camino a bit more interesting.
Before we get there, let's again point out how well Lizotte played Fountain Hills. He is in first at 30-under par 82 total after his second consecutive hot round, is AVERAGING 1100-rated golf, has yet to miss a C1X putt, did not find OB, and is no lower than fourth in any of UDisc Live's major statistical categories.
"Why not?" Lizotte said when asked if he could believe his form. "I mean, in these conditions on this course, this is my game. Freaking throwing wide, high, sky hyzers shots. Then it comes down to making your inside the circle putts and I've been making all of them."
Incredibly, McMahon is averaging 1090-rated golf and is two strokes off the lead in second at 28-under par 84 total. The schedule was slightly different last year, but the best combined two-round score from Fountain Hills in 2018 was Lizotte's 23-under par. McMahon is shooting five strokes better on the course than the winner of last year's event and is still not leading. If he is frustrated by the opening rounds, however, he isn't showing it. McMahon got his first bogey of the tournament but rallied to complete a birdie sweep of the back nine.
"As I stood up to every shot, I was like, okay, this seems pretty easy to execute, and from there it was gravy," McMahon said. "Yesterday I missed holes 10 and 11, and today I got those two. So I kind of let myself forget about that bogey."
Not to be forgotten, Sias Elmore, playing off the chase card, matched Lizotte in round two with a 14-under par 42 to move him into sole possession of third place at 26-under par 86 total. The Californian is no stranger to the competitive scene but he'll be hoping to finish out the tournament strong, and is on pace for his highest Disc Golf Pro Tour placing.
"Historically I haven't shot super great on either of these courses," Elmore said. "So, it's just cool to see my game improving and have tangible evidence of that."
Takeaways
Anthony Barela is the only player currently in the top 10 to have birdied the treacherous par 3 hole 9.
While the top five players didn't move much around the leaderboard, the chase card has three players who moved up at least eight spots, including Scott Withers, Paul McBeth, and Jeremy Koling. They'll play with Ricky Wysocki in what should be a competitive card.
Steve Rico picked up a 375-foot ace on hole 14 with an Icon Outlaw. He dropped 22 spots to 45th but has to at least feel good about that. Check out our Instagram highlights for an interview with Rico.
---
The lead card of Lizotte, McMahon, Elmore, and Jalle Stoor tees off at 2:45 p.m. local time (4:45 p.m. Eastern) and will be streamed on the DGPT YouTube channel. Scores can be followed on UDisc Live and check Ultiworld Disc Golf's Instagram for updates.