The work doesn't stop after you leave the course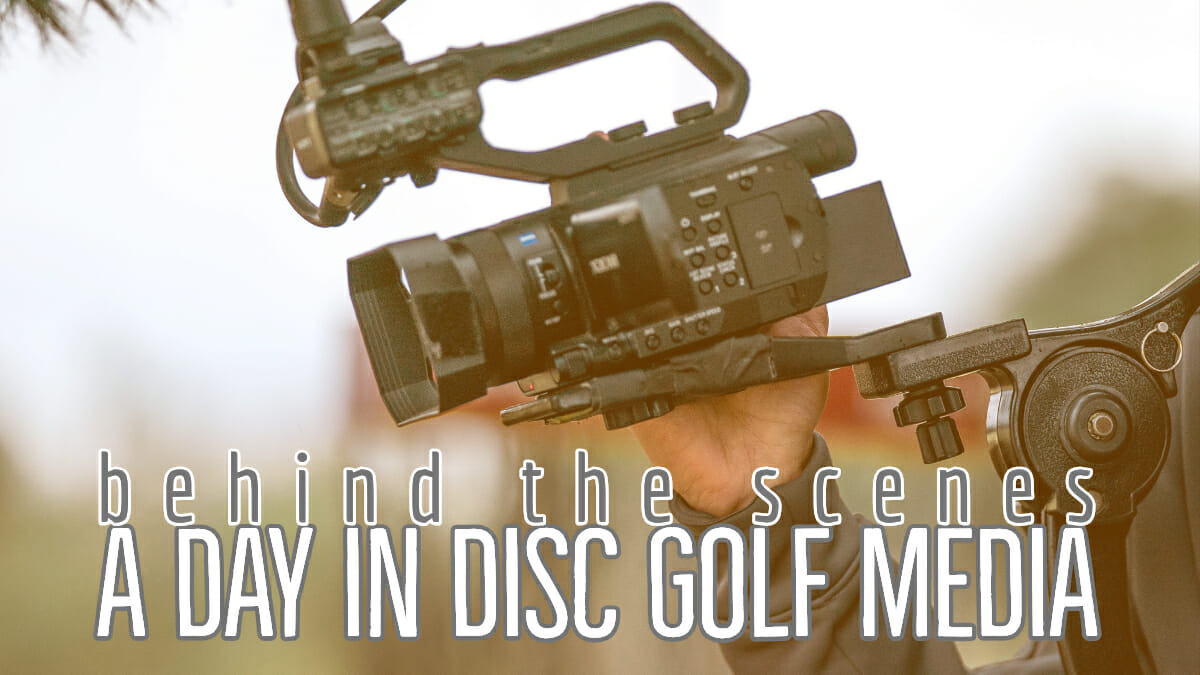 Ultiworld Disc Golf's coverage of the 2019 Las Vegas Challenge is presented by Innova Discs; all opinions are those of the authors. 
I left my dream job at ESPN on December 14th of last year. It was a heart-wrenching decision, but I wanted to move in with my girlfriend in New York. Very quickly I went from the worldwide leader to unemployed, and by my own volition.
I call up Ian Anderson at Central Coast Disc Golf. In 2014 I had reached out to Ian to see if I could get clips to use on SportsCenter, and we've stayed in touch ever since. He's looking for extra hands to help out at the Wintertime Open, a huge event on the CCDG calendar, and wants me to stick around and go to the Las Vegas Challenge too. I've never been to Vegas, and I love traveling. When he says he wants to pay me, that's the cherry on top
Wintertime was a great warm-up, but now we're onto the big show, and PDGA National Tour at Wildhorse Golf Club in Nevada.
Here's what it's like to work on a video crew at an elite disc golf event. Every person's role and every team's workflow is different, but I hope this gives you a basic idea of how many hours and hands it takes to push out polished round coverage.
Wednesday, February 20th, the day before the LVC
Terry Miller needs another person to help him film on Thursday, I immediately volunteer. I'm a huge Smashie and a Chicagoan, and Midwesterners stick together.
Thursday, February 21st, round one
6:15 am: I can't sleep. My schedule is all messed up. I live in New York City, so my internal clock has me waking up early. Plus, I'm still recovering from the Wintertime Open, where we were regularly going to bed around midnight (3 a.m. on my internal clock). There are three of us sleeping in the same room, so I have to tip-toe out of there. I hop in the shower and get dressed. It's chilly out there – I layer up.
7:00 am: Terry "The Disc Golf Guy" Miller picks me up at the CCDG house. We chat about the weather and how everyone is freaking out.  Terry is from Wisconsin and I'm from Chicago, so we laugh at 'em.
7:15 am: We arrive at the Wildhorse Golf Club. CCDG got here on Tuesday, and I was shocked as we drove in. Innova has money, and they're pouring it into this event. There are banners everywhere, baskets set up all over the place, tents.
7:15 – 7:30 am: Me and Terry head to the media area where we set up cameras. Terry has basically the same cameras that I've been using with CCDG, so I get acclimated pretty quickly. Something new in disc golf media is syncing the timecodes on the cameras, which makes editing much easier. Back in the stone age (a.k.a. last year) we used to edit by simply attempting to match up video frames.
7:56 am: Our card tees off, FPO second feature. I've never filmed B (catch) Cam before, so it's definitely taking me some time to find my rhythm and figure out where to stand. I was stoked to film the card. Eveliina Salonen and Madison Walker are two of my favorite FPO players, and it was also cool to watch Jennifer Allen crush shots out there. Eveliina, in particular, was a joy to watch.  She's 19-years-old and has a big future ahead of her.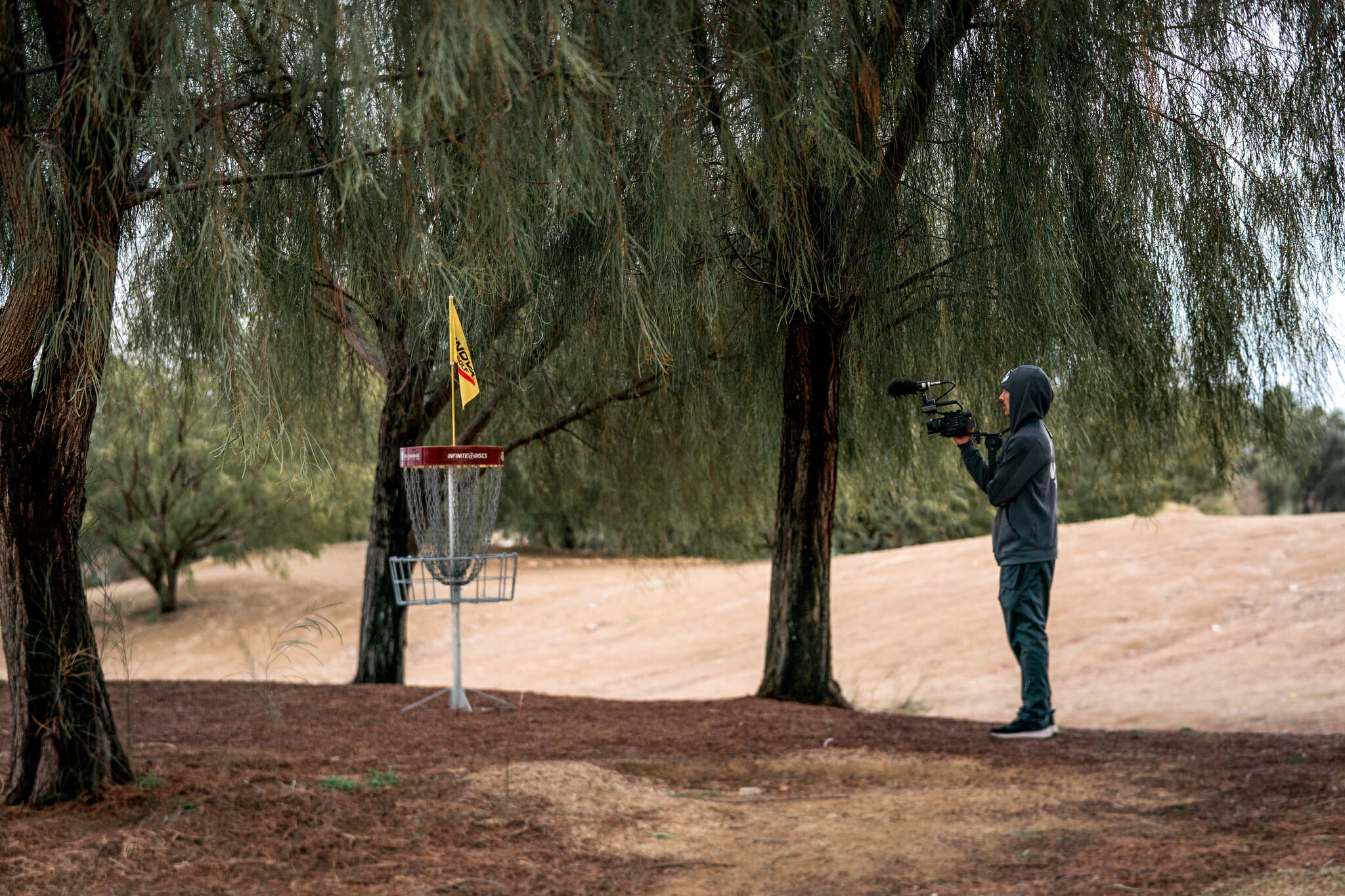 11:30 am: After the round is over I run the camera for Terry as he interviews Jen Allen.
12:00 pm: I walk around and look for people to interview. I find Eveliina and, through a translator, we have a quick chat about her round and how playing in Finland had her ready for the cold conditions. I send the interview to the Ultiworld Disc Golf editors.
12:30 pm: I find Brian Earhart and talk to him about how he's doing now that he's fully recovered from his injury. He shot a great round and is on the second chase card Friday. He's stoked. We went to high school together, so I'm especially happy that Brian's out here flourishing.
12:45 pm: I head back to the clubhouse and try to gather as much info as possible. I overhear people talking about the Discraft Kong. It's definitely the hot topic out here, at least as far as anything other than the tournament is concerned.
12:52 pm: I realize I haven't eaten anything except a Pop-Tart and banana at 6 am. I grab a veggie quesadilla from the bar and watch The Jump on ESPN, my old show I used to work on. It definitely feels weird not watching it from a control room.
It's weird being on this side of it ? pic.twitter.com/DzynmE8mpQ

— محمود البحراني (@chikago12) February 21, 2019
1:00 pm: I run and find the Central Coast crew in the media area setting up the cameras.  We format our SD cards, sync our timecodes, and screw in our shoulder mounts. Usually, we're there about 30-45 minutes before our tee time, but we're running a little late (it's the first big tournament of the season, after all). We hustle to get over to hole 1 of the Infinite Discs Course.
1:24 pm: We film the second feature card, which I honestly think was the more exciting of the two cards — Nate Sexton, Simon Lizotte, Seppo Paju, and Gregg Barsby, who is staying in the Central Coast Disc Golf house which makes watching him even more fun. Although Barsby's much, much more serious on the course than his off-the-course demeanor would have you believe.
4:35 pm: The round flies by. During backups I live-tweet for UWDG trying to share information that people thirsty for info probably wouldn't be able to find on UDisc, such as quotes from the players, up-to-date weather info, and other fun facts.
Barsby: "I was trying to Ace on 1. That would've been a great way to start the year, huh?"

-mahmoud

— Ultiworld Disc Golf (@UltiworldDG) February 21, 2019
Minimal backups, and we're done just three hours later. I run off to get a few more interviews for UWDG while the other guys pack up. The night is just getting started. Now the real work begins.
5:00 pm: We leave Wildhorse and head back to the house. We're all exhausted and cold, but we're still disc golf fans and pore over the results and talk about our favorite shots. Ian shoots us a message in our group chat as we're driving that several of his flights have been canceled, and he's not going to be able to make it in that evening as planned. We're in for a long night.
5:20 pm – 7:00 pm: We get back home and immediately start dumping footage to our hard drives. We have four cameras worth of footage to transfer. The whole dumping process takes around 40-45 minutes, and it's a really anxious time. You want to start working and grinding away at the footage but you can't do anything except watch it transfer into your hard drive. We spend the time ordering pizzas, and I take 30 minutes to talk to my girlfriend. I've been on the road for almost a week now, and I'm definitely a little homesick.
Sometimes if we're more on top of the editing we'll go out for dinner, but without Ian to help speed up the process, tonight is not one of those nights. Also, this is the first big tournament of the year. We did Wintertime last week as a bit of test run, but an NT is a little bit different. The pizzas get here, we eat really quick and get to it.
7:00 pm: We start editing the main cam and the catch cam (A/B cam, in the parlance). I edit the front nine while Keenan edits the back. This is only the fourth round I've ever edited for CCDG, and I'm still not as efficient as I'd like to be with Adobe Premiere, the editing software that we use. It's slow going, but it's going. Peter Mares, who is the lead editor on this event, creates the graphics and edits the beautiful slow-motion shots.
11:00 pm: Me and Keenan finish editing A/B for all 18 holes. I start going through Reax Cam, a new player reaction feature for CCDG. We take upwards of 150 clips and probably only use 15 of them, but it's worth it to add that extra layer of immersion for the fans.
12:00 am: I finish curating all the best clips from the Reax Cam and go back and start editing it back in, as well as filling in the gaps where I might have a better angle other than our A Cam.
12:30 am: I'm stumbling around and can barely keep my eyes open. I tell everyone I just need to lie down for a second. I fall asleep, and seven hours later I wake up in my bed, ready to do it all again.