World Champ gets first NT win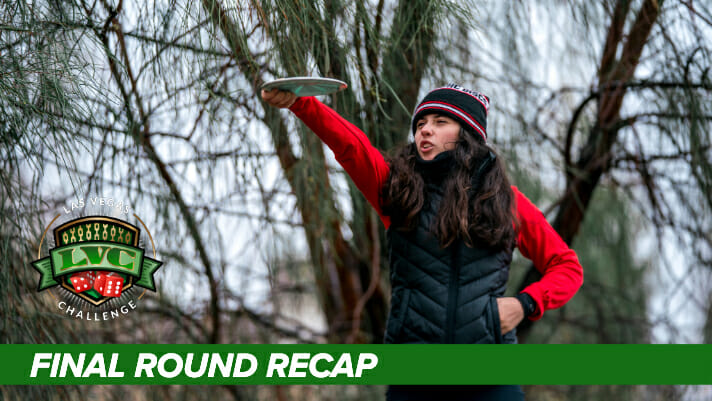 Ultiworld Disc Golf's coverage of the 2019 Las Vegas Challenge is presented by Innova Discs; all opinions are those of the authors. 
You couldn't have scripted the final day of the season's first PDGA National Tour event any better. The Open Women's division had seen good performances over three days at Wildhorse Golf Club, but no player had done enough to pull away. With the weather clear, a return to the Innova Course — where no score dipped below par Friday — had an entire field ready for redemption and a run at the title.
Catrina Allen had taken control of the lead on day two on the same layout. She'd watched her lead grow to four with Paige Bjerkaas, Jennifer Allen, and Eveliina Salonen all tied in second going into Sunday. Where Catrina Allen had been able to avoid trouble almost all weekend, she quickly found it during the finals.
For the six-hole stretch between holes 5-10, Allen picked up six hazard strokes and four bogeys to zero birdies. She actually had not been able to find a birdie all day. Allen, who had been getting off the tee well the preceding rounds, was only in Circle 1 in regulation once through 12 holes. After tapping out on hole 10, Allen was down to 1-under par total. She'd be fine if the rest of the field was playing how they had during round two,
Unfortunately, the potent combination of adrenaline and scoring conditions had FPO overall playing well.
On the lead card with Allen, Bjerkaas had found her putting strokes that eluded her earlier in the week. Birdies on holes 3 and 5, with Allen's bogey streak, saw Bjerkaas tied for the lead by hole 7.  Back-to-back birds on holes 9 and 10 included a Circle 2 connection and Bjerkaas was now three throws ahead of Allen at 4-under par total and just the back nine to play.
Meanwhile, another challenger had also appeared. Jessica Weese was playing strong golf on the chase card and usurped Allen to take over second place by a stroke. And now lurking from even further back, Vanessa Van Dyken was 5-under par through 10 holes and back to even overall. The podium and top spot were all wide open.
"I just let my body do its thing with the putts and they just found its way to the baskets," Van Dyken said after the round.
Holes 11-15 were again difficult for the women to score on, but only Weese fell off the pace after picking up two bogeys. Just as it looked like Bjerkaas may be able to walk things in, her putting yips appeared to return.
Having played the 765-foot par 4 hole 16 for par, Bjerkaas was left with an uphill, inside the circle putt for her four. With a slight straddle out, Bjerkaas air-balled the attempt to leave her with a 20-foot comebacker for bogey. This all happened right after Allen stuck a Circle 2 putt with authority for a birdie. Bjerkaas was able to clean up, but the lead was down to one and danger still loomed on the tricky hole 18.
Pars for both on hole 17 kept the margin going into the finisher. Neither women flinched as they worked their ways up the fairway, looking to walk away with the par. At this point, MPO's Zach Melton was caddying for Bjerkaas, and let the PDGA livestream know she was unaware of the score. Trying to settle her disc into the bowl the pin sat in, Bjerkaas short armed her third shot into one of the "guardian" ridges and left it about 30 feet short. Allen calmly pitched her shot to the base of the basket for an easy tap-in par.
"I've been struggling with that distance. It's not that hard, I think just the pressure and all the thoughts and emotions, 'blah,'" said Bjerkaas.
Bjerkaas walked off her putt — not even a tester, but a true examination of her skill — and proceeded back to her lie. The stroke looked clean, and the Judge found metal. However, it was the unforgiving band atop the target. We were going to a sudden death playoff with the score tied at 2-under par 240 total.
The two women tallied scores and moved back to hole 1 to start the extra holes. Bjerkaas had the better round, a 1-under par 60, but Allen retained the momentum.
Both players had gotten pars on the 393-foot par 3 to start the day, and both players were off the tee without trouble in the playoff — Allen in the fairway short left, and Bjerkaas a little ways ahead in Circle 2.
Allen gave the basket a quasi-run but had a bit too much distance between her and the chains to really scare it. Bjerkaas was about 40 feet away and looking directly at it. She stepped her putt off again, confirmed with Allen that she was outside Circle 1, and lined the putt up.
Bjerkaas committed full body to the uphill jump-putt and was chasing the disc down while it was still in flight. She knew it was good. Bjerkass canned the putt to take home her first National Tour victory.
"I'll still get nervous. I'll still think, 'Will I ever be a Cat, a Paige, a Hokom, a Val,'" Bjerkaas said on taking any confidence forward. "It will still be in my mind for a long time.
"I had some bad shot, bad putts this tournament and still won. So I have to be ok with making mistakes and knowing I don't have to play perfect to win."
Allen finished second, with Van Dyken working her way onto the podium with a 1001-rated, 5-under par 56 final round to finish even par 242 total. Jennifer Allen and Jessica Weese tied for fourth at 1-over par 243 total.
2019 Las Vegas Challenge FPO Final Round Paige Bjerkaas Catrina Allen Playoff