1005-rated round has Jennifer staring down Catrina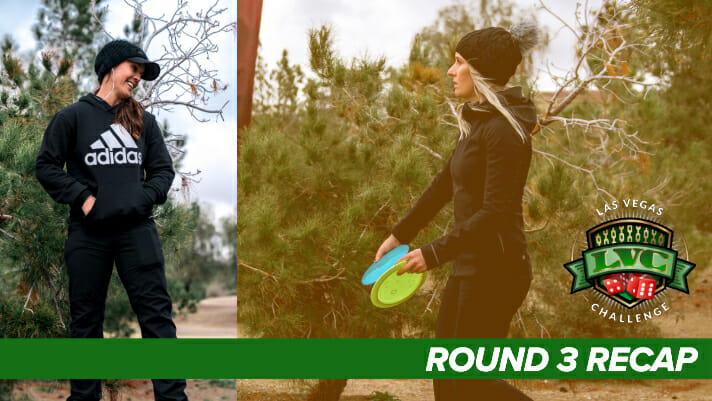 Ultiworld Disc Golf's coverage of the 2019 Las Vegas Challenge is presented by Innova Discs; all opinions are those of the authors. 
With three rounds down at the 2019 Las Vegas Challenge, the Open Women's field is still wide open. Despite some stellar rounds on the Innova Factory Store Course Saturday, the move back over to Innova for the final round, a course where no FPO player scored below par, means no lead is safe. At least we're almost guaranteed an interesting round.
Catrina Allen remains in first after coming into the clubhouse at Wildhorse Golf Club with a 3-under par 58 round to push her to 5-under par 176 total. If the UDisc Live scoring is correct, Allen did not hit anything from C1X or Circle 2 all day, with every putt coming in the form of a park job or clean-up. We count seven missed inside Circle 1, including a three-putt. We won't know until we see the coverage, but Allen may have found herself in tricky spots on the greens.
The other Allen at the tournament, Jennifer, had the biggest swing on moving day. Having lost some ground on day two, J. Allen moved up three spots into a three-way tie for second at 1-under par 180 total. Her 6-under par 55 is unofficially 1005-rated and was the only bogey-free FPO round.
Eveliina Salonen and Paige Bjerkaas are the others in second. Salonen was 4-under par 57 during round three and was uncharacteristically sloppy around the basket. Bjerkaas has been steady all week but also continues to struggle putting.
Takeaways
Paige Pierce was in trouble of not making the top 40-percent final day cut line. While she would have been safe without them, she birdied the final three holes for good measure and is currently ninth at 9-over par 190 total.

Notables not making cut: Lisa Fajkus and Zoe Andyke. Sai Ananda had a tough break falling six positions to miss the line by one stroke.

Catrina Allen is ranked 17th of 31 competitors in C1X putting. Has anyone ever won a tournament being that low in such an important category? We mentioned that Allen had some C1X putts not counted in round one, so this stat is a bit disingenuous, but it makes us want to look back over the last couple years of UDisc Live stats to see.

Of the final lead card players, Catrina Allen shot the best on the Innova Course Friday, three strokes better than the next closest. She currently has a four-stroke lead.
---
The lead card of Catrina Allen, Jennifer Allen, Bjerkaas, and Salonen tees off at 8:00 a.m. local time. Jomez Pro will feature next day coverage, and live scores can be followed at UDisc Live.