Eight players who we expect to make an impact this season.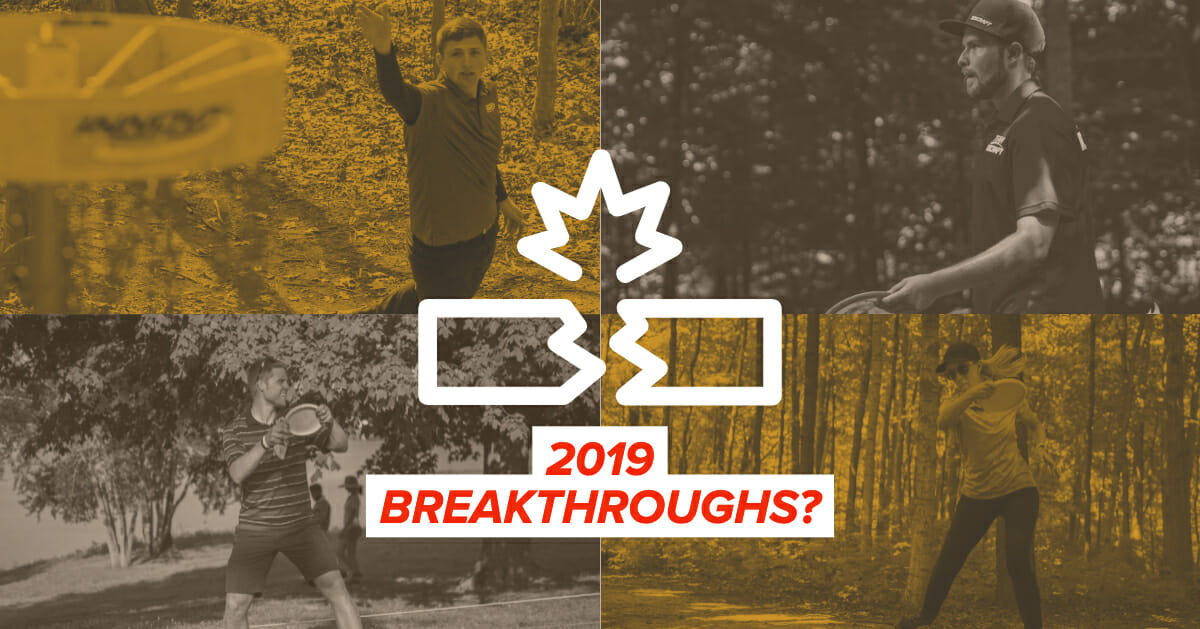 Picking players with the potential to break through in 2019 is seemingly impossible. What does it mean to be a breakthrough? Can a player we already know still break through? Are there any stipulations or criteria that must be met to be a breakthrough?
We decided none of this, but surveyed some of our writers on who they considered candidates to break through this season. Some choices seem obvious, some not so much. Regardless, make sure to check those UDIsc Live leaderboards for these eight players.
Having only played Open Women since 2017, you could say Missy Gannon is still getting her competitive feet wet. The New York pro is all-in though and seems poised to make an impact. She only cracked the top 10 at one DGPT/NT/M last season, but even with the increase in players at events, I'm expecting Missy to still put up some impressive showings.  — EW
Noah Meintsma
Noah seemed to turn a corner in 2018. His rating skyrocketed up by 40 points, his UDisc Live stats improved, and he had four top 20 finishes at big tournaments, including a final round lead card appearance at the Masters Cup. Opportunity and experience seemed to be the name of the game in 2018, as he significantly increased his touring schedule. Look for Noah's breakout to come full force in 2019 as he fully adjusts to the touring life and gains confidence. — AH
Calvin Heimburg
Calvin Heimburg showed flashes of his elite-level potential on the DGPT stage last summer, grabbing his first top 10 showing on tour at Idlewild, and following it up with a podium finish at Maple Hill a month later. Heimburg's 2019 campaign has started strong courtesy of a 1066-rated, 19-stroke shellacking of the field at the Southwest Florida Open, an event he ceded to JohnE McCray last year after a 1020-rated effort. However, in 11 starts he has never recorded a top 10 finish at an NT or Major, a milestone surely to be accomplished if his trajectory stays consistent. — JT
Brian Earhart
Brian Earhart is poised to breakout. 2018 was his first year as a full time touring pro and while he didn't shoot the lights out, he did consistently improve his finishes over the course of the season. Discraft promoted Earhart to their Elite team this offseason, and now that he can pick the brains of the Pauls (McBeth and team captain Ulibarri) his upward trajectory should continue, and perhaps accelerate. One thing you can count on with Earhart is his putting: in 2018 he was 92-percent from inside Circle 1, which was good for 10th overall on tour. Putting is quite the foundation to build on, and in 2019 Earhart should be counted on to make some moves. — CW
With the A-tier monkey off his back and hitting the road full-time with Adam Hammes, the teenage Anthony Barela is ready to permanently show-off the flashes we've seen from him in the past. His ultra-aggressive style will put him in great positions to score, but may pile up against him if he's not firing on all cylinders. Still, Barela has the potential to grab a DGPT event. — DL
For someone who led Pro Worlds and was on tour almost all of 2018, Rebecca Cox is a bit of a layup compared to others. A late shoulder injury, which sidelined her for several weeks, and the emergence of other new challengers on the FPO scene, like Paige Bjerkaas, overshadowed the solid year from Cox. A healthy Cox has the potential to be on the podium at every DGPT and NT she attends. — BW
Towch Twins — Andrew Marwede & Reid Frescura
Reid Frescura made some filmed coverage last year, and made some noise with this lefty water skip shots at the Ledgestone Insurance Open. He's switched sponsors — Latitude 64 to Discraft — and will be on tour more. While all these things could point to Frescura having a breakout, it may be his tour partner, Andrew Marwede, that we need to keep an eye on. Innova-sponsored Marwede just graduated college in December and is sitting at a 1015 rating. He's got more than 20 wins over the past two seasons, including an A-tier. — BW