Weese, Hammes take home wins going into NT opener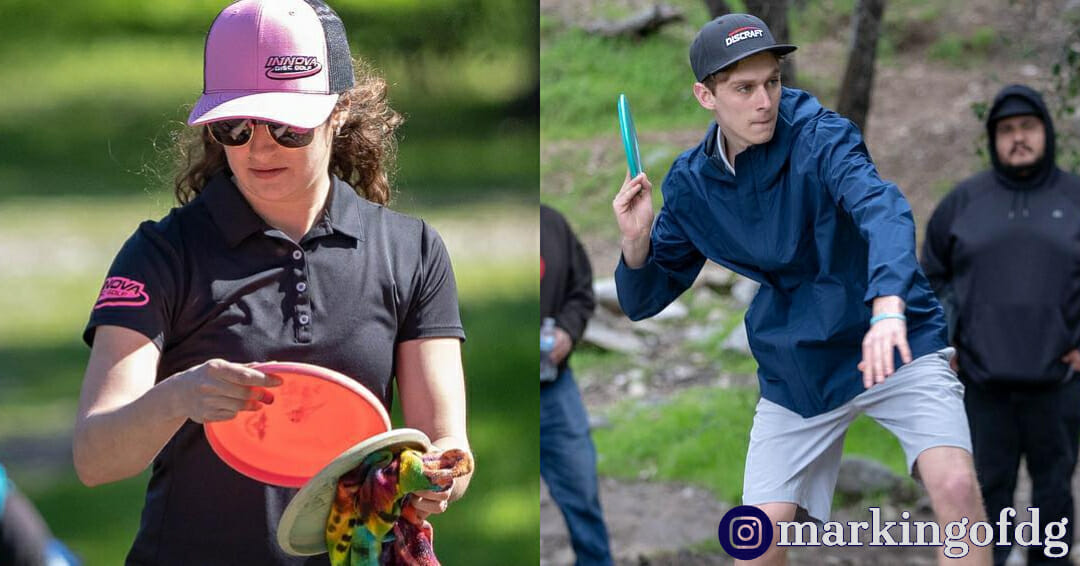 We're barely six weeks into 2019 and yet we have already set a high standard for the quality of events to expect moving forward. It's early, but if January and February are any indications, there will be a new tier of players challenging for wins each weekend with our tour stalwarts. The Wintertime Open is the perfect example, as it's previously been thought of as a warm-up to the season but may be known more as a coming out party in the years ahead.
The Open Women's field was still dominated by known commodities in 2019. Jessica Weese started the final round Sunday with a tenuous hold on first over Catrina Allen. She quickly made it clear, however, that her hot second round was no fluke.
"Yesterday I shot a 59 and I never thought I'd be able to beat that," Weese told Cory Murrell after the round. "I'm very happy with how I played today."
Weese bested her own score by one, shooting a 4-under par 58 to close out the tournament. Averaging 992-rated golf over three rounds, 47 points above her rating, Weese stretched her margin to take the win by four strokes, finishing at 7-under par 179 total.
"I definitely think my sidearm is the reason I won," Weese said. "If I didn't have a sidearm I wouldn't be here."
Allen shot under par on Sunday and averaged 26 points above her rating across the weekend, but it wasn't enough to catch Weese. She finished in second at 3-under par 183 total. Lisa Fajkus rounded out the podium in third at 13-over par 199 total.
2019 Wintertime Open Final Round Adam Hammes Paul McBeth Austin Hannum
Some drama ensued over the Open lead card's back nine. While Austin Hannum had led the division after both rounds one and two, Adam Hammes and Paul McBeth were able to close the gap coming down the stretch Sunday.
It culminated in a climatic and controversial finish. The WTO did not feature live scoring, so although spectators and competitors alike had ideas, they were unsure of the scores coming into hole 18. After some quick addition, murmurs began slowly spread through the crowd — Hannum and Hammes were tied at the top at 24-under par total, with McBeth 1 shot back at 23-under par.
Hammes drove first. His Ti Undertaker drive was long and out of position but stayed inbounds. McBeth was second on the box and also opted for a Ti Undertaker, throwing perhaps the best drive of any competitor for the entire weekend. His disc penetrated the gap, flew past the mando, and made its way around the corner past the first row of trees, all but guaranteeing a birdie. Hannum's drive was by far the worst of the three, finishing short and to the right, leaving him well out of position for a birdie.
Hannum approached his drive, and after a bit of deliberation, decided on an aggressive skip play out over the road to the right of the fairway. A perfectly-executed shot was tracking to skip off the road and put him inside the circle for a birdie look and potentially the win with Hammes needing his own miracle, but as the disc skipped it hit a spectator and stayed out of bounds. For what seemed like the first show of emotion all weekend, a visibly devastated Hannum could only shake his head.
"Being a competitor you hate seeing that kind of stuff," Hammes said. "It was hard to watch."
Hammes, the youngster from Wisconsin, was next. Initially aiming down the fairway with a tricky sidearm, Hammes' caddy suggested a simpler, albeit riskier, line over the road, not dissimilar to Hannum's. Hammes' shot hit the skip, putting him within 15 feet of the pin, passing all the pressure onto McBeth to throw it in from 150 feet. Otherwise, the W would be going to Hammes.
There was a brief moment as McBeth lined up his shot — he turned and looked at Hammes and his touring partner, Anthony Barela, and smiled wide, as if to say, "Watch me make this."
There was palpable tension in the air as spectators got into view to hopefully see another classic McBeast moment.
---
To even get to McBeth being in the place to force a playoff took several classic McBeast moments, as well as impressive resilience from the young Wisconsinite.  It started on hole 10 when McBeth put his drive 40 feet away on the par 4. With a bush obstructing his view, McBeth's putt floated perfectly over the shrub and into the heart of the chains — the eagle never in doubt. It was the start of a torrid stretch for McBeth who proceeded to park hole 11, birdie 12, and park 13.
A major turning point in the round would come on the elevated pin of hole 15. Hammes and McBeth were both ready for tap-in birdies. Hannum had his own putt from no more than 10 feet for par but missed it short off the bottom of the bucket.  It was the start of a difficult stretch, as a clearly-rattled Hannum struggled to put away the event. On the island hole 17, Hannum just barely missed the landing zone, as McBeth put it to 20 feet and Hammes nearly aced for another two-stroke swing, a four-stroke change over the course of just three holes.
So here was McBeth on hole 18, with a chance to push an already wild final to bonus golf. He took out his black Zone, which he had been so deadly with all weekend, and blasted his shot 40 feet past the pin, all but guaranteeing the victory for Hammes. Hammes confidently jammed his putt for arguably the biggest win of his career.
"I was feeling really confident all week," Hammes said after.
Hammes was animated throughout the round, with angry outbursts at the lows and fist pumps and claps at the highs.  After some early struggles, Hammes found his groove, matching McBeth shot for shot. He parked the par 4 hole 12 with a McBeth stamped Z Force, and tore through the back nine, carding birdie after birdie. It was an impressive win for the emotional Hammes. After stepping off the green of 18, Hammes found his touring partner Barela, and gave him a hug, a huge smile on his face.
Hammes finished with an unofficial 1065-rated, 12-under par 50 to win by one stroke at 25-under par 161 total. McBeth and Hannum tied for second at 23-under par 163 total; McBeth matched Hammes' 12-under par final round. Eagle McMahon clawed his way back into fourth with a massive course record, a 1073-rated, 13-under par 49 to get to 22-under par 164 total.