Tabea Wallus holds off local View Georgiou for FPO win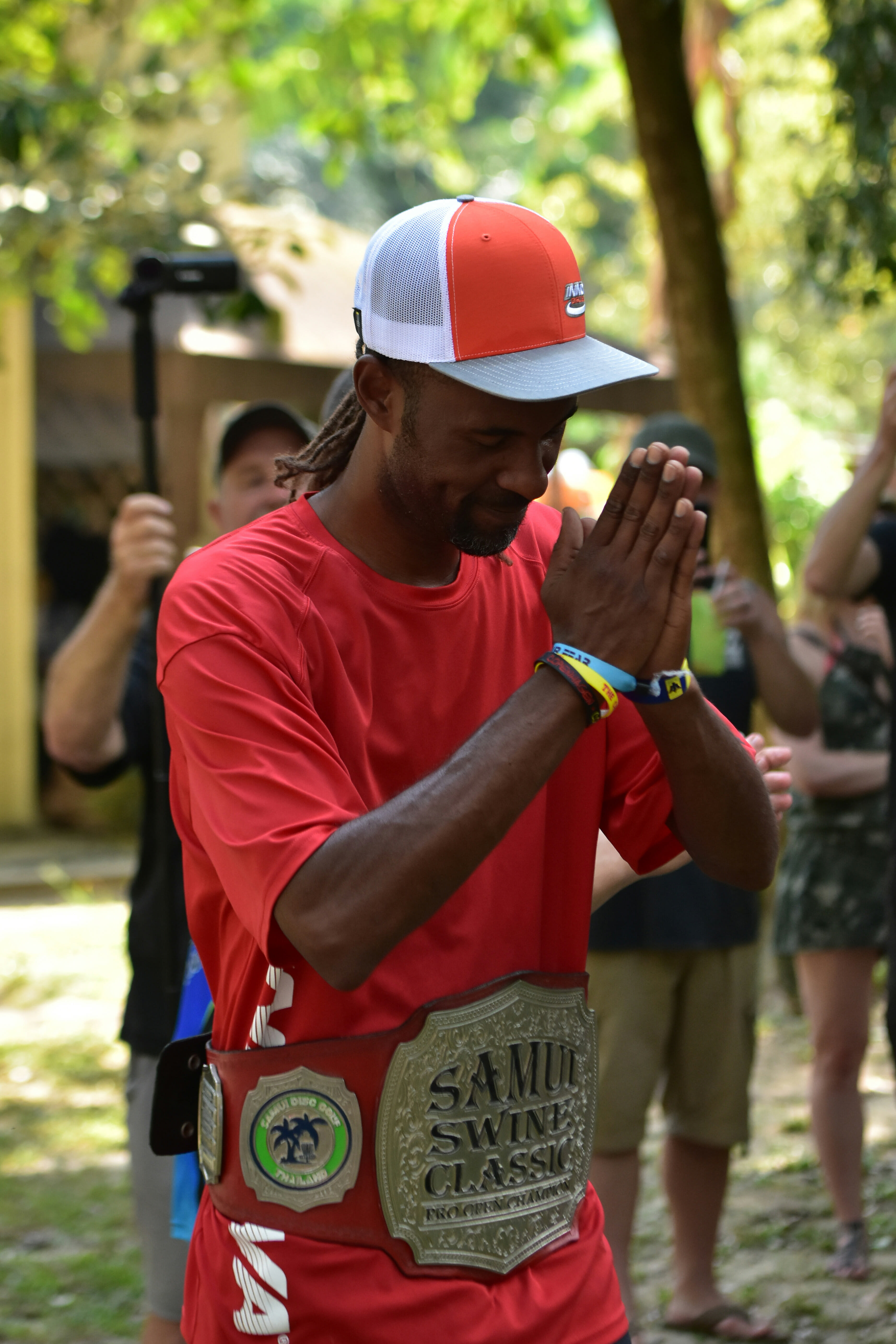 In hindsight, with a six throw lead, three holes to play, and the most treacherous of those behind him, Philo Brathwaite already had the tournament sewn-up. But the door only needs to be slightly ajar for it to let in a draught of uncertainty. In the gallery following the lead card down the hole 8 fairway, during the final round of the Samui Swine Classic VI, there was still a quiet tension. Maybe Nikko Locastro would do something mercurial and make a contest of this yet.
But then, from a straddled position, half in the rough, down the left side of the fairway, Brathwaite hit a birdie putt that had to be all of 50 feet. The gallery gave a confident roar. They knew there was now a result. The drama had its denouement. Brathwaite did a half-jog/half-dance up to the basket to retrieve his disc, then on to the next tee pad with the applause following him the whole way.
All of the top players had expressed the same sentiment the day before, but it was Brathwaite who'd seemed the most definite. I asked him, "Who's going to win tomorrow?" and he did not hesitate with the answer.
"The one who putts the best."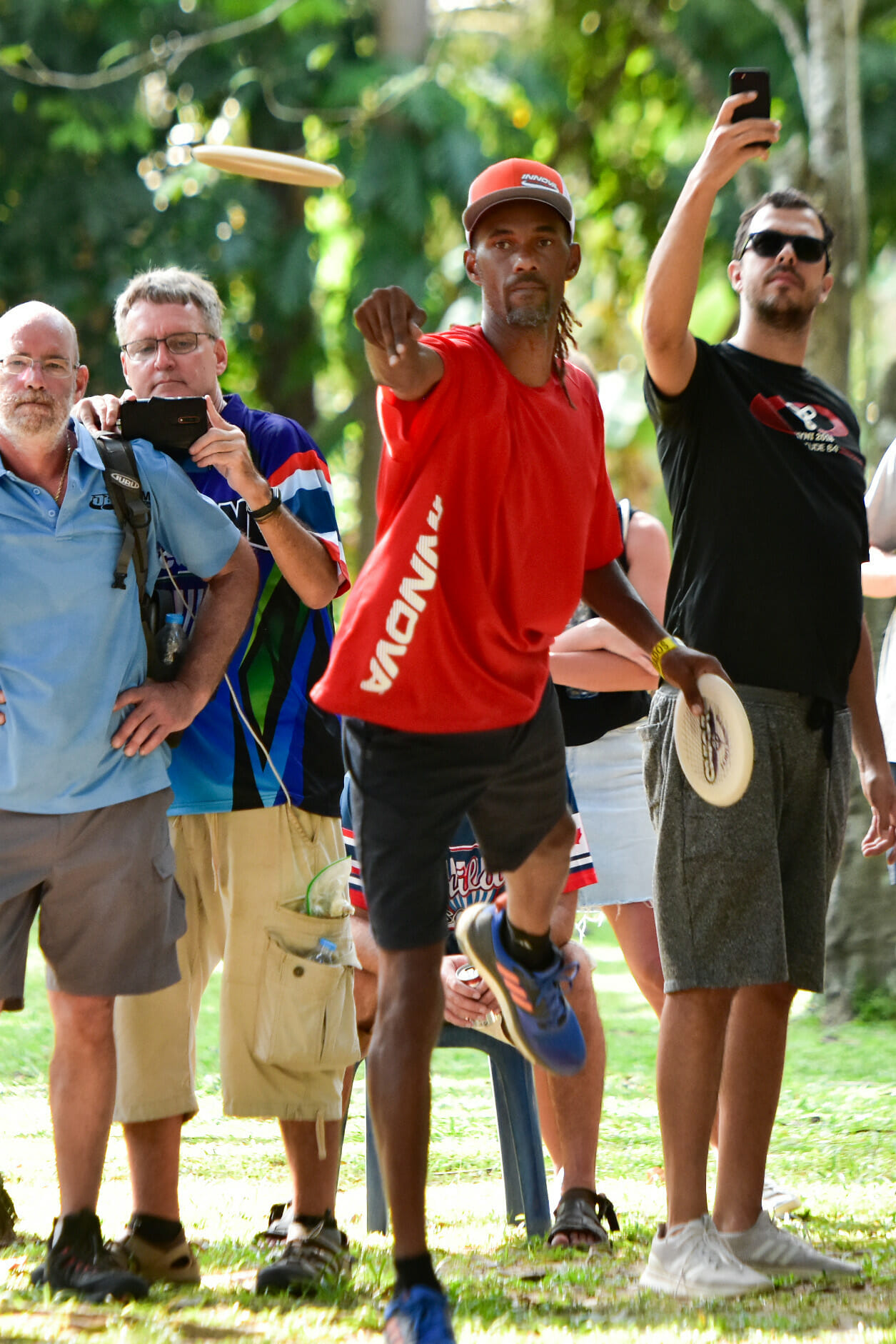 While the gallery was watching the rest putt-out, I wandered up to where Brathwaite was sitting on his own and still smiling, to remind him of this.
"Didn't you say something yesterday about having to putt well?" I said, offering my fist for a bump.
"I told you, man," Philo responded.
I smiled and walked away, shaking my hand slightly and making a mental note not to fist-pound someone so pumped on adrenaline and victory.
Brathwaite will win bigger tournaments in the future and has had bigger wins in the past, but this one still carried its share of emotional charge. On the intimate layout at Samui Disc Golf, it is hard to get away. He had to battle it out with Nikko Locastro, Devan Owens, Joel Pallari, and Thomas Dolezel right until the final day.
After being presented with his second Bacon Belt by tournament director Nigel Mills, Brathwaite was philosophical.
"I never expect to win in disc golf," he said. "I just try to prepare and play my best and trust the results will come. I'm very grateful."
Brathwaite, like a lot of the players and disc golf media who had traveled to Thailand, also expressed his strong belief in the future of the sport here.
"I feel so many emotions right now," Brathwaite added. "This is how we grow the sport. To get this story out so the world can all see how stoked we are to be here."
If his obvious disappointment was anything to go by, Locastro cared about the result of this tournament too.
"It's bittersweet," he said. "Philo played great. He's been one of, if not, the best putter in the game for more than 10 years. I would have liked to take more of the opportunities I created for myself out there. But it was Philo's weekend."
Locastro paused for a minute or two, gathering his thoughts, before continuing. "If I can just learn. Learn the lesson this tournament has taught me about myself. Then I'll have a good season."  
Although Devan Owens was at peace with his result. He's determined to make this year count.
"There was a bit of rust," Owens said. "That's my first tournament in four months and I made the podium. So I'm ok with that. But I've got a lot more to prove to myself this year. I've got a different outlook. I want to start winning."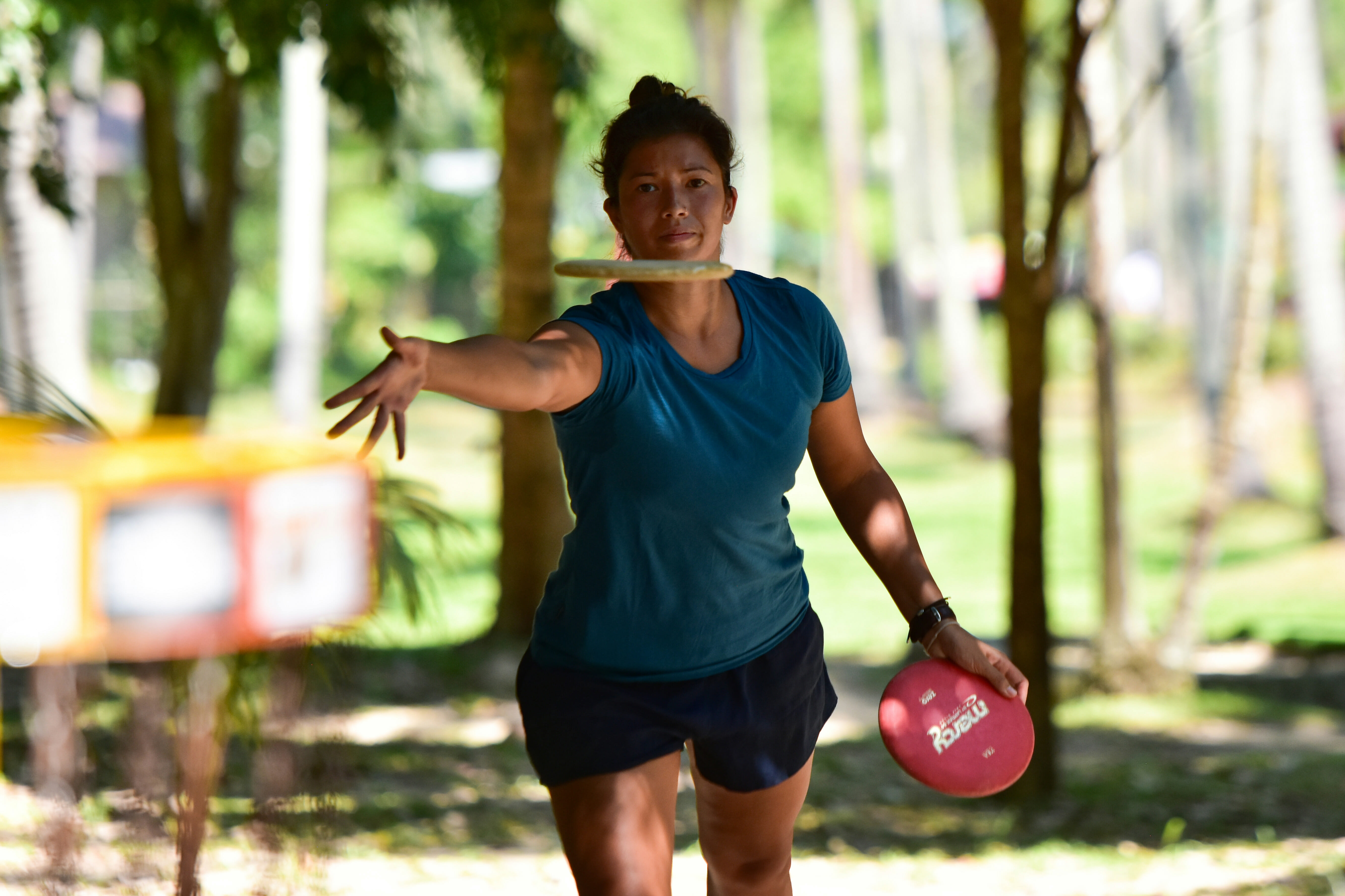 Open Women's winner Tabea Wallus hadn't been counting the score in her final round battle with View Georgiou, and after a bad run of holes late in the round she felt she might have given up the four throw lead that she'd taken into the last day.
"I was so nervous," Wallus said. "Today was such a battle."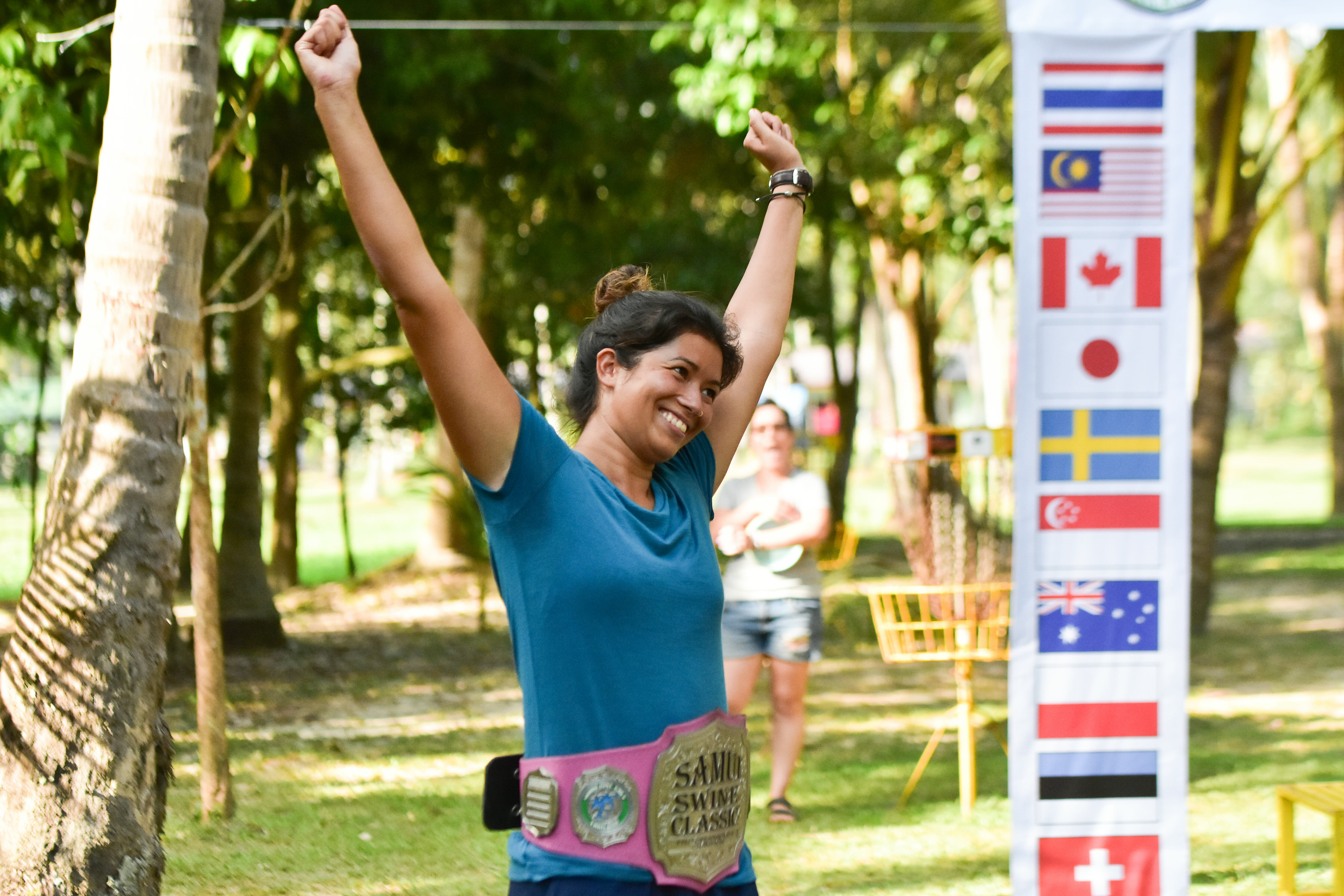 The relief on her face was obvious when the final tally showed that she and Georgiou had scored an identical 69 in the final round, to go with their twin 65s on day two. The only difference being the margin she'd managed to carve out and hold from the local on day one.
It was a similar experience for Michigan's Jerry Stoken in the Pro Masters 50+ division. His nine throw lead on the back of a 59 — a score only bettered by the top three pros in the field on day one — was gradually whittled down to four strokes by Finland's Simo Väisänen over the next two rounds.
"I left the door wide open for them. I even laid out a red carpet," Stoken said of Väisänen and fellow Finn Markku Tohni. "But they didn't walk through it. I'm not used to having to hold a lead. Usually, I'm the one coming from behind. I was tentative and afraid of the OB areas."
It was Stoken's first international tournament and therefore his first international win.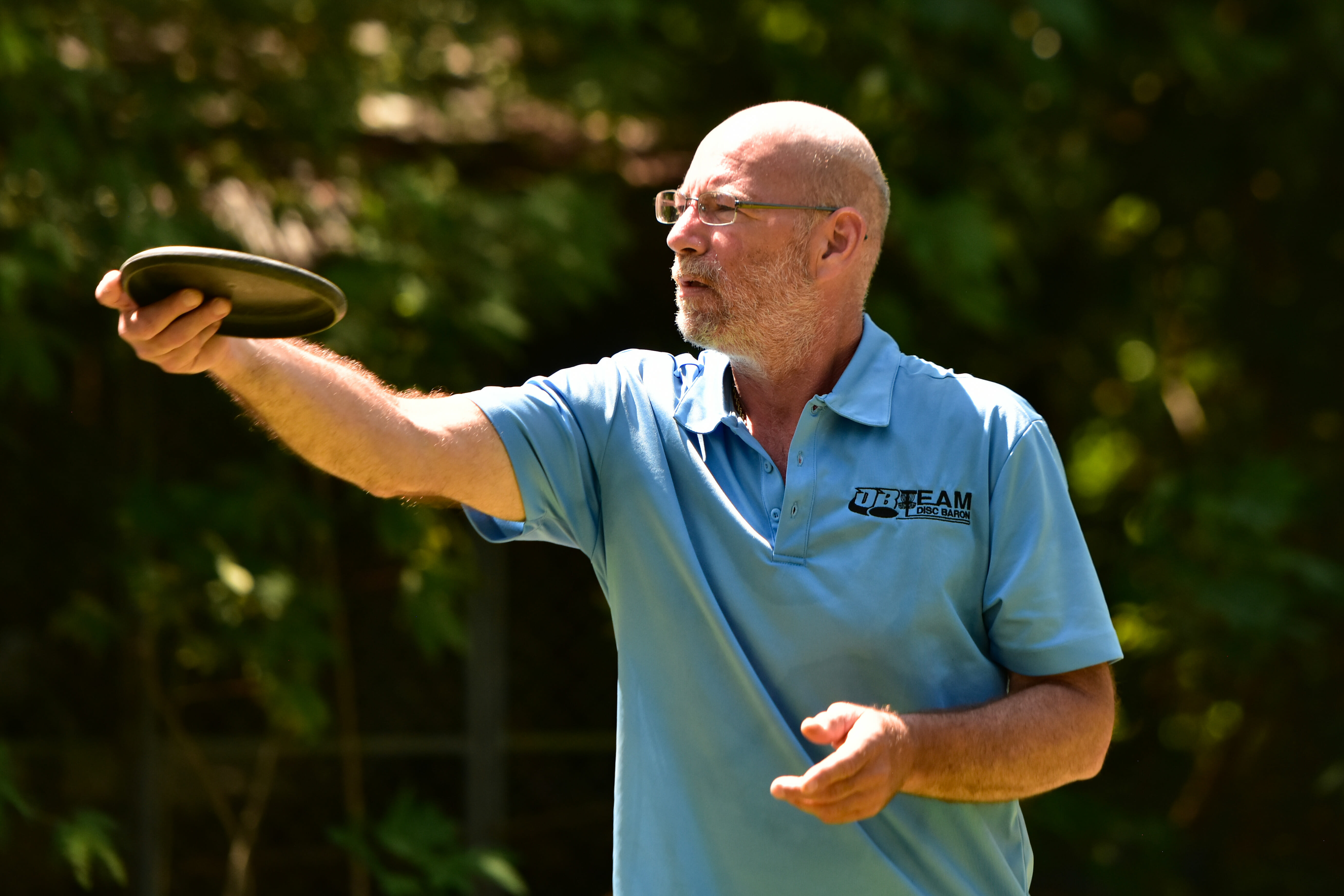 The only winner over the weekend who was able to relax and enjoy more than a few holes was Wisconsin's Johnny "Rumble" Pecunia, whose almost double-digit lead over Geoff Hungerford in the Pro Masters 40+ division was the sort of buffer that allowed him to just play par golf.
"I turned my back when the others were throwing their tee shots," Pecunia said. "I just didn't want to get tempted by seeing what they were throwing. Part of me really wanted to open up but I kept saying to myself, 'Go by the plan.'"
The only surprise for Johnny Rumble on the day was the wave of emotion that hit him after the last putt dropped and he was locked in an embrace with good friend Terry Miller.
"I came here with no expectations," Pecunia said. "I just wanted to have fun and maybe not embarrass myself. But my heart started racing. I didn't think I'd get that emotional. When I texted the news to my son, he and his wife were really excited, so I guess it meant a lot more to me and some other people than I realized."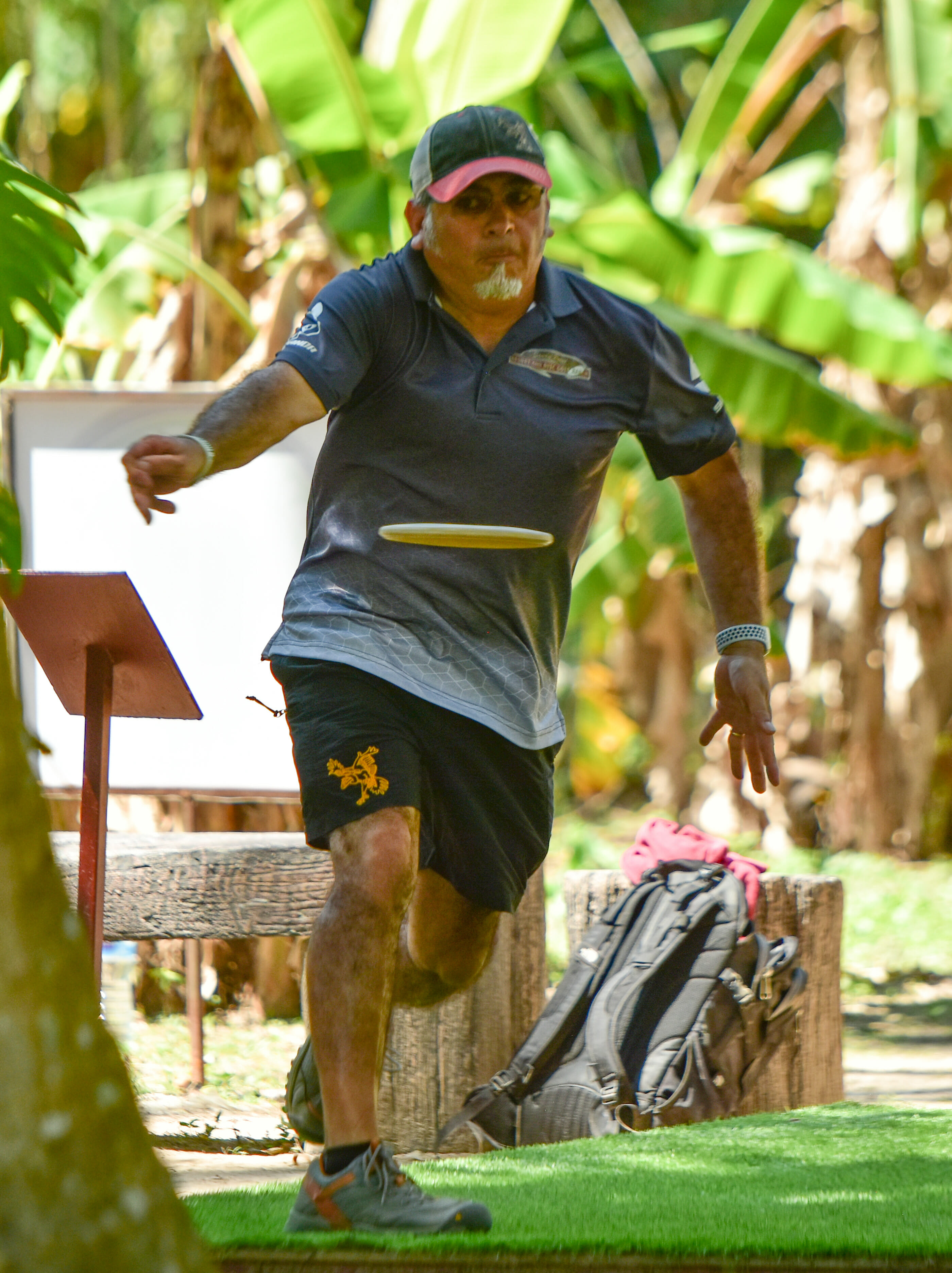 Johhny Rumble seemed to speak for most of the 121-strong field that played the event. They cared and the results mattered.
We may have been on a holiday island where most visitors come to relax. But the heat and the wall of jungle that surrounds the course created an amphitheater of competitive intensity that belied the languid way the rest of the island seemed to be going about their day.