Koh Samui prepares for the Hogfather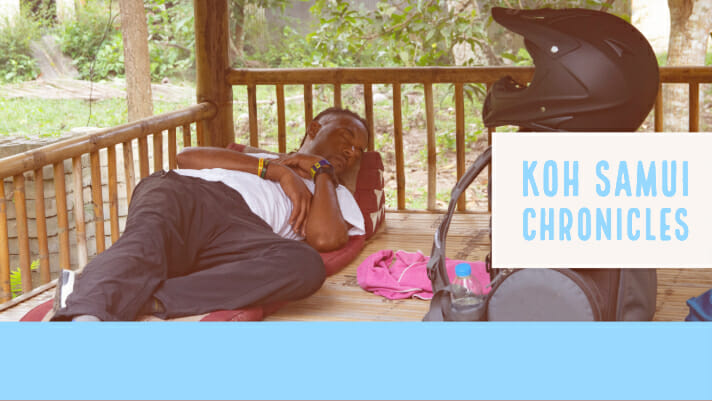 That idea that the sense of smell is the most powerful memory trigger never quite worked for me until 9 pm last night. Just after the Singapore–Koh Samui flight touched down in the dark, they opened the doors to let air in from the Gulf of Thailand that carried the faint whiff of flowers, rotting fruit, smoke, cooking, and sewage. It was hardly overpowering like the Denpasar markets on a hot day, but, still, that aroma along with the gentle humidity lit up my mind with memories of traveling southeast Asia going back more than 30 years.
They are smells that will tell you much of what you need to know about the place if you'll let them: lush and abundant, the cycle of life-death-burning is everywhere to see, the food is a reason to come all on its own, and things like roads and sanitation that you might take for granted at home don't quite work the same way here. The clean-cut young American sitting opposite me on the rattling, groaning, open-sided bus from the plane to the terminal, looked around, screwed up his face slightly and said, "This bus is weird." I looked at him, smiled, and thought, "You've seen nothing yet my fresh-faced friend."
'They don't really have street addresses out here," said Nigel Mills (#62319). "Just google Samui Disc Golf and it'll show up on the map."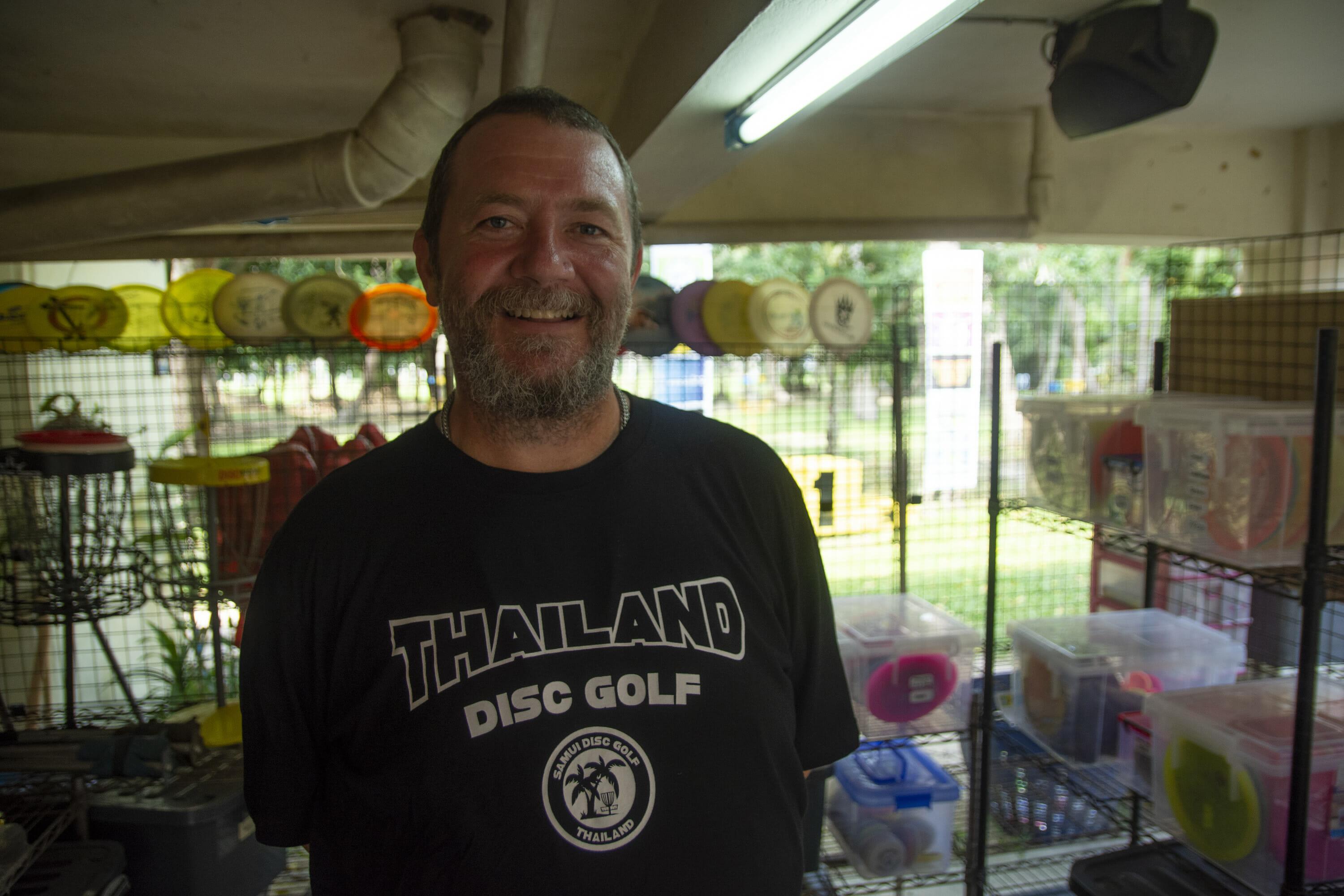 Nigel came here 13 years ago after bailing on a video game developing career with a full-blown, arm-scratching, 3-month-old disc golf addiction and nowhere to play. It didn't take him long to source some land and start building a course.
It's a busy little course too. There's a good number of expat locals, some actual locals — including the 936-rated women's pro View Georgiou who regularly beats all comers here — and a steady stream of tourists who seem to be mostly Finnish. The open-air clubhouse, which also serves as a pro shop and restaurant, has a lively hubbub of disc golfers all talking about one thing (did someone switch brands recently?), with the influx of pros who are here for the upcoming Samui Swine Classic VI – The Hogfather, presented by Dynamic Discs.
Nigel, our host, walks among the punters spinning his custom yo-yo. "I'm getting in some early practice," he says. "Yo-Yo season isn't really until June when it's the Thai Nationals Championships. I'm just keeping myself sharp until then."
I don't know the financial details of many of the other private disc golf courses in the world but it's fair to assume that they aren't making their owners stupidly wealthy. But with the steady traffic of visitors, the pro shop, and the restaurant, this one, Nigel concedes, is becoming viable. Look around at the little hive of activity and there's a certain whiff of "things to come" in the air. Exotic travel, SE Asia, and disc golf just seem like a potent mix to me.
"I wouldn't say it is making me wealthy," he says. "But it's definitely adding to the pot."
Philo Braithwaite sits dead-still with his eyes closed like a Californian Buddha as the chatter goes on all around him. He'd just flown in early that morning and is fighting to stay awake. Just when I think he's gone and is going to topple over, he'll open an eye to make a comment or answer a question. He's hanging on to the conversation by a thin thread. This is his third trip now.
"There was a lot to take in the first time," Brathwaite says. "I've kinda worked out where everything is now. I'm pretty comfortable here."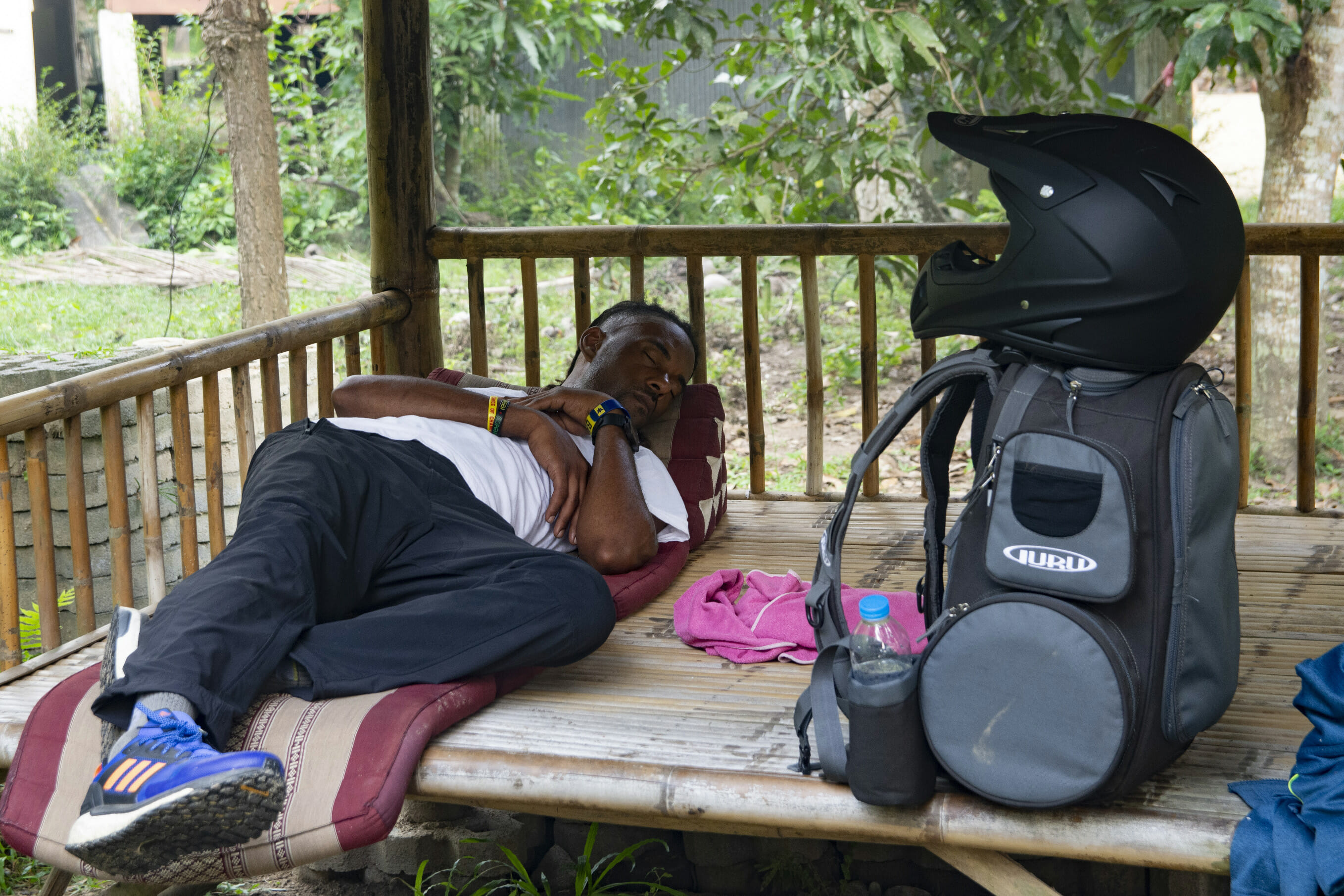 Not comfortable enough though. "I think I need a disco nap," he says, as he shuffles off and stretches out on the day bed in the corner under the shade of the palm trees. On his bag next to him is the sign of a true SE Asian travel old-hand: he brought his own motorbike helmet.
Devan Owens may have just had an intercontinental flight or two, but he's also scored some amazing upgrades and spent most of the journey stretched out in a business class bed. "I slept 12 hours," he said. "I'm not sure I can go back to sitting up in cattle class. I think it's ruined me."
The Oklahoma pro is full of energy and breaks up the conversations with time on the putting green. "It's nice to get out of the cold and get into a rhythm of playing," he added. "I haven't been able to play more than a day or two back home. Plus, I want an international tour win and this is as good an opportunity as any."
Owens also switched sponsors in the offseason, from Latitude 64 to Innova.
"I'm excited by the opportunity to throw for Innova this year," Owens said. "I really want to earn my way with my performances."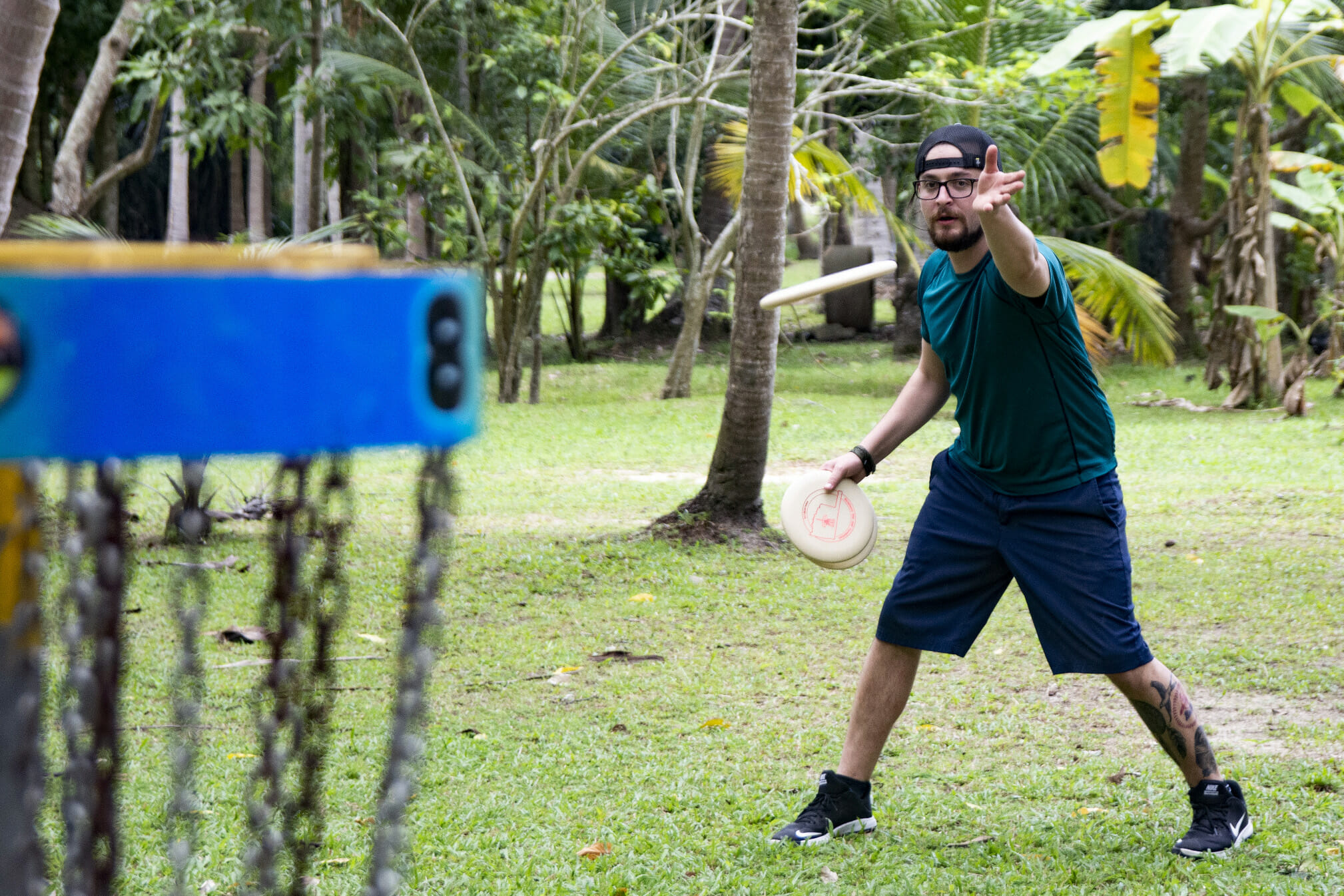 Then there's the sudden late afternoon rain that arrives like someone has turned on the shower. It softly taps on the awning roof, palm leaves, and thick grass. As suddenly as it starts, the tap is turned off again and there's a fragrant smell of smoke in the air as the daily burn commences — of rubbish and the excess plant matter that grows at an astounding rate here.
As I weave back to the hotel along a bumpy road, I see all matters of things crammed on to the little scooters that own the roads here: whole families, furniture, livestock and, then, among the organic chaos of an Asian road through the jungle, around a corner, comes a blonde couple, both with disc golf backpacks. A sign of things to come.