The edge-of-your-seat moments that defined the season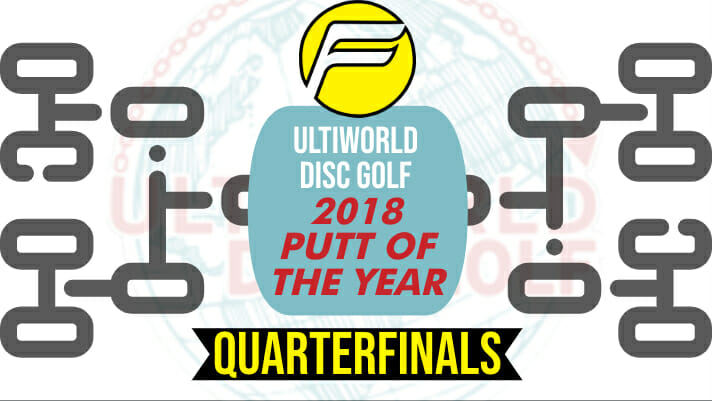 Ultiworld Disc Golf's 2018 Putt of the Year voting is presented by Friction Gloves; all opinions are those of the author. Check out our review of Friction's DG Gloves here.
Close votes dictated the opening round of the Putt of the Year bracket, but it makes sense with the quality putts the players were throwing down this season. Make sure you vote for your favorite putt of the year as we whittle it down to a final four.
---
#1 Paul McBeth vs. #9 Madison Walker
The top seed does not get upset as Paul McBeth's MVP Open dagger moves on with a commanding win over another McBeth putt.
In the closest vote of the opening round, Madison Walker's Idlewild throw-in edged Paige Bjerkaas by TWO votes. Well done.
#13 Hailey King vs. #12 James Conrad
Big upset from young Hailey King whose blind USWDGC putt knocked off Matt Dollar's big MVP birdie.
People acknowledged the gall of James Conrad's death putt at USDGC.
---
#2 JohnE McCray vs. #7 Garrett Gurthie
The turbo putt moves on. We would have been bummed to not see JohnE McCray's Hall of Fame Classic eagle win.
Garrett Gurthie's Sonic boom from Texas State makes a big challenger for JohnE.
#14 Simon Lizotte vs. #11 Gregg Barsby
People thought Simon Lizotte's Glass Blown Open throw-in was worthy of the upset over Paige Pierce.
In a BarsbyvBarsby showdown, Gregg's Delaware throw-in came out on top.
Voting ends December 15