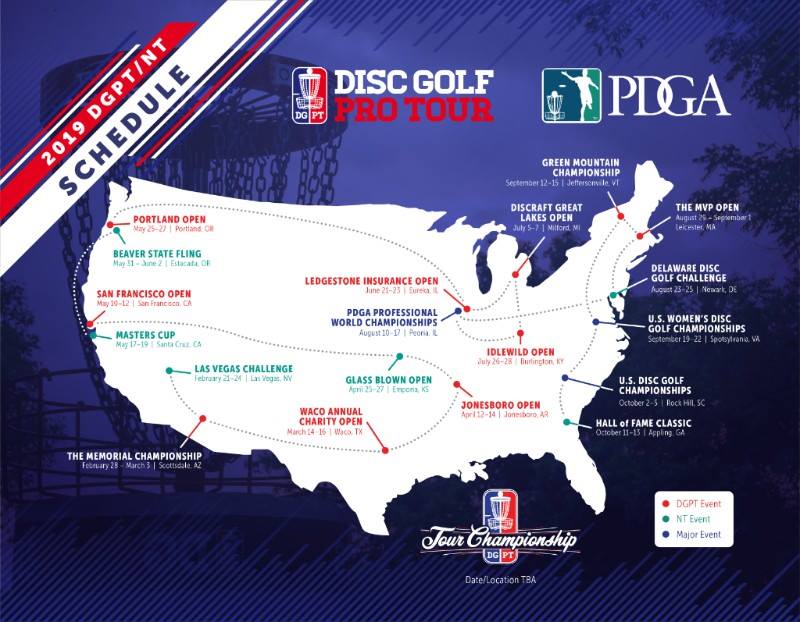 The Disc Golf Pro Tour and PDGA National Tour are again changing dates on the 2019 schedule.
Citing a conflict with Oregon's State Park Day, the PDGA announced the Beaver State Fling National Tour stop would be moving from its original May 31-June 2 date to the next weekend, June 7-9, 2019.
The DGPT's inaugural Portland Open had been scheduled to take place the weekend of June 7, but agreed to move its date to accommodate the BSF. The Portland Open will run over Memorial Day, May 25-27.
According to the statement released by the DGPT:
"After learning of this conflict, the Portland Open team voluntarily started looking for other dates for the event scheduled at Blue Lake Regional Park in Portland. After learning of a 2,000-person triathlon at that venue on the original BSF weekend of June 1-2, the option of simply swapping dates between the two events was not a viable one. After much work by the DGPT Portland Open team, the ultimate solution was to move the DGPT Portland Open to Memorial Day Weekend at Blue Lake, with the event beginning Saturday, May 25, and ending Monday, May 27. While this shortens the travel/practice gap for players between the National Tour's Masters Cup in Santa Cruz, California, to the Portland area, it still provides six days for the 700-mile transition. This was deemed a much better solution than moving either event to a later date that would cause players to have only four travel/practice days for the 2,100-mile transition to the Ledgestone Open in Eureka, IL."
Earlier this season, the DGPT rescheduled the Idlewild Open as to not overlap with the European Open.