Wire-to-wire win gives Allen second NT of 2018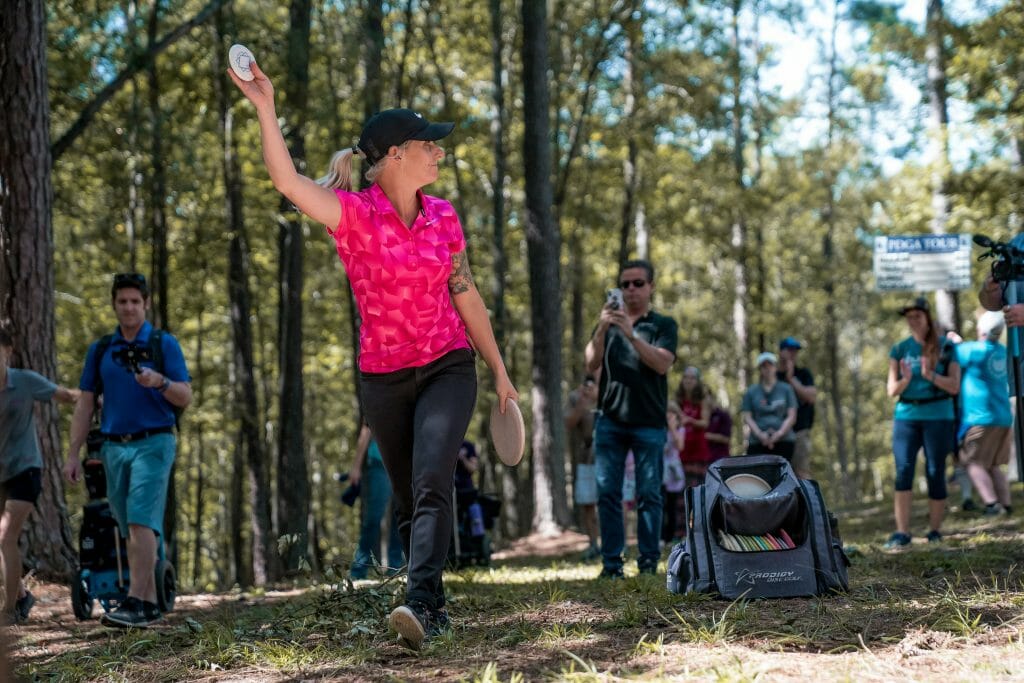 Catrina Allen was the defending champion, had led for two rounds, and took a three stroke lead going into the final day of the 2018 Ed Headrick Hall of Fame Classic, but a course like W.R. Jackson has a way of not caring at all about the stats on paper.
When you're off the fairway a hair, your line disappears, your footing is thrown off, and saving par, or even a bogey, can seem like a big ask. Luckily for Allen, her Prodigy bag is packing tricks along with discs, and she knows when to deploy them.
"It's a thrower's course," said Allen after the round, as she waited during the award ceremony at the International Disc Golf Center to collect her second first place PDGA National Tour trophy of the year.
"It rewards a great shot, which is why I think I enjoy [W.R. Jackon] so much."
For Allen, she was rewarded often over the weekend. She was the only Open Women's player to card three round in the 60s, including two 990+ rated rounds, on the way to her 1-over par 202 total performance, and eight stroke win. There was only a moment when it appeared that Paige Pierce or Sarah Hokom might be able to make a move on the lead.
Allen quickly built up a five stroke advantage with a birdie on hole 2 and a Pierce bogey on hole 1. Hokom, who had more work to do than Pierce, was 1-under par through the front nine and hitting some big putts to keep herself in contention. A rough holes 4 and 5 for Allen kept things interesting as Pierce was able to get it back to three strokes as the group made the turn onto the back half of the course.
And even with Allen's consistent play, Pierce still felt like a comeback was possible.
"On 16 of 18 of these holes out here you can give up three strokes," Pierce said. "I definitely didn't feel out of it by any means.
"I didn't necessarily account for Catrina just shooting lights out. I mean, she really didn't make many mistakes so for me to take control. The lead just kept slipping further and further away."
Allen wrapped things up in convincing fashion by putting in work on the back nine, just like she had all tournament; she was 2-under par with four birdies to close out the round. She finished even par 69 for the day, five strokes better than Pierce.
It was the 861-foot par 5 hole 12 that was the proverbial nail in the coffin. Allen forced her way onto the right side of the split fairway on her second shot to ease the approach to the green. Allen would put her third shot inside Circle 1 and convert on the birdie, the only player to do so Sunday.
Catrina Allen hole 12 approach
"I don't think anything really fazed me," Allen said of her weekend. "I'd bogey or double bogey but wouldn't let it get to me and would just stick to my game plan."
Allen had picked up a bogey on hole 11 before her momentum-taking birdie on hole 12. She finished first in parked shots, Circle 1 in regulation, Circle 2 in regulation and birdie percentage.
Pierce finished her round at 5-over par 72, and second in the event at 9-over par 210 total. The finish was enough to secure the National Tour points title for Pierce.
"I'm really excited about that," Piece said. "It's a year-long goal and it shows consistency."
Hokom took home third place with an 11-over par 212 total. She led the event in fairway hits, 70-percent, and Circle 1 putting, 95-percent. Hokom has to be excited by her putting as it's the only statistical category in UDisc Live where she is not in the top five for the season.
Elaine King, who played with the lead card for the second and third rounds, held onto fourth with a 16-over par 217 showing.
Notes
Allen's putting percentage may have been a little higher if not for a couple lay-ups. She was probably spooked from a round one rollaway on hole 7 that almost caused a penalty, as she did not try to run an inside the circle look during the final round.
You can learn a thing of two from watching King play. While her distance may not always keep up with many of the younger players, she knows how to throw a line. She's also able to find that line very easily. It was common for her to spend more time shoring up her footing than actually lining up and executing a shot.
Hokom, Pierce, Zoe Andyke, and Tina Oakley could be heard after the final round debating course design as it related to the FPO field. "We're doing the best with what we've got," Hokom said. She believes female course design theory and more in-depth attention to UDisc stats as they are available can help designers and tournament directors model layouts better for the women's game in the future. Most were complimentary of the W.R. Jackson changes but Pierce thinks some of the tee pads could be rearranged to provide better angles of attack.