Day one leader Wysocki drops four positions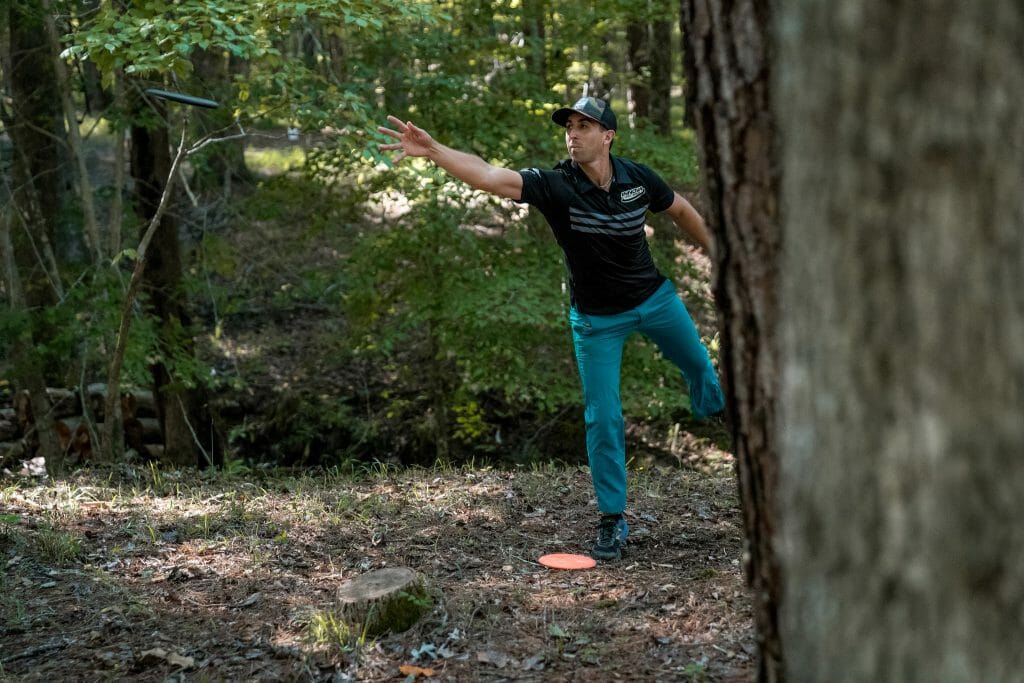 Most people need some time to adjust to changes. Most people need some time to size the situation up and decide how to approach the changes, the new situation, the new scene, the new score. After a round of getting used to the man and nature-made changes to W.R. Jackson, Paul McBeth wins the Darwin Award for Best Adaptation to a Game Plan at the Hall of Fame Classic…so far.
McBeth sits in first with a score of 18-under par 118 after throwing an 11-under par 57 during round two. He took over the lead from JohnE McCray halfway through the day and never looked back. Hitting 100-percent of his Circle 1 putts and not missing one of the few scramble attempts, McBeth finished tops of the division with a 61-percent Circle 1 in regulation rate.
The newly minted two-time U.S. Champ has the reigning World Champ hot on his heels, though. Gregg Barsby is sitting one stroke back with a 17-under par 119, and joined McBeth in going bogey-free and shooting a 1067-rated 11-under. Barsby started and finished his round with three straight birdies on holes 2 through 4 and 16 through 18. He improved on his first round 62 by five strokes to jump five spots into second place.
Gregg Barsby round two Hall Of Fame Classic
Chris Dickerson, who rose eight spots, and JohnE McCray are tied in third at 14-under par 120. Eagle McMahon and Ricky Wysocki share fifth at 13-under par 121.
This is the most we've seen of McCray on a lead card at a major tournament this year. After the 2017 season, seeing McCray up there again is a welcome not-surprise. McCray put together a 1036-rated 6-under par 62 to hold on to his lead card position after 36 holes. McCray didn't play exceptionally clean golf in round two, but he is putting at 94-percent inside Circle 1 which has helped him make up for mistakes on holes 5, 15, and 17.
Day one leader Wysocki dropped due to a 4-under par 64 performance. While he found some birdies after the turn, the front nine was played even par and Wysocki only found either circle in regulation twice.
Rough & Tunnel
Hole 5, a 432-foot par 3, is the bully on the block so far. In the second round, 40-percent of players shot bogey or worse. Hole 5 is among the newly-designed holes on the course and, depending on where you get your news, players have mixed opinions of it. Hats off to local Walton Satcher, who birdied the hole after putting it within 16 feet from his drive. He scored better than our most recent U.S. and World champions, on 1/18th of the course at least.
---
The lead card of McBeth, Barsby, McCray, and Dickerson tees off on W.R. Jackson at 12:10 p.m. local time. Follow along on UDisc Live and watch next-day coverage on the JomezPro and Central Coast Disc Golf  YouTube channels.