McBeth looks to keep some streaks alive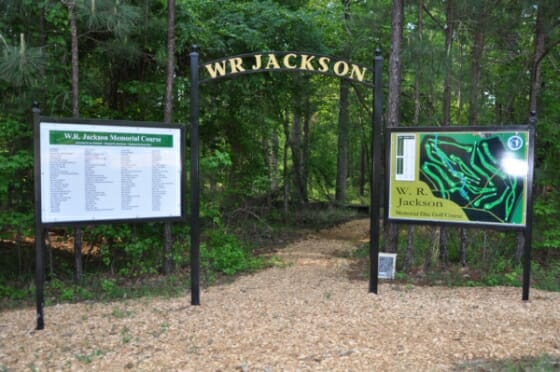 "Steady" Ed Headrick invented the modern Frisbee, the game of disc golf, and helped found the PDGA. It is no exaggeration to say that I would not be writing these words, nor would you be reading them, had it not been for Ed Headrick. Headrick passed away in 2002, and like so many innovative pioneers, his legacy and contributions to culture and sports in general should be celebrated and remembered. This weekend, the Ed Headrick Disc Golf Hall of Fame Classic in Appling, Georgia, will aim to do just that.
As the traditional end of the National Tour season, the Hall of Fame Classic takes over the International Disc Golf Center. Both Open and Open Women will play the W.R. Jackson Memorial Disc Golf Course, which co-hosted the 2017 Professional World Championships. This season's finale feels more like a celebration than usual though, given the history making moments that 2018 has brought us: Paul McBeth's 18-under, two first-time world champions in Gregg Barsby and Paige Bjerkaas, unprecedented media engagement and online viewership, and the continued ascendancy of the sport's next generation of great players including the likes of James Conrad, Kevin Jones, Calvin Heimburg, and Eagle McMahon.
It should not be lost on any fans or players that if we were to travel back in time, grab Headrick and pull him into our machine, and bring him to the IDGC to watch this event, the game he sees may seem vastly different than the game he first conceived of while playing target golf with his son back in the 1970s. With Headrick's legacy in mind, let's see what this weekend has in store.
Storylines
To quote the greatest football coach (and possible Sith Lord) of all time, Bill Belichick, "We're onto the Hall of Fame Classic." After USDGC, while some players have decided to pack it in for the season, much of the cream of the touring crop will still be making the trip from Rock Hill to Georgia. The field of 67 Open division players is strong, as half the players competing are 1000-rated or better. Same goes for the Open Women, 77-percent of the 22 player FPO field are 900-rated or better.
Notable absentees on the MPO side include Jeremy Koling, Matt Orum, and Nikko Locastro. The biggest name missing from the FPO side will be Rebecca Cox, who has been battling an injury since Pro Worlds. Cox had been playing exceptionally well before being sidelined — she notched a fourth place finish at the MVP Open, and placed fifth at Worlds despite the injury popping up.
This weekend may prove an opportunity for Simon Lizotte to close out the National Tour the same way he started it: with another top five finish, and very possibly a win.  Lizotte finished third at the 2017 Worlds, and played his best at W.R. Jackson where he shot 1038 and 1045-rated rounds. Lizotte is coming off a somewhat disappointing finish at the USDGC, but Jackson is much more Lizotte's style than the OB-heavy track at Winthrop Gold.
On the FPO side, Holly Finley may be a player to look out for as a not-so-surprising top finisher. Finley has 17 top 10 finishes in the 19 tournaments she has played in this season, 15 of which are top five finishes. Her rating has jumped from 917 in January to 931 as of the last update, and is fresh off a second place finish at the USWDGC.
Last year's FPO winner, Catrina Allen, ran away from the field, and will be looking to pick up her second NT win of 2018. And while it seems silly to say you need to keep an eye on McBeth, he's led every round he's played since Pro Worlds, and is also looking for his second NT victory of the year. McBeth has won at least two NTs each season dating back to 2011. He probably cares more about that streak than the consecutive rounds led.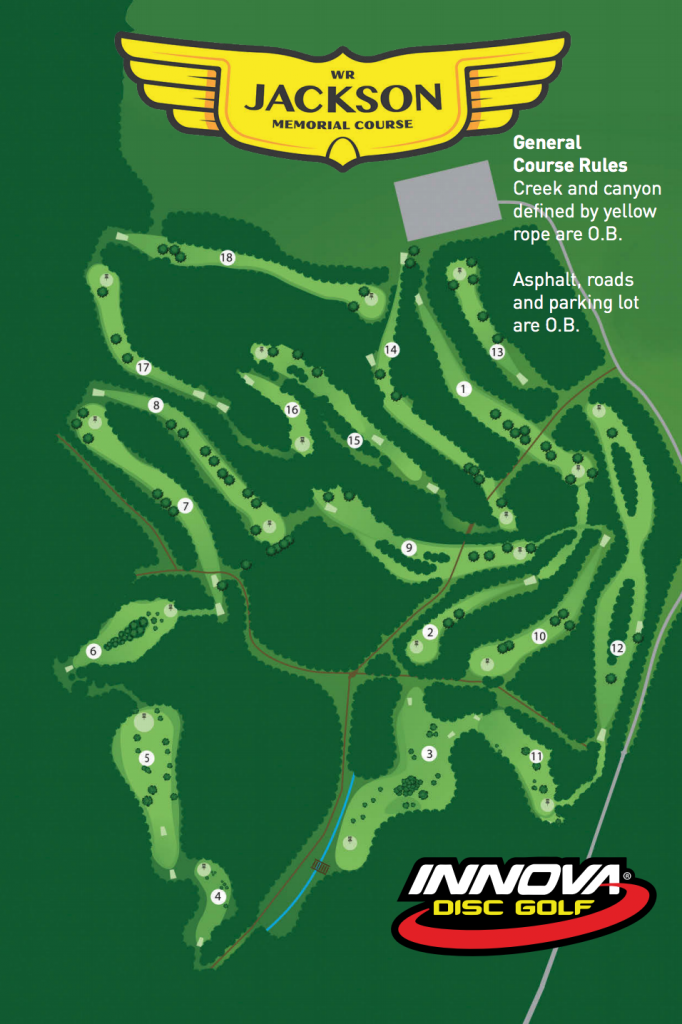 The Course
We'll be seeing a whole new W.R. Jackson at the HOFC, as the IDGC recently redesigned a large portion of the course.
W.R. Jackson, Long Tees (MPO Friday-Sunday): 10,485 feet, par 68. Only six holes check-in at under 500 feet, and natural OB crowds the fairway. Per the caddy book, the road, any canyons, and the creek play OB, and are marked with ropes. W.R. Jackson does not bring elevation into play in the same way that it's 2017 Worlds counterpart Fort Gordon does, but as is a hallmark of every John Houk-designed track, players will be asked to make decisions about which landing zone or fairway they want to attack, and weigh the risk and rewards of each shot.
W.R. Jackson, Short Tees (FPO Friday-Sunday): 9,543 feet, par 67. "Short" may be a bit of a misnomer since, like the Open division, only six holes are under 500 feet. The same OB rules apply, and the FPO will play the same layout at MPO on 10 of the holes. The most attackable holes at 2017 Worlds were holes 3 and 16, both of which have been reconfigured. Paige Pierce and Allen were able to score on almost every hole, but most of the field was well challenged by Jackson's length and tight fairways. This year the FPO field has certainly taken a step forward in overall play, and so we may see hotter rounds at the Hall of Fame.
Past Winners
| Year | PDGA Tier | MPO | FPO |
| --- | --- | --- | --- |
| 2019 | NT | Calvin Heimburg (playoff) | Sarah Hokom |
| 2018 | NT | Paul McBeth | Catrina Allen |
| 2017 | NT | Ricky Wysocki | Catrina Allen |
| 2015 | NT | Michael Johansen | Paige Pierce |
| 2013 | NT | Ricky Wysocki | Sarah Cunningham |
| 2011 | A | Dave Feldberg | Sarah Cunningham |
Forecast
Fortunately, Hurricane Michael has exited from the region to the northeast. High pressure from Canada will overspread the southeast, leading to calmer and cooler conditions for the Hall Of Fame Classic this weekend.
Friday:
8 AM: 55° with a light north wind.
Noon: 71° with a north wind between 5 and 10 mph.
Saturday:
8 AM: 54° with a light northeast wind.
Noon: 71° with a northeast wind between 5 and 10 mph.
Sunday:
8 AM: 55° with an east wind around 5 mph.
Noon: 72° with an east wind around 10 mph.
Our stretch of good weather at tournaments will continue. The high pressure should lead to great scoring conditions each day of the tournament.
Tournament Director Zach Shafer said even after the tropical storm conditions rolled through on Wednesday and Thursday, the course is looking pretty good.
"Twelve trees came down, with only 6 located in or just off a fairway," Shafer said. "Obviously, we picked up an abundance of sticks in addition to the trees.  Additionally, with the slight winds still present throughout the day, our fairways are drying much quicker than normal.  We performed a great deal of preventative cutting and trimming over the past couple of months to circumvent any potential hurricane damage to the best of our ability, and we are happy to see that it paid off."
How To Follow
UDisc Live is providing live scoring. Post-production, next-day video from the event is set to be released on the Jomez Pro (MPO Lead), Central Coast Disc Golf (MPO Chase), and Disc Golf Guy (FPO Lead) YouTube channels.
Check in here at Ultiworld Disc Golf for recaps and analysis of each round, and follow our Instagram and Twitter for live updates of the final round.