Wysocki was the only player rated over 1000 to start bogey-bogey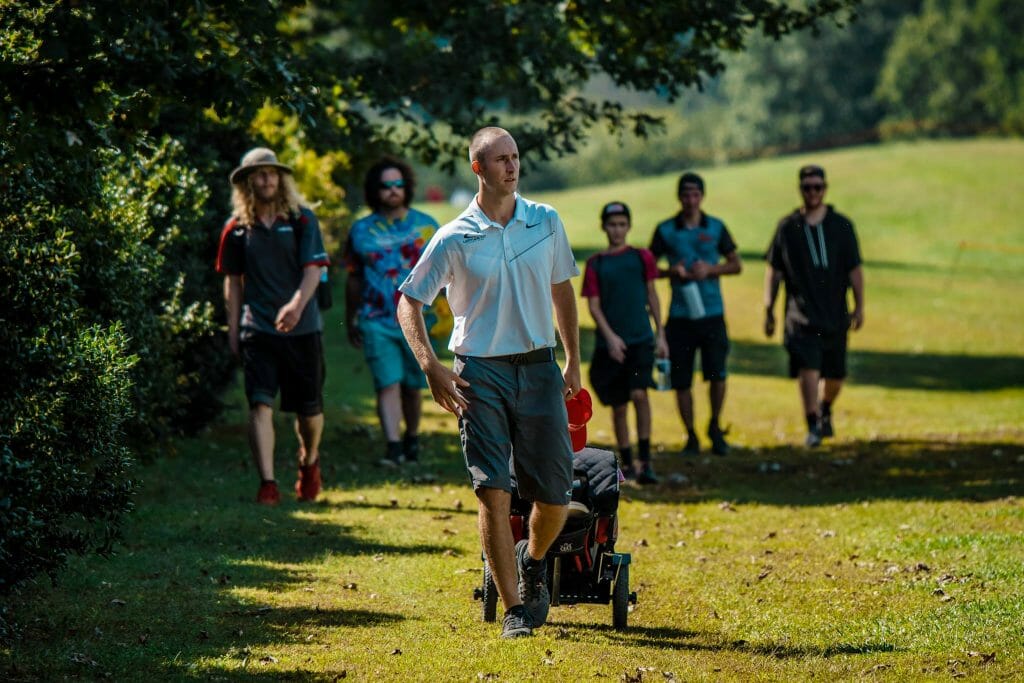 There are 130 competitors at the 2018 United States Disc Golf Championship, including 80 players with a player rating of at least 1000. Only four people started bogey-bogey on the first two holes of the event. Three of the four are the three lowest-rated players in the tournament — Henry Hamilton, 802; Dwain Reeder, 805; and Eric Vachon, 915.
The other player? Two-time World Champion Ricky Wysocki who comes in as the second highest rated player in the event with a 1046 rating.
Hole 1, which was set in its traditional placement for round one, is a 253-foot, dead straight shot. The hole played a third of a stroke under the designated par 3 on average in round one, making it the easiest hole on the course. Only eight players were over par on hole 1. Wysocki is the only player to bogey hole 1 and finish round one in the top 20. The only other player in the top 50 to bogey hole 1 was JohnE McCray, who also happened to be the only other player rated over 1000 to bogey the hole.
Hole 2 played much more difficult than hole 1, yet still played as one of the seven easiest holes on the course, averaging right at the designated par 4. It plays 629 feet with one main fairway down the middle, but features plenty of out of bounds areas for errant shots.
This hole saw a lot more bogeys than hole 1, with 27 of the 130 players playing the hole above par. McCray was able to respond to his bogey on hole 1 by being the only player in the field to eagle hole 2 — he had a throw-in from more than 250 feet away. Wysocki found OB on hole 2 and settled for the bogey, but did follow-up with a birdie on hole 3. He later bogeyed hole 7, another of the easiest holes on the course.
Wysocki was able to rebound quite well getting himself into top 10 after round one. He currently sits at 5-under par, eight strokes behind leader Paul McBeth. Wysocki will obviously look to improve in round two, and if he can avoid mistakes on the easy holes he can capture the momentum needed to propel himself into contention just in time for moving day.