These players may not be the safest choice, but they are the most fun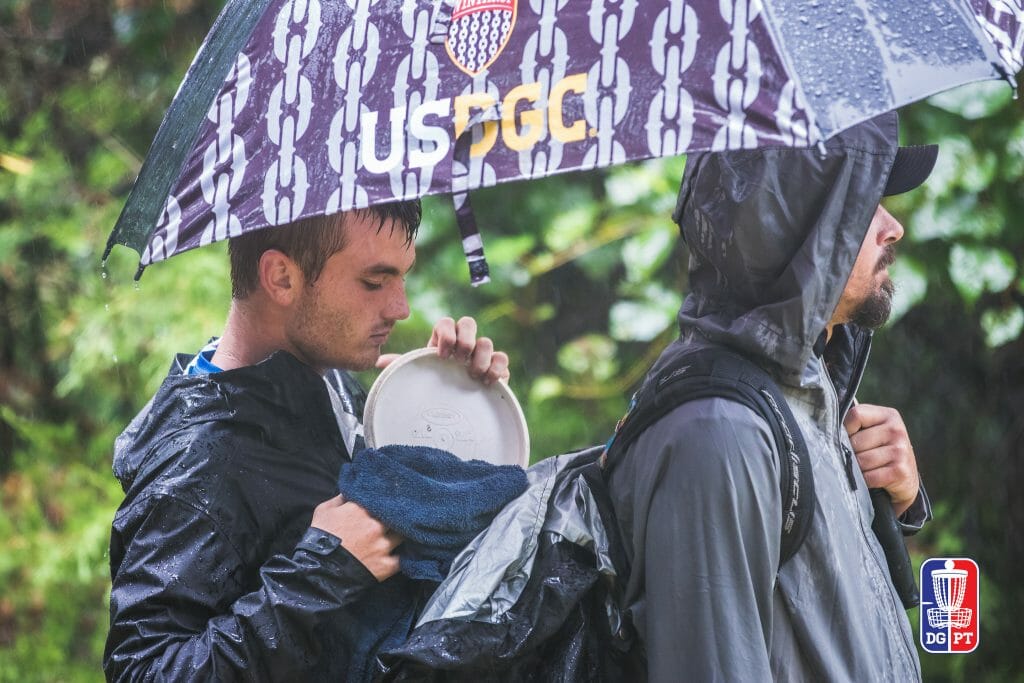 We've taken the time to sort through our podium picks and dark horse candidates for the United States Disc Golf Championship, but what about some other players we'll be keeping our eyes on.
We've decided to explore an intriguing set of competitors: boom or bust prospects who we think could just as easily finish atop the leaderboard as they could outside the top 20. These players may not be the safest to pick to take home top honors, but that's exactly what makes them fun.
---
Philo Brathwaite has played every single edition of USDGC since 2006, yet until last year he had only broken the top 20 once. Last year saw a watershed performance for Brathwaite though, as he showed up with an exceptionally disciplined game plan and executed it to near total perfection, netting him a fourth place finish in the process. To wit, his scores throughout four rounds were separated by a mere three strokes and featured not a single double bogey between them. His bogey total? Six!
The highlight of his performance was a run of four consecutive birdie 4s on the treacherous par 5 hole 13, executed like a game of hopscotch where everything outside the chalk lines is fire.
In an Instagram post from September 10, congratulating his teammate Gregg Barsby on his Pro Worlds win, Brathwaite posits: "This season is not over yet…I've got my eyes set on the 20th USDGC right around the corner. Maybe I can earn my first Major win next?" With a similar game plan and a little bit of luck, he just might. – Bogi Bjarnason
---
I listen to a handful of disc golf podcasts on the regular: The UpShot, PDGA Radio, Ladies of the Chains, and Pro Tour Talk with Steve Dodge. Paige Pierce made the talk show rounds last week after her United States Women's Disc Golf Championship victory.
She sounds confident, energetic, and ready to test her mettle on the Winthrop Gold Course.
We know she has the requisite distance. And when her putter is dialed in, Pierce is one of the best in the business. She definitely looked more confident on the greens in Holt, Michigan two weeks ago. On the UpShot, she told Charlie and Jamie that her goal is to finish in the top 30.
Last year, players needed to average 65 strokes per round or better to achieve this line. We know she can shoot in the low 60s based on her previous showings, but can she can play aggressively, target her landing zones with precision, and keep it between the ropes across four rounds? If so, she could achieve her goal. – Patrick Aubyrn
---
Kevin Jones is probably the most boom or bust player out there right now. When he doesn't finish in the top 10, which is rare, he usually falls outside the top 20. The 2017 USDGC was Jones' big coming out party and Winthrop Gold is the type of course which allows him to show off his big arm. Winthrop Gold is also the type of course which, if he lets his birdie-or-die game get away from him, can stack big numbers quick. – Chris Wiklund
---
The only other player besides Ken Climo and Barry Schultz to have won three USDGC titles is Will Schusterick. Winthrop is his special place. And for a time there, Schusterick was the highest-rated player in the world. We know he has the chops and confidence to perform well in Rock Hill.
Unfortunately, injuries have plagued the Tennessean for the better part of two years. Except in the past several months, we've seen a rejuvenated Schusterick. All he needs now is a full tournament to come together. If Schusterick can find his putt, his big arm may carry him into the top 10.
If not? Then it may be another situation like 2016 where he finished 47th and below the cash line. – Benn Wineka