Ten of our favorites you might have missed last month
Disc golf, professional and otherwise, is getting bigger all the time and that means it's busier than ever. It can be hard to keep up with everything. That's where our Monthly Dime comes in, where we find and review 10 of the best and sometimes random disc golf related things that caught our attention each month. While we won't pretend to be able to provide a comprehensive accounting of everything that has happened, we'll do our best to keep this both informative and fun.
---
1. Coming in just under the Dime deadline, a parody song and video from Mark Montcalm and Danny Lindahl on the random draw doubles partner you don't want to match up with.
Danny Lindahl Mark Montcalm Doubles Video
2. Also from the Dynamic Disc family, after Tina Stanaitis and Eric Oakley tied the knot in Nantucket, they arrived at the Nantucket Open the next day ready to play in semi-formal wear.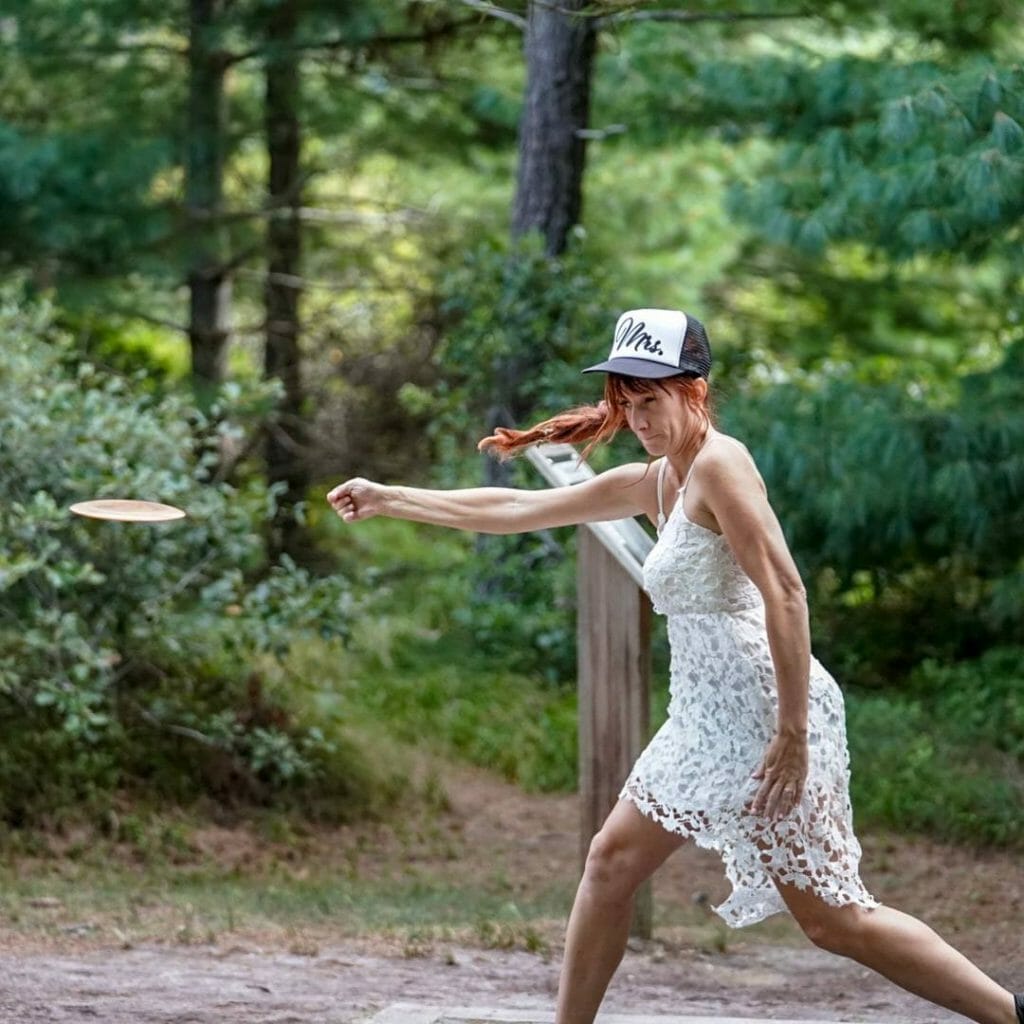 3. It's always good to give those discs you find with names on them back to their owner, unless it's your buddy who always beats you.
Lost Disc Golf Disc Thrown Into Woods
4. Speaking of returning lost discs, we're just going to leave this little extra bit of context about the disc golfer bit by an alligator here.
5. This turbo putt is from May but just hit our radar. We're including it because it's beautiful.
6. I'm not good at one thing, let alone two things.
7. Maybe I can get better at disc golf at least. Drew Gibson is joining Will Schusterick in the instructional game, and he's got some interesting tech to go with it. Stay tuned, we'll try to learn more.
Drew Gibson instructional video
8. This was just frustrating. Proper location tags for Burchfield Park basically do not exist. This kept happening during the United States Women's Disc Golf Championship.





9. A couple of new bags have hit the market, such as the Latitude 64 Core, which seems to be popular, but like we pointed out a couple months ago, it was fun seeing the entire design process of the Pound Disc Golf Carleton.
The Carlton is FINISHED and Preorders are dropping tomorrow, Monday September 17th at 7pm PST!!! We are only opening 20 spots at $299 each as this initial run will give us a chance to properly assess material and labor costs. It's quite possible that the price will go up to $325 after this as we're only able to ballpark pricing right now without doing an initial run. We'll try to get the product options on the website tonight so you can figure out your design in the meantime. Everything will be the same as the Custom Octothorpe/Haul programs as far as color and material choices go, though you'll also have the choice of the following configurations for the Insert (center): 1. Putter Pockets with mini, pen/marker, and pencil slots 2. 3-Disc Sleeves or 3. (1) Putter Pocket & (1) 3-Disc Sleeve on either side. We're very excited for The Carlton to dance it's way into your lives and we hope you are too!! Cheers, Levi & the Pound Crew

Posted by Pound Disc Golf on Sunday, September 16, 2018
10. Is there a better trophy in disc golf than the King of the North sword?
King of the North sword trophy