Three players one stroke behind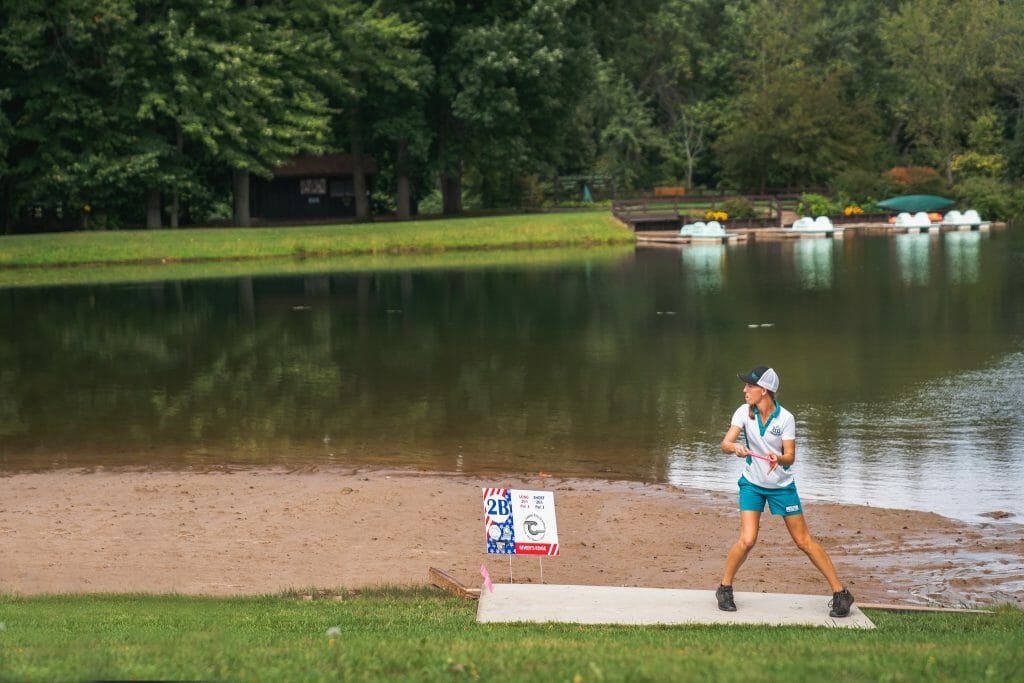 After a very windy day at Burchfield Park on the Rivers Edge course, Paige Pierce has a one-stroke lead at the 20th United States Women's Disc Golf Championship.
The Open Women began the tournament playing the long pin positions, and Pierce got off to a rough start of the 21-hole layout with a bogey on hole 1. She quickly shook it off, collecting five birdies before finding a double bogey on hole 9. Pierce recovered after the turn, carding just one bogey and going 3-under par through the final seven holes, including an eagle on the 545-foot par 4 hole 14. She finished at 3-under par 67 for the round, good for a 976 rating.
Catrina Allen, Sarah Hokom, and Kristin Tattar are all tied for second place, one stroke behind Pierce, carding 2-under par 68s for the round. Since all rounds for the USWDGC this year are shotgun starts, the players started on a variety of different holes. Tattar joined Pierce on the feature card that began on hole 1.
Tattar faired no worse than bogey on any hole, and collected five birdies. Outside of a double bogey on hole 2, Allen stayed clean for the rest of the round. Hokom had three bogeys, but also notched five birdies, including three in a row on the back half of the course.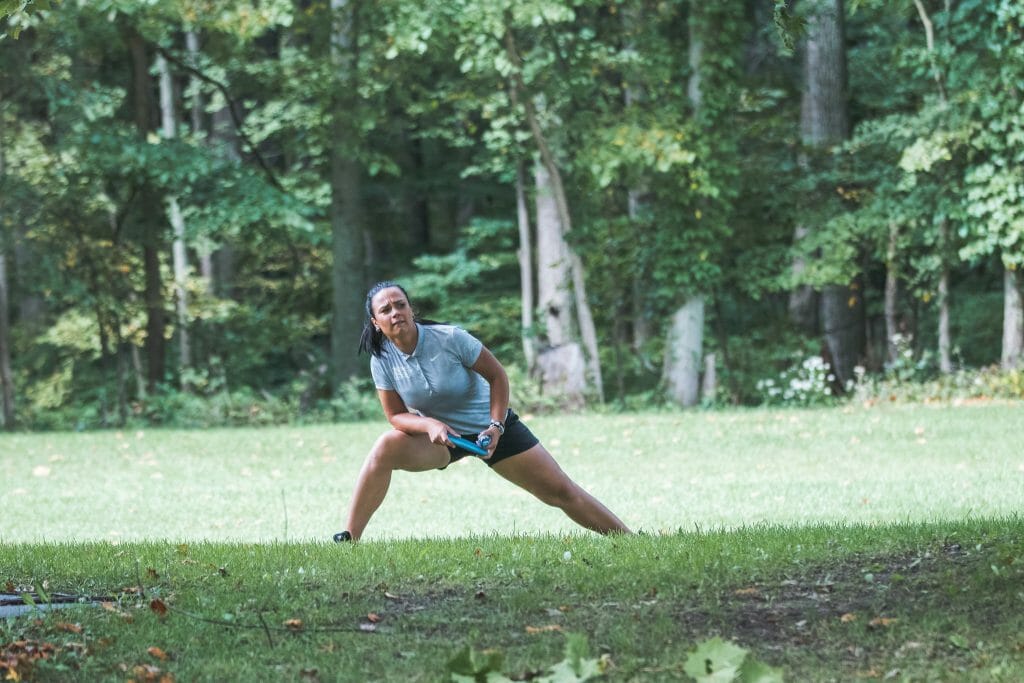 The Weather
Competitors had to navigate some difficult conditions on the course, with sustained 15-20 mph winds and gusts as high as 35 mph during the round. Rain also came and went during the day.
"It was crazy windy, and the wind would change directions. I would tee first and it would be one way, and the next person would tee and it be another way. Sometimes it changed after your throw, like 180 degrees change," said Open player Michelle Frazer.
"So it was hard to predict, but it did make it kind of relaxing for the first round. It was hard to get too serious and nervous when it's so windy."
Thankfully, the weather forecast for the rest of the weekend looks to be dry with much calmer skies.
Many Still in Contention
There is still plenty of golf to play and many competitors are within striking distance of the top of the leaderboard. In fact, 13 players are within five strokes of first place. That includes a three-way tie for fifth place between Holly Finley, Hannah McBeth, and Madison Walker who all carded even par 70.
---
The FPO field will have two rounds tomorrow, playing the Renegades Trail short layout in the morning, and Rivers Edge short layout in the afternoon. Follow along with the rounds at PDGA Live Scoring.