Who are we missing? Who is in your top 3?
No rest for the weary! The intrepid women who grind on the professional tour complete a grueling three weeks on the road this weekend in Michigan, having bounced from Worlds (Major), to Delaware (NT), to the United States Women's Disc Golf Championship (Major) in the span of thirteen days. Some even went to Canada during that stretch.
In addition to being the only PDGA-designated Major exclusively for women, this event is a celebration of women's disc golf more broadly. There are 163 registrants across fifteen divisions, from Open to Junior Girls Under 10, and the camaraderie on display at this tournament typically exceeds what we see on a weekly basis, giving it a truly unique vibe. But you should still expect a fierce battle for the top spot. The winner claims one of the most prestigious titles on tour and secures the final invitation reserved for a female golfer to compete at the United States Disc Golf Championship in Rock Hill, South Carolina October 3-6.
Jamie and Charlie made their picks on The UpShot, now the writers make theirs.
This week the top 25-percent of women rated over 900 (including ties) were excluded from Dark Horse status.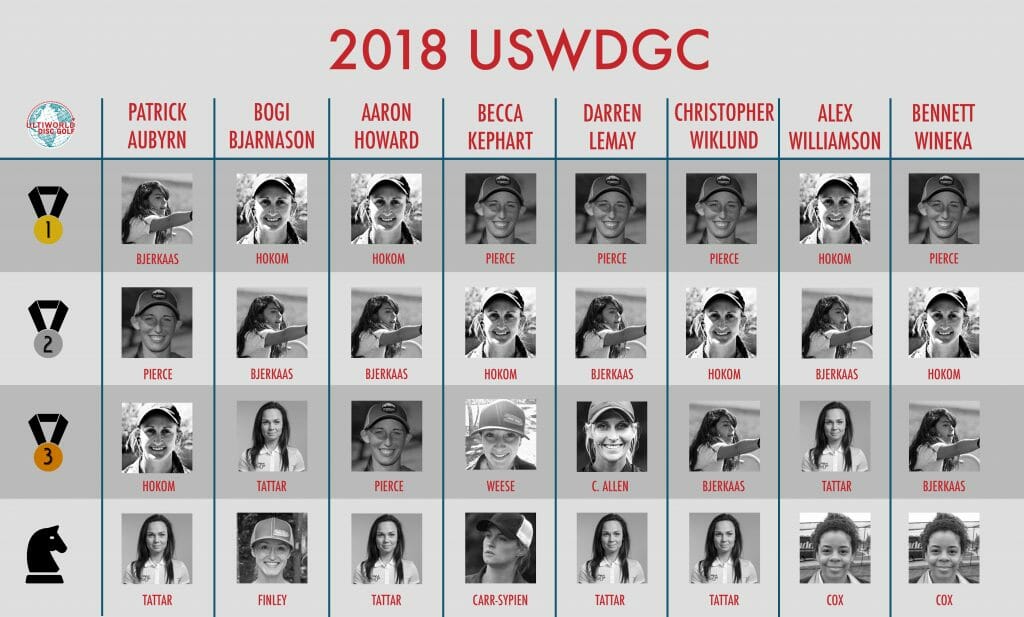 Rationale
Finishing second and first in back-to-back tournaments would be a dream for most professional disc golfers. Not Paige Pierce. She is going to be highly motivated to "make up" for her runner-up finish at Worlds, and to complement her Canadian Championship with a U.S. Championship. While Pierce hasn't been in peak form over the past few weeks, she is still averaging 962-rated golf, which is better than the ratings of all her competitors. So she should be the odds-on favorite. ~Aaron Howard
Sarah Hokom has been the picture of consistent, high quality play this season. She hasn't finished outside the top 10 in 2018. She averages a second place finish in 2018. She is coming in off a win at the MVP Open, a third place finish at Worlds, and a win in Delaware. Hokom has proven time and time again that no matter the course, no matter the field, she is a force to be reckoned with. She is primed to take home her third USWDGC. ~Chris Wiklund
I'm not worried about Paige Bjerkaas' putting woes in the first and last rounds of the Delaware Disc Golf Challenge. For the season, she ranks 13th in Circle 1 putting percentage, converting at an 87-percent clip. That's only two points removed from the consensus best putter on tour, Lisa Fajkus. In fact, C1 putting is the only UDisc statistical measure where Little Paige ranks outside the top 10. I'm confident she'll return to form on the green this weekend. ~Patrick Aubyrn
Estonian ratings are generally lower than they should be, and Kristin Tattar is evidence of that. Omitting her one disastrous round 4 at Worlds, the 929-rated Tattar has been hovering around 960-rated golf during the first two weeks of her U.S. tour. Such play saw her finish ahead of recently-minted World Champion Bjerkaas at last week's Delaware Disc Golf Challenge. Tattar is quickly finding her groove stateside, and it's likely she'll also find the podium at the USWDGC. ~Alex Williamson
You might have missed that Jessica Weese won the Rochester Flying Disc Open over the weekend averaging 974-rated golf. She also charged in the fifth round of Worlds, finishing on the podium after moving up six spots. Weese took second place at last year's USWDGC and is having a great season with six wins. She is strong off the tee with her forehand or backhand, which should come in handy for the four different layouts that the pros will face. ~Becca Kephart
PDGA Radio reports that Catrina Allen made some adjustments to her putting stroke before the DDGC. If she can transfer success on the practice green to the course, she'll be hard to beat. For the season, Allen ranks third in fairway hits and parked shots, second in C2 in regulation, and fourth in birdie percentage. Anyone who thinks she's not a consensus top five is delusional. I'm betting on her to put it all together this weekend and assume her customary spot on the podium. ~Darren LeMay
The Cavalry
Although she was battling a shoulder injury at Worlds, Rebecca Cox still put on a great showing through five rounds. With a little bit of rest and some extra confidence, Cox will be throwing well in Michigan. ~Benn Wineka
According to Holly Finley's PDGA profile, she's only finished outside the Top 10 once this year. She's like the Arsenal FC of women's disc golf, always lurking, rarely striking. While she might not win, she might just show up and place. ~Bogi Bjarnason
Liz Carr-Sypien is a Michigan local and won an A-tier that played Burchfield Park just last month. She's been playing professionally since 2007 and has an impressive resume including multiple Michigan state titles and two National Tour wins.