In what can be a lonesome sport, Bjerkaas always had company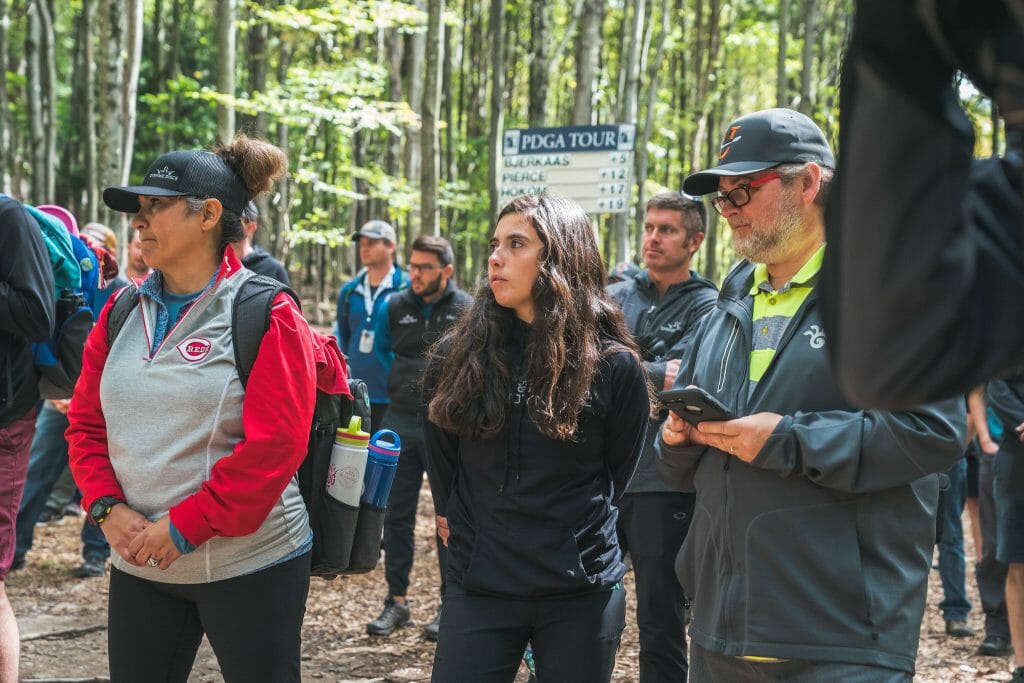 After Paige Bjerkaas dropped in her final, PDGA Professional World Championship-clinching putt into the basket of hole 18 on Fox Run Meadows, she let out a few jumps of pure, overwhelming elation. She was then immediately rushed by her caddy, who wrapped her in a hug, and joined her in delirious bouncing. The UDisc Live scorer from the lead card joined them in a group hug shortly thereafter, the three embracing and sharing tears of joy while a forest of cameras surrounded the new world champion.
Not many disc golfers celebrate with their caddy and official scorer the way Bjerkaas did, but then, not many get to have their mother and father as their caddy and scorer. Bjerkaas' mother, Noemi, was her caddy the entire week at Smugglers' Notch Resort, and her father, Doug, was her card's UDisc scorer for every round. Bjerkaas had her family as an immediate support system as she played for a world title, and according to Bjerkaas, it made a world of difference.
When asked if she would have played as well without her parents by her side: "I doubt it," said Bjerkaas. "It's just so cool to have them there and they make it more laid back and more fun. And history shows that when people are having fun, they're going to play a lot better golf. So they were able to give me some laughs and chuckles. I don't know if I would have won if they weren't here watching me."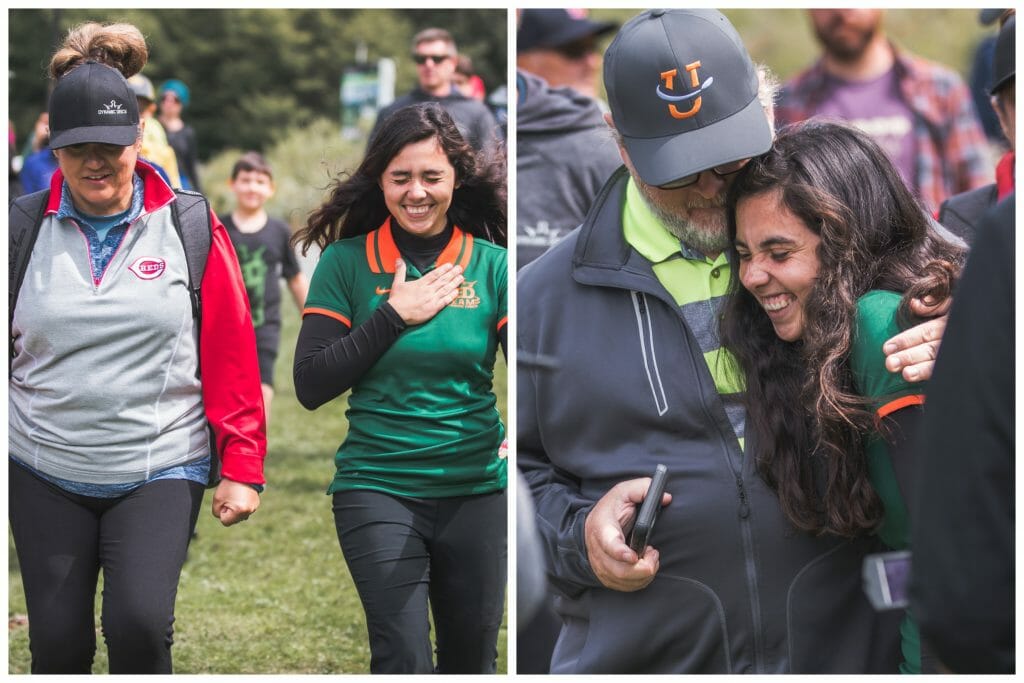 Noemi and Doug both offered moments of comfort to Bjerkaas throughout her play at Pro Worlds, taking turns to hug and whisper encouragement to their daughter. They were most supportive when Bjerkaas had her toughest round — her 5-over par round four. They were there to make sure Bjerkaas didn't get too down on herself when her throws went out of bounds, or her putts didn't go in. In a sport that can make you feel very alone on the course when you're struggling, Bjerkaas never had to endure that.
Bjerkaas noted that her parents always knew when to provide the words of encouragement, and when to give her space, and it seemed her parents knew exactly what to say to keep frustrating shots from turning into frustrating rounds. "I was telling her, 'One bad shot doesn't ruin your whole round. Just try to recover, keep the mistakes to a minimum and don't look back, look forward,'" said Noemi. As her daughter's caddy, she was there for every shot. Doug was a bit further back, but he too was there when Paige needed. "I kept telling her, 'Just one hole at a time, just one shot at a time,'" he said.
Disc golf has been a family sport for the Bjerkaases since the beginning. Doug introduced Paige to the sport, and he, Noemi, Paige, and Paige's older brother and sister still play rounds together. Doug, though, says that Paige's playing style has little resemblance to his own, and that is a good thing. "I never play smart. I just couldn't believe the way she played. She played within herself. She had hiccups," he said, but before he could finish his thought, Noemi reminded him that, "She always recovered."
"I will never forget hole 7 on this course," said Doug. "That long par five where she went 5, 5, 5. I think that hole right there…It's just awesome."
For Paige, that history with her family and the sport made her championship-winning moment all the more special. "[It's] so cool because they're the ones that taught me golf, and they've seen me grow as a player, and they've supported me [for] years and years," she said. "They've been paying for tournaments until I was able to pay for myself, but just to see like their daughter's hard work pay off. I'm sure it's just incredibly satisfying."
"Satisfying" was underselling it a bit from Doug's point of view. "We have three kids, and there are times when each of them have done super special things. It's so cool when your kids do cool things. Just for us to be here to see it. It was just perfect to be in the front row the whole time. Oh my gosh. It's just so unbelievable," he said. "Oh my gosh. It's just so unbelievable."
For Noemi, the first to join her daughter in celebration after the win, it was beyond even that. "We are just so elated. It's like I won!" she laughed.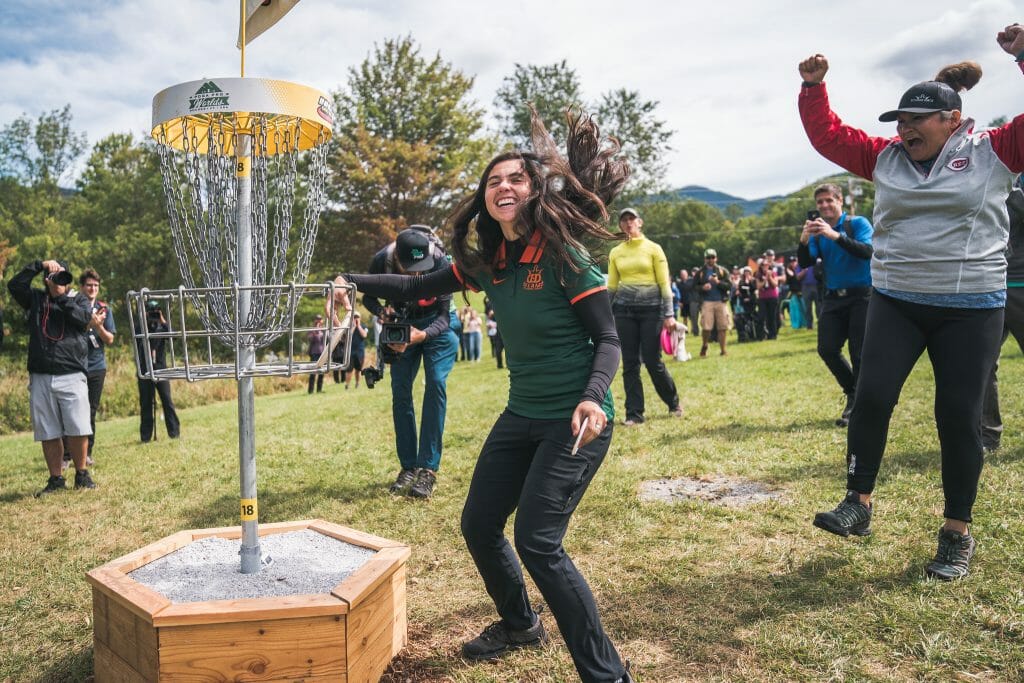 It was a moment that nearly didn't happen, too. Bjerkaas' parents weren't planning on going to Worlds until two or three weeks before the tournament. Doug was going to attend the United States Disc Golf Championship a couple weeks later, but a planned knee replacement surgery in early October prevented him from being able to attend. Dynamic Discs CEO Jeremy Rusco suggested that he and Noemi go to Worlds since they could no longer make the trip to USDGC. The tradeoff is one the family ended up being very happy with. "It was thanks to [Dynamic Discs] that were able to enjoy our trip here," said Noemi. "And it was well worth it!"
Doug and Noemi Bjerkaas had front row seats to watch their daughter become a world champ, and Paige Bjerkaas played the best golf of her career with her parents right next to her. It resulted in a highlight that the three of them will surely always remember.
"It was just so cool. My mom came screaming out — ahhhh — the tears started flowing and it was just so awesome," said Paige. "And when we all three were in like a huddle man, [it was] just amazing. Just literally like, this is my dream, and just how it all pictured, like in Vermont, Smugglers' Notch, with my parents by my side in a pretty comfortable lead, what else can you ask for?"