Pierce doesn't do enough, Bjerkaas too strong, for comeback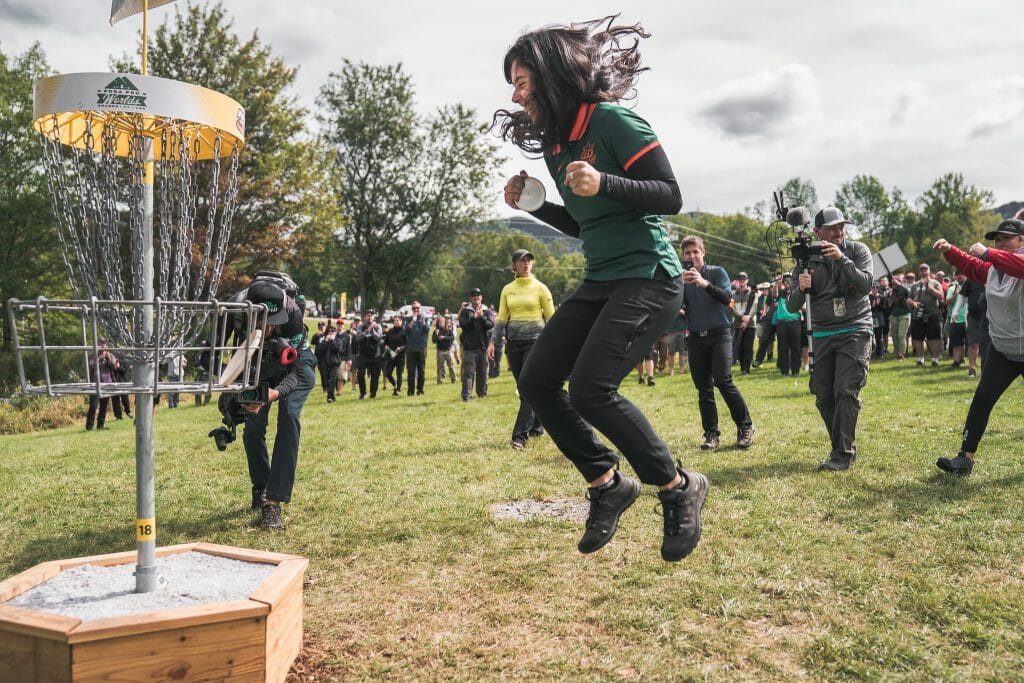 The term "game plan" gets overused by disc golf pros. But we're going to make an exception for Paige Bjerkaas, as she had a true strategy that separated her from the field early at the PDGA Professional World Championship and helped her to victory.
Bjerkaas shot an even par 63 round on Fox Run Meadows Sunday and claimed her first world title by a comfortable six strokes. After Paige Pierce had made up seven strokes on Bjerkaas Saturday, it looked like Sunday would offer some late excitement, but Bjerkaas cleaned up her game and Pierce didn't have enough magic left in her. When the lead card made the long walk from hole 12 to hole 13, Bjerkaas had an eight stroke lead. It felt nearly over at that point, and when she parred each of the next three holes and took a nine stroke advantage into the final three, she had it all wrapped up.
Pierce never was able to really put pressure on Bjerkaas during the round. Through the first five holes, Pierce had only fallen further back of Bjerkaas' lead. When Bjerkaas' drive on the very birdie-able hole 6 went OB, she did cough up two strokes, but Pierce returned the favor on hole 7. The long par 5 gave Pierce fits all weekend. She shot 7-over par on it over the three rounds at Fox Run, and if it weren't for some luck on Sunday, that number would have been higher.
Pierce's tee shot immediately looked destined for out of bounds. But when it caught a tree on the right side of the fairway, it fell straight down and rolled back in. Her second shot turned over and wasn't so lucky, unable to work its way back. Even her third shot could have also ended up out of bounds if it weren't for more kick luck. Pierce took a seven, while Bjerkaas took a five.1
That reopened a seven stroke lead for Bjerkaas, before Pierce quickly recovered and seemed to begin making her final push for the top spot over the next three holes. She birdied each of them, and gained two strokes on the lead in the process. Pierce couldn't keep the run going though, when she found OB on hole 11 as she griplocked her approach into the wooded green. Bjerkaas birdied the same hole.
She may not have gone OB on hole 12, but she did miss her par putt from inside Circle 1 to take another bogey. Those two holes are what gave Bjerkaas her eight stroke lead heading into the final stretch, and they also derailed the momentum Pierce had begun to mount. At that point it would have taken a serious collapse from Bjerkaas to lose, even if Pierce did something special. Neither of those things happened and Bjerkaas was able to play it safe the rest of the way and finish with one of the most comfortable World Championship wins in recent memory.
Bjerkaas finished the tournament at 6-over par 317 total. Pierce's final day 1-over par 64 would push her to 12-over par 323 total and a second place finish.
Bjerkaas didn't do anything crazy to get that sizable win. In fact, she went out of her way to not do anything crazy. Her even par round gave her an even score overall on her three rounds at Fox Run, and that was her goal. While everyone else struggled to keep shots in bounds, Bjerkaas disced down, kept it conservative, and played it safe all the way to a world title.
"There's just so much OB and I think the hard thing is, like, the OB is pretty wide. So I feel like it was designed enough to make a golfer think, 'The fairway's big enough. I can go for it,'" said Bjerkaas. "A lot of players…stepped up and threw high speed drivers and believed that they could do it, which I'm sure they can if they execute it right. But it costs people a lot of strokes and I just felt comfortable discing down. I knew that if I just stayed in bounds, the least number of OB strokes, I'm probably going to get by."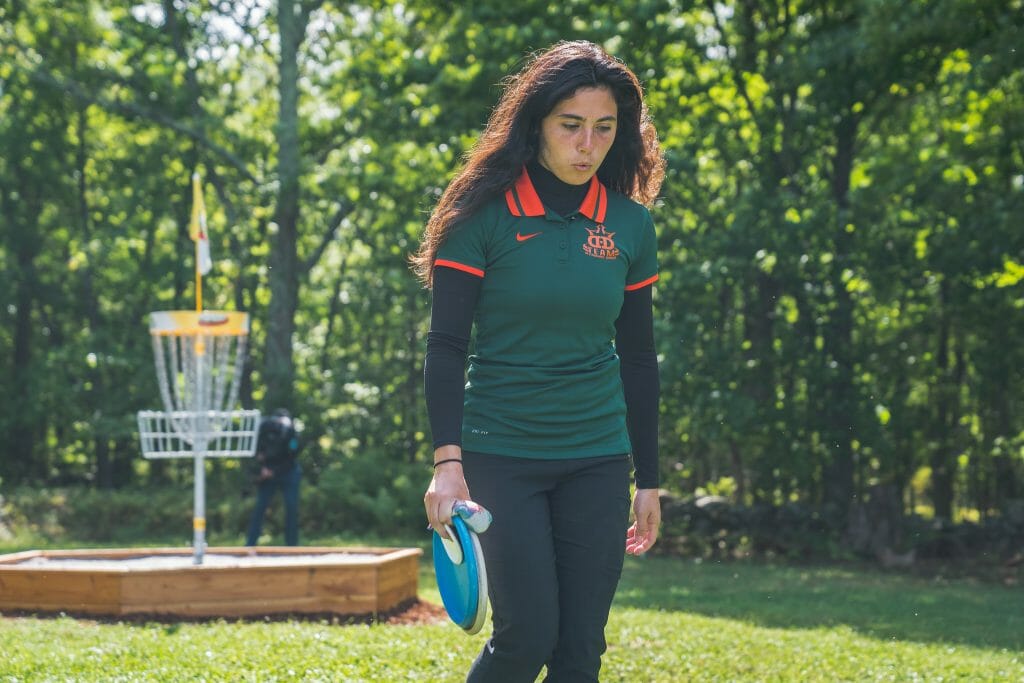 Where Bjerkaas was aggressive all week, though, was inside the circle. She attacked with her putts, and continued to do so right up until hole 18, even with her comfortable lead. Bjerkaas kept shooting for birdies when she had decent looks down the stretch. "It's never over until it's over. So there was never a point where I was like, 'Dang, I'm going to win,' except maybe hole 18," said Bjerkaas. "The putts that I was aggressive on, I gave him like half runs so I knew I wouldn't fly by the basket. But I did want to give them a little bit of a chance but I mean my game plan was to get par or better. And so I had some opportunities to go for some birdies. I went for them. Luckily they didn't go blowing by or anything."
Once Pierce was out of the running in the last few holes, there was no one else to push Bjerkaas. Jessica Weese and Catrina Allen both had nice 1-under par 62 final rounds to tie for the hot round on Sunday, but were out of it by that time. Sarah Hokom and Rebecca Cox, who were on lead card with Pierce and Bjerkaas, shot themselves out of the running by the back nine. Hokom would finish in a tie for third with Weese at 19-over par 330 total. Cox was fifth and Allen sixth. 
In fact, Pierce said she knew the title belonged to Bjerkaas before Bjerkaas did. "I knew if it wasn't me it was gonna be her, from the time the players' meeting happened," Pierce said. "I just realized I was out of it on hole 14. When I missed my putt I knew there was too little time left, and at that moment it was absolutely hers."
The two are both members of Team Dynamic Discs, and while second place is not where Pierce wanted to finish, seeing her teammate win the title made it a bittersweet experience, rather than just a bitter one. "It's awesome to see her succeed. She's had the skills for 10 years, it's just finally executing and beating the best in the world on the highest stage. It's really cool to see her bring that home."
Overall it was a tough week for Pierce. She made the big surge during round four to get within striking distance, but otherwise carded far too many holes over par. In the final round, she again led the FPO division in birdies with eight, four more than Bjerkaas put up, but still finished 1-over par on the round. "There were too many mistakes and I just couldn't clean it up when I wanted to. Started to get frustrated and in turn disappointed. That's not my capability, what I showed out there, so it's a little disappointing for sure," said Pierce. But she also said that Bjerkaas earned the title on her own play, regardless of Pierce's inconsistencies. "But I'm super, super happy for Paige. Even without 80-percent of those mistakes, she was still gonna win the tournament. I can't hold my head down low. She deserved every second of it."
So Bjerkaas is the 2018 world champion. And in the final moments of the tournament, as she was walking down the fairway on hole 18, she said all she could think about was joining the all-time greats of the game that had inspired her to get to that moment. "I've been playing disc golf for 11 years. I remember watching Valarie [Jenkins] win her world title and thinking, 'Wow, I want to do that one day.' And I did it," she said.
"As I was walking down the fairway [on 18] I pictured Valarie tapping in her putt. I pictured past world champions. I remember when Catrina [Allen] tapped in her putt to win Worlds. I remember when Paige Pierce tapped in her putt to win Worlds, [Sarah] Hokom when she banged that 30-footer in like 2012 to win Worlds. And I'm like, 'Gosh, these are people I've looked up to for years ever since I started playing the game,' and I just pictured all that in my head and then adding myself to that list, you know."
With her consistent, and impressive play all week long,2 Bjerkaas became a very deserving member of that same, storied group with her first World Championship win.
---
Bjerkaas parred hole 7 each round on Fox Run. She was one of just four players to shoot par or better on 7 all three rounds at Fox. ↩

Bjerkaas was the leader from the end of round two, through the rest of the tournament. ↩