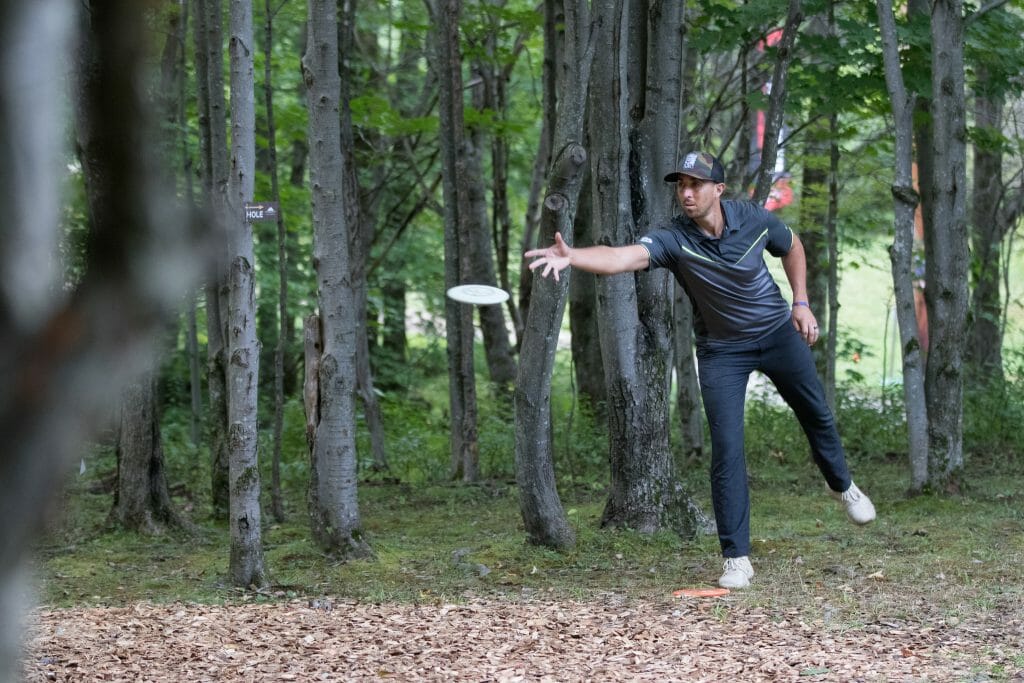 Spectators on the course on Thursday afternoon at the 2018 PDGA Pro World Championships had some tough choices to make. Catch up with the lead card to see if James Conrad can put together something special after carding nine straight birdies to start his round? Run ahead to watch Paul Ulibarri put down the hot round? With all the buzz at the course, it would be easy to lose track of world #1 Paul McBeth, who had a bit of a sluggish start to his round.
Never do that.
After a blistering seven-under back nine, McBeth carded a 12-under par 49 to take a one-stroke lead into Friday's third round.
85-Foot Putt Sparks McBeth
Paul McBeth was playing well enough. He'd gone 5-under in the front nine with no bogeys, mostly keeping the disc in the fairway and avoiding trouble. But it took a big moment to get him into a groove.
"[The putt on] hole 10 was like an 85 footer down the hill, and I just stepped up to that one and knew I was going to make it," said McBeth. "I think that really kickstarted the back half of the course."
He proceeded to birdie six of the next eight holes and finished with five straight to close out the round. "I think it could have been a lot more straight [birdies] if I would've just put a little bit more on those upshots [on the par fours]," said McBeth.
The four-time world champion is now in the lead, sitting at 21-under par 103. In the first year of a five-round Worlds, can he make it five?
Ulibarri Gets Hot On "Luckiest Round" He's Ever Played
After his 13-under par 48 on Thursday, Paul Ulibarri is tied for second place with James Conrad at -20, just one shot back of McBeth.
Usually after shooting the hot round, players are eager to talk about how locked in they were. Ulibarri, though, acknowledged some friendly bounces.
"Honestly, it was the luckiest round I've ever shot," he said. "Like I legitimately shanked probably four or five tee shots that I ended up getting birdies on. So the course was treating me really good and on top of it I was putting very well and I was throwing the disc well on the shots that I wasn't shanking. So it was just one of those rounds where everything came together."
No doubt, there was some luck going his way. The kicks on Brewster Ridge can be absolutely brutal, but they almost all went in his favor. Still, he made plenty of quality shots as well and hit almost all of his putts (he missed once inside the circle on a birdie putt on hole 18 and went 1/2 on circle 2 putts). If he can sharpen the accuracy off the tee, he's got the foundation laid for more scoring in the coming days.
"I don't feel like I'm playing as good as I'm shooting so as soon as I can settle down, I know I can get into a zone," he said. "And if I can do that, which eventually I should, it should be smooth."
Scorching Start Leaves Conrad Wanting More
After canning six straight birdie putts from inside the circle, James Conrad finally faced a challenge. He missed the fairway on his tee shot on the par 4 seventh and ended up 60 feet from the basket for his birdie look. No problem:
He backed that fantastic putt up with another two birdies to finish a perfect 9/9 on the front half of the course.
"That doesn't happen often," he said. "I didn't even hardly have to make a putt my first six holes, so just pretty much tap-in birdies. And then seven was my first long putt of the round and was able to knock that down to keep the momentum rolling from there. From there, birdied eight and nine and just really feeling great."
He cooled off in a hurry, though, after slipping on the tee pad at hole 10. His tee shot went wide left on the 11th, and he failed to scramble, setting up his lone bogey of the round. He did manage three birdies down the stretch but scored just 2-under on the back nine while most of the rest of the players at the top of the leaderboard were shooting six-under or better.
"There's a few more tee pads on the back that really give me grief that I don't have room to follow through," he said. "So it was really hard for me to commit to my shots. I even threw a forehand off one of them for that reason. I was able to pick up the birdie with that. But, yeah, I was able to hold my ground and pick up a couple more birdies on the back nine. Not quite the round it could have been off that start but happy with it nonetheless."
Gregg Barsby Keeps The Putter Going To Make Lead Card
After throwing in two 100 footers during round one, Gregg Barsby kept it going from distance with an 84′ jump putt in round two; putting in 3/4 from circle 2 from 38, 49, and 60 feet; and missing just a single circle 1 putt on the day to finish with 11-under par 50. He's two shots off the lead.
Hear from Barsby on yesterday's live edition of The Upshot podcast from the patio off the eighteenth green at Smuggler's Notch.
Shootaround
Will Schusterick had a bumpy round on Brewster, but he made one of the most amazing shots we've seen so far at the tournament. Leaving his tee shot on hole 4 a bit short and left, he opted for a huge anhyzer backhand roller. It got safely around the trees, rolled up to the stone wall, hit a rock, jumped into the air, cleared both stone walls, and settled inside circle one for a simple birdie.
There's something about finding that positive juju with your card. Lots of players this week have mentioned feeling great about the competitors they teed off with. Ulibarri talked about it yesterday: "I like when the whole group's playing well. It makes me play better and we all did that, you know, everybody was throwing good shots and when somebody didn't, you know, everybody was like, 'Oh, you got it,' or something like that. I'm telling you, I was getting the best kicks of my career today and the group usually would get a little snarl, but they were all just pushing and they were happy to see it."
25 years after attending his first World Championships, Barry Schultz is tied for fifth place and on the chase card for today's third round. He was very solid yesterday, finishing with a 10-under 51 and birdieing the last five holes.
Day one leader Calvin Heimburg was close to having another very strong day but coughed up five strokes with a double and triple bogey in the back nine. He's now sitting at 15-under. If he just took par on those holes, he's be tied for second. He'll hope to make up ground back on Fox Run this afternoon, where he had the hot round on Wednesday.