Brewster Ridge proved a technical challenge.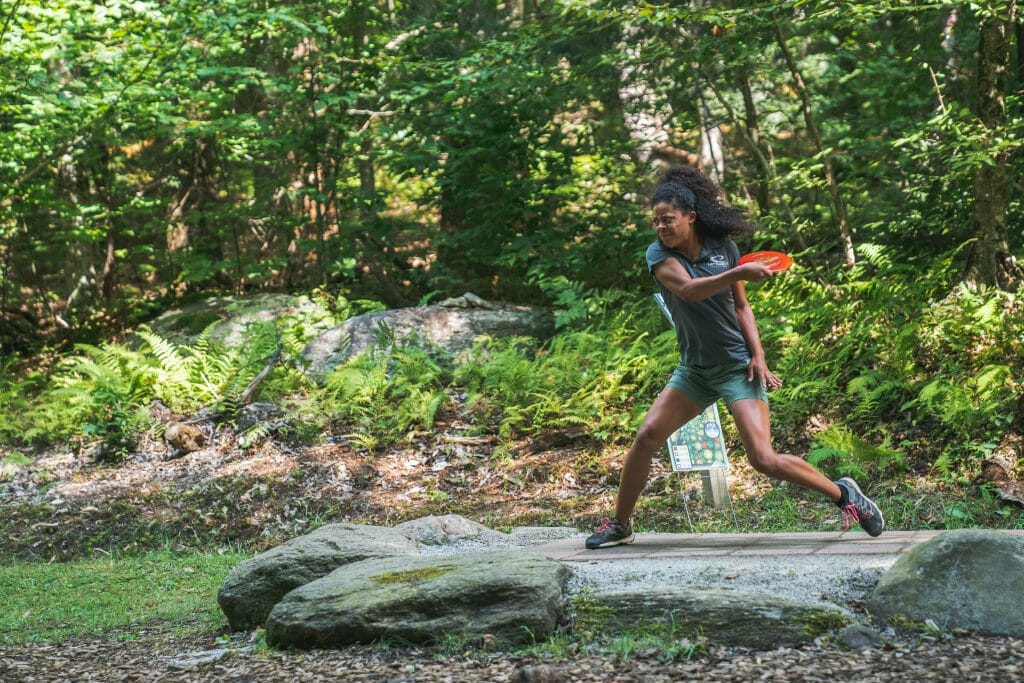 It was a bright and early start for Open Women at the 2018 PDGA Professional World Championships. When the round was over, Brewster Ridge had proved to be a true challenge, there was a surprise leader, and plenty of other storylines had emerged.
Cox Claims Round One Lead
Rebecca Cox had the top round of the day and was the only player to finish below par at 1-under par 60. Cox finished with just three holes in the red, tied with Holly Finley for least in the round, but she was also able to avoid any double bogeys. The 992-rated round is the highest rated round of Cox's career.
Cox's gameplan was fairly simple, and she followed it well. "My goal was to stay as close to par as possible," she said. "I like Brewster a lot, so just attack the holes I can attack and just keep my head low on those par 4s, the long ones."
So in the zone was Cox that she was completely unaware of the round she'd posted until the card was tallying up the final scores. "I figured I was sticking to my game plan pretty well," she said. "I was doing well, but I didn't realize what my score was until the end." Her cardmates seemed aware of it though, complimenting her on her great round before they went over the final tallies together.
As well as Cox has been playing this year, to come out and shoot the hot round at Pro Worlds is still a bit of a surprise. She finished 31st at Worlds last year, and said that, compared to last year, she's playing with a much higher level of confidence. That confidence was very evident in Cox's performance on Wednesday.
Paige Bjerkaas, Jessica Weese and Holly Finley are tied in second at 2-over par 63. Paige Pierce and Sarah Hokom are one stroke back of that group, tied in fifth at 3-over par 64.
Brewster Favors The Not So Bold
Brewster Ridge proved to be a difficult, unforgiving course. Hitting the fairway from the tee was absolutely necessary. Missing the tight landing zones and ending up in the trees essentially guaranteed a bogey or worse. The trees were too thick to allow any real plays getting out. Players either had to sacrifice a stroke and lay-up, or get extremely aggressive and potentially pay a heavy price, like Paige Pierce did when she triple-bogeyed hole 13.
The course rewarded consistent, safe play, and the best example of that is undoubtedly Holly Finley. Finley hit just two birdies on the day, but also shot over par on just three. Finley hit 61-percent of her fairways and putted 90-percent from inside Circle 1.
Jessica Weese was another player that successfully dodged bogeys. She was tied for the lead at different times during her first nine holes thanks to limiting herself shooting over par on just five holes, a problem Weese she's had at other tournaments.
Jessica Weese round one tee shot
With five rounds of play, and tomorrow's action set at the much more open Fox Run Meadows course, it was a common approach to be to not get overly aggressive and throw yourself out of contention. Finley and Weese exemplified that style of play as well as just about anyone.
"The first round I definitely don't want to shoot myself out of it," said Weese after her round. "I'm just looking to play consistent for the first couple rounds and out myself up there and in it and give myself the opportunity."
Pierce, Bjerkaas Go Against The Grain
While most of the players on the leaderboard after round one played safe golf, two players in the top six had wildly more inconsistent rounds. Paige Pierce and Bjerkaas tied for the division lead with five birdies on the round, but both also finished multiple stokes behind Cox in the lead. Bjerkaas suffered more over par holes than did Pierce, but was able to avoid any doubles or triples, thus her one current one-stroke lead over Pierce.
Bjerkaas had low fairway and scramble numbers, but saved some holes with her 94-percent Circle 1 rate and 20-percent Circle 2 rate, while Pierce's round was dragged down by her 5-over par total on holes seven and eleven. Pierce was overly aggressive with scramble shots on those holes and compounded her missed fairways into disasters. Still, both players are very much in the hunt with the leader Cox only three or four strokes ahead, and perhaps the more open Fox Run course will play better to their more aggressive styles.
Pierce, at least, expressed some optimism that that would be the case. "I had a lot of birdies, but had too many mistakes off the tee, I forced myself to scramble a lot.
When I get off the tee I capitalized, but when I didn't I was pretty much guaranteed to get an over stroke, so just wanna clean up the tee shots tomorrow," she said of her up-and-down round. "But we're out at Fox [on Thursday,] so it's a little more room to work with. Just keep it in the fairway and go from there."
Shootaround
Sarah Hokom didn't have a spectacular round, hitting the green in regulation just three times on the day. But she did enough to hang around the lead by hitting birdies on two of her final three holes. Hokom has been fourth best in FPO at hitting Circle 1 in regulation, and fifth best at hitting Circle 2. If her first round struggles positively regress back to the mean, then a charge at the lead is very much a possibility.
There were complaints about the state of some of the turf tee boxes on the first few holes of Brewster. A few players suffered slips on the tee that resulted in some frustrating drives. Once moving onto the brick pads further into the round, there didn't seem to be any issues, but it could be something to keep an eye on as the division switches to Fox Run, which has more turf pads.
Jessica Weese's strong round belied a rattling start to her day. "We were told we had to catch a shuttle bus for our rides this morning," she said. "I started walking from the condo…this morning and the shuttle never came. I was like, 'You know, is the shuttle even gonna come? It's kinda early, they might not even come til 7:00.' So I started kinda panicking and freaking out, and I just started walking out here [to the course.] I didn't know where I was going so I called my boyfriend Garrett [Gurthie], and he came and picked me up and drove me out here. Unfortunately, he didn't tee off 'til like 11:00 so he's been out here for a while now." It was a rough start for Weese, but she quickly put it behind her to have a great round. "I was totally emotional this morning, I was crying," she said. "I couldn't figure out how I was gonna get to the course. So after I made it to the course, everything was said and done, and I was really happy to make it."