The disc golf at Smugglers' Notch is rivaled only by the hospitality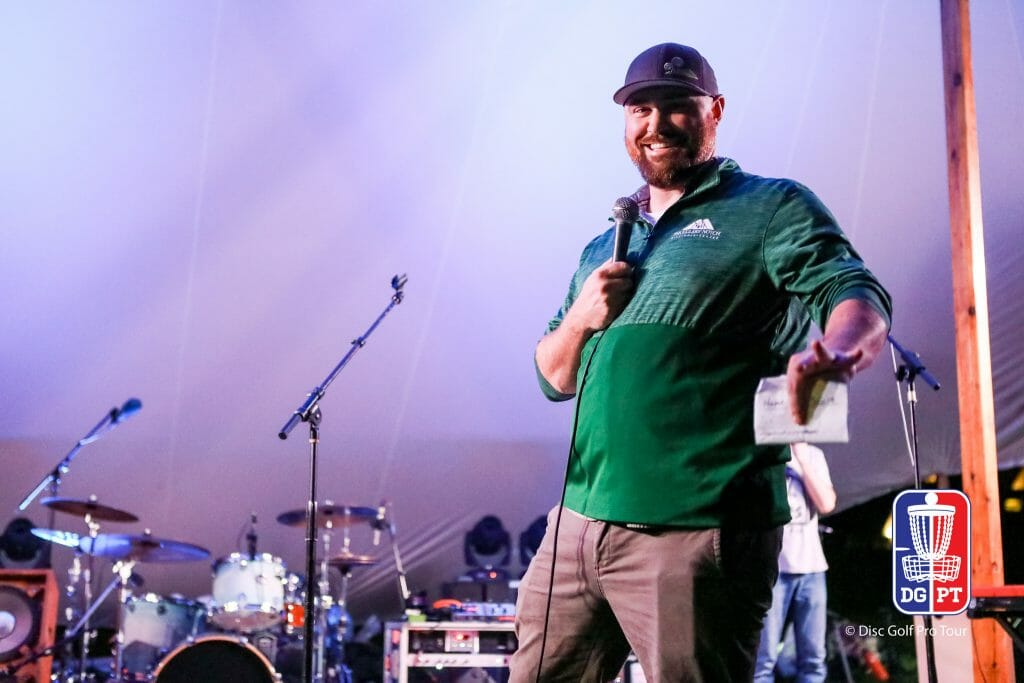 Tournament Director of the 2018 PDGA Professional Disc Golf World Championship, Jeff Spring, joined the Upshot to talk Pro Worlds, Smugglers' Notch Resort and FallFest. Spring is also the director of the Ski and Ride School at Smuggs, and in the summertime runs mountain biking, disc golf, and events at the property.
Below is an edited transcript of Spring's conversation, or listen to the entire interview of how Pro Worlds came together on the Upshot, starting at 27:52.
The Upshot: MVP Craziness, Jeff Spring, Worlds Preview & Picks!
Spring on preparing to host a Professional World Championship:
"We've been working on it for a long time. Some would say probably since the inception of our disc golf program [at Smugglers' Notch]. When we were brought on as a Wyndham vacation affiliate, the VP that brokered the deal said, 'Hey, I play disc golf down in Orlando, I'd love to see your disc golf courses expand.' That signified to our owner that we should invest in it.  I happened to be working here at the time and had designed a few courses. When I sat down with the owner, he said, 'Well, what do we need to do to put in a world class course?'
"I laid [my plan] out and he said, 'If we do this, I want to hold the world championship here someday.' That was back in 2012, so I would say since then we've been working towards it.
"Our first full year was 2013, it was only five years ago. Also in 2013, the first Green Mountain Championship. Fox Run Meadows opening in 2015. In 2016, you know, we jumped on the Disc Golf Pro Tour.
"Bidding on Worlds at the end of 2016, and then last year we knew it was coming. We've been working on getting the courses as prepared and as ready as we could. And we're opening a brand new outdoor center and pro shop that's four times the size [of our current pro shop] for Worlds."
Spring on course changes for the 2018 Pro Worlds:
"The courses are kind of Yin and Yang to each other. Brewster Ridge has been here since 2012 — it's a classic New England wooded course, just under 8,000 feet this year. We've extended some of the tees to add a little distance where we've been wanting to over the years, and we were able to do that with the help of some of our sponsors. Discraft is the main sponsor of the course, and DiscGolfPark is a gold sponsor of the event. We added some DiscGolfPark tee pads in on Brewster Ridge.
"Innova is sponsoring the Fox Run Meadows course, and we were able to add a couple of lengthy tees in there as well. A lot of that challenge is kind of made by wetlands. There's a number of wetland areas and buffers that we had to adhere to. We went through a long permitting process this year, but the pros are really going to be challenged because they need to throw it far, and they need to make sure that they're placing their disc.
"It's been nice to have people that are playing the courses give us feedback. I think that there is an anticipation for the start really at this point. You put so much blood, sweat, and tears into it making sure everything can be as good as it can be in."
Spring on the benefits of running Pro Worlds at a resort like Smugglers' Notch:
"We want to be accommodating, and create a fantastic player experience when they're here. It's a special event because it celebrates the culture of disc golf by bringing everybody in the same spot. [Players and spectators] can come and stay at the resort and not have to move their car the entire week. We've got a really awesome shuttle system and plan going for the week.
"Friday and Saturday night — that's the big thing. That's FallFest. It's a music festival with craft beer and local food, and we got three bands a night. All players get free entry, but we're expecting crowds of about 1,500 people a night. It's going to be a great way to celebrate what's going on.